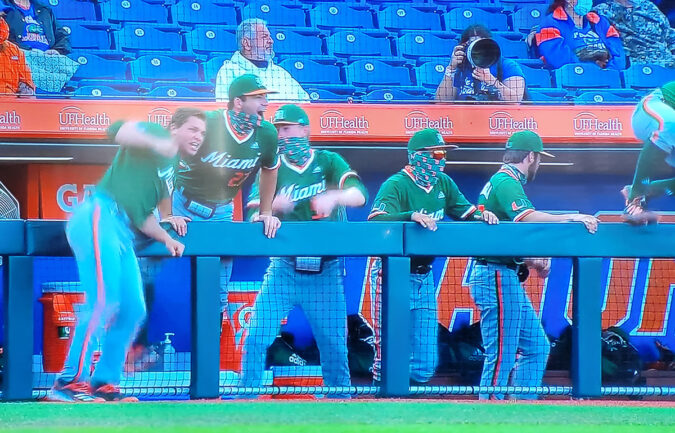 Spring is in the air and the start of what is hope to be a banner year of Miami baseball. At least we can hope that. It all rides on the bull pen and whether are starters can get beyond the 5th inning. Preseason in the fall, showed that we have the hitting power especially if Yoyo can continue to knock the rock out of the stadium
For those who might have missed my final wrap of preseason I have extracted my preseason crystal ball forecast as I saw it on who will be taking the field on opening day.
SCOUT DAY: 6 NOV 2021 (EXCERPT):
"This puts the wrap of the fall preseason. Before signing off for the 2021 season let me throw out my starting lineup for opening day as I see it at this point. Probably updated before opening day but from what I have seen I leave you with my crystal ball forecast: 1B: CJ Kayfus; 2B: Henry Wallen; SS: Dominic Pitelli; 3B: Yoyo Morales; C: Carlos Perez; LF: Gaby Gutierrez; CF: Jacoby Long; RF: Jacob Burke DH: JP Gates. Starters: Carson Palmquest, Jake Garland, Alejandro Rosario, and Andrew Walters (midweek).
The outfield we are loaded as been typical for us the past several years. RF is where I had trouble with. Didn't know where to stick Burke because he plays CF and Left. Carrier can hit and has been playing right but he can't field. You also have Renzo Gonzalez and Zach Levenson who are also good hitters and of course Edgardo Villegas who has really improved and likely candidate for right. This is a rich OF and whoever is hitting will be starting. For consistent hitting, right now I stick with What I listed even though RF is a total question mark. Catcher is a toss up between Romero and Perez. They are both going to be used and the night they are not playing possibly DH. Another selection for the DH rotation is Lorenzo Carrier who a hitter and far outweighs his fielding skills. The scouts I spoke with since I was late for the skills competition had Carrier with the best arm. This has always been our weak area and opposing teams have taken advantage of this. The last position I had as a toss up was second in which I really like Jose Izarra and would not be surprise to see him starting at second sooner than later if Wallen falters. Everything I see in my crystal ball is based on an injury free outlook. It is a long season, so expect many changes as has been every year."
We are a little more than a month away from the opening series against Towson (Feb 18-20). If you want to get a first look, mark Feb 12th on your calendar as the returning Alumni face off against your 2022 Miami Hurricanes in what should be a FUN evening of baseball and reacquainting with old friends and meeting the players for autographs; COVID permitting.
Not certain on COVID protocol, but bring your face masks for added protection. For those not vaccinated make the right decision regarding the safety of others.
Hope to see your return to the Light for Alumni Day not only to have the most enjoyable FREE evening of seeing the past and future in action, but first look at the new scoreboard in left field. Keeping my fingers crossed they have more success than the speed gun innovation which was always crashing. The one thing I will be looking for is whether they will include pitch count.
For those interested, Spring scrimmage is right now scheduled for 28 Jan. It will give me a 2 week look to reevaluate and update my crystal ball forecast I made following Scout Day Nov 6th.