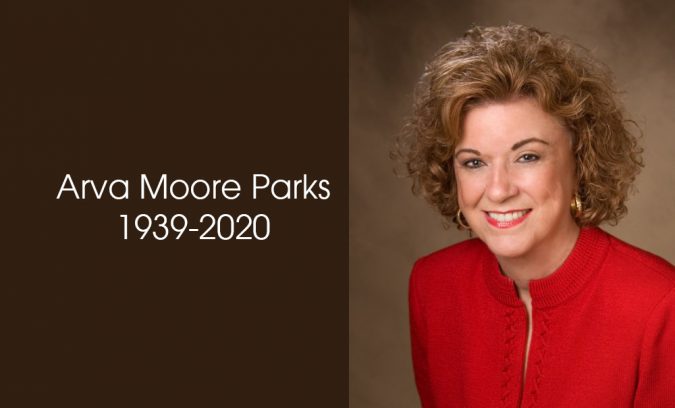 Confucius once said, "Study the past if you would define the future."
For Miami, Coral Gables and our great State of Florida, if we study the past, we can usually find it in the pen and words of a woman whose passion for our history was the driving force of her life. Yesterday, our community lost her strong voice for preservation, as Arva Moore Parks passed away in her Shenandoah home. She was 81.
Arva Moore Parks was born in Miami in 1939, at a time when Miami had under 200,000 residents. Her father was from Georgia and her mother from Kentucky. She always credited her father for instilling in her the passion for history she carried.
Parks graduated from the University of Florida in 1960 and obtained a Masters degree from the University of Miami in 1971. Her career took her from running the Coral Museum to being president of HistoryMiami, chair of the City of Miami's Planning and Zoning Board and the chair of the Coral Gables Historic Preservation Board.
Her work in preservation included Harry Truman's Little White House in Key West and Coral Gables' Biltmore Hotel.
Parks authored numerous books on South Florida history, including: George Merrick's Coral Gables: Where 'Castles in Spain' Are Made Real; Miami, The Magic City; Miami – Now and Then; Miami: The American Crossroad; Images of America: Coconut Grove; George Merrick, Son of the South Wind: Visionary Creator of Coral Gables; Legendary Locals of Greater Miami; and The Forgotten Frontier: Florida Through the Lens of Ralph Middleton Munroe
We could write her story, but it would never do it justice. However, you can read it in her own words, at the HistoryMiami Museum site.
In 1986, Parks was inducted to the Florida Women's Hall of Fame in an induction class that included Marjory Stoneman Douglas.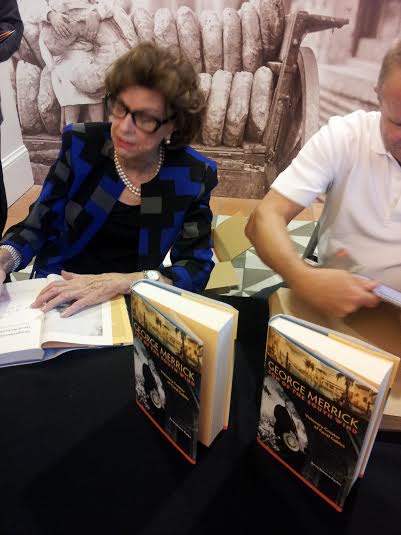 When asked how he would describe Parks, family friend Joe Higgins described her as "a staunch preservationist. She was so passionate for her work. She did it every day. There wasn't a day that didn't go by that she wasn't working on another book or collaborating with others. She didn't take weekends off. She loved doing the work of Miami from a history perspective. Her love was for the history of Miami. She was Miami's most beloved historian. She loved her kids and grandkids dearly and her two dogs, Ginger and Jane."
Although we have lost Arva Moore Parks, we will never lose her immortal words and the stories of our history, which we have a duty to pass on to our future generations.
Parks is survived by her daughter, Carey Guerra; her son, Greg Parks; her her grandchildren, Alex, Will and Isabelle; as well as her beloved dogs, Ginger and Jane.
TRIBUTES FROM OUR COMMUNITY
"Arva Moore Parks was Miami's historian extraordinaire. She fought to preserve historic structures like the Coconut Grove Playhouse. And she did it with a smile, rather than a frown or a scowl. I considered her my mentor in the efforts to preserve and document treasures like Vizcaya, Marine Stadium, Gusman and so many others." – Miami-Dade County Commissioner Xavier Suarez
---
"She truly IS Miami. The best cheerleader we ever had with so much heart and soul. Who will carry the torch now she is gone? We carry the torch in her honor." – Miami-Dade County Commissioner Daniela Levine Cava
---
"She was a wonderful person, and this is a great loss. She brought our history forth. We know our history, George Merrick and who we are because of her. She is the one who discovered it for us. We will be eternally grateful for it." Coral Gables Mayor Raul Valdes-Fauli
---
"It is with great sadness to learn that Arva Moore Parks, a well-know preservationist has passed away. I considered Arva a dear friend who played a huge role in saving the Biltmore Hotel & did extensive research on Coral Gables history. I wish her family my condolences & prayers." – Coral Gables Vice Mayor Vince Lago
---
"Arva Parks was a renowned champion of historic preservation and left an indelible mark on the City of Coral Gables. Her imprint is visible in the Biltmore Hotel, the Merrick House, the Coral Gables Museum, and even in the existence of our historic preservation program. Her book George Merrick, Son of the South Wind, a copy of which she gifted me when I was first elected as Commissioner, is an incredible tribute to our City, its founder, but also to her incredible talent, passion, and dedication. She will be missed, but her legacy will always endure." – Coral Gables Commissioner Mike Mena
---
"Ms. Parks was a hero to Coral Gables and I am saddened to hear of her passing. We were incredibly fortunate to benefit from her enduring passion for the City's history and and will remain indebted to her forever. Without her, Coral Gables would simply not be what it is today." – Commissioner Jorge L. Fors, Jr.
---
"South Florida, and Coral Gables in particular, has lost one of its most distinguished citizens. Arva loved Miami and its colorful history. She spent most of her adult life, over 50 years, researching Greater Miami history, producing numerous books and articles. She was fascinated in particular by George Merrick, and through unprecedented access to the Merrick family and their documents wrote the definitive story of the life, character and genius of the visionary creator of Coral Gables, one of the state's first planned and most beautiful garden cities. Those of us privileged to live in this oasis have Merrick and his vision to thank for what we enjoy, and all those who worked so hard to preserve it. We owe a profound debt of gratitude to Arva Moore Parks for bringing Merrick "back to life" for us, and for reminding us just how much hard work he put into his creation. We also remember her selfless work in curating and chairing the Coral Gables Museum. Coral Gables will not soon forget this remarkable woman." – Former Coral Gables Mayor Jim Cason
---
"Arva's passing is a huge loss to our community. She was very involved in educating the public about the early history of Coral Gables and Miami. She worked with my father to establish the Coral Gables Historic Preservation department in the early 70's. Her advocacy assisted in saving the Biltmore Hotel along with other historic structures throughout Coral Gables. On a personal note, she was a kind and lovely lady who cared deeply about her family, friends and community. She will be greatly missed." – Former Coral Gables Vice Mayor Bill Kerdyk, Jr.
---
"I speak not only for myself, but for our entire Board of Directors, in expressing our deep sorrow at the passing of Arva Moore Parks. She was a great lady, a passionate historian, as well as a mentor and cherished friend to so many of us.  It's unlikely Coral Gables and Miami will ever see the likes of her spirit, determination and passion again." – John Allen, Executive Director, Coral Gables Museum
"Arva was an icon in our community. Her passion and dedication to preserving the history of Coral Gables and all of Miami will be missed. However, her life's work chronicling our shared history and advocating for its preservation will be an enduring legacy for which we are forever grateful." Christopher Spuches, Chairman, Coral Gables Museum
---
"Arva was a one of a kind, unique Miamian, a woman of grace and stature, respected wherever she went. Her contributions to our community could fill volumes. She was an irreplaceable force for historic preservation and her many books documenting and recording of our community history are priceless. More than a preservation colleague, we shared a special bond, someone I could always count on and someone who could always count on me. Dear Arva, please Save a Special Place in Heaven." – Richard J. Heisenbottle, FAIA
---
"Arva was a local treasure. In 2013, we had the privilege of honoring her with our Arts & Culture Award for her significant contributions to historic preservation and the cultural landscape not only in our City Beautiful, but the greater community as well. We will remember Arva for her dedication to encouraging all of us to come together through a shared sense of place. She will be missed." – Mary Snow, Executive Director, Coral Gables Community Foundation
---
"For me, Arva Moore Parks was the leading lady of preservation. There are no words to describe her contribution to our local historical legacy. The world lost a treasure and a relentless warrior. Arva led the torch in the preservation fight and succeeded in most including saving the Barnacle and the Biltmore from the wrecking ball. As a novice preservationist, I looked to Arva for inspiration. Recently, I nominated her as a 'Miami Mujer' and she certainly deserved the honor." – Karelia Martinez Carbonell, President, Historic Preservation Association of Coral Gables
---
"Today. Dade Heritage Trust mourns the passing of Executive Board Member Arva Moore Parks McCabe, who died yesterday at her home in Miami's historic Shenandoah neighborhood. Arva was someone who was always willing to provide research and expert testimony to help South Florida preservation projects succeed. Arva was a mentor to me throughout my preservation career and was someone who reached so many people in-and-out of the preservation community. She will be truly missed." – Christine Rupp, Executive Director of the Dade Heritage Trust