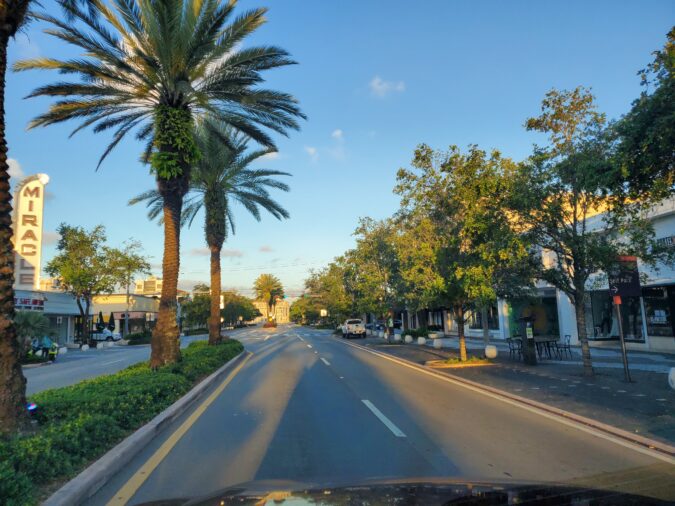 At October 27th City Commission meeting, commissioners took up an updated city-wide zoning code for approval on first reading. As part of that update, changes proposed would allow for remote parking combined with height and density formulas on Miracle Mile. According to the new code proposal, current single-story parcels can re-develop up to six stories (70 feet) in height.
The item passed 4-1, with Vice Mayor Vince Lago being the sole dissenting vote. Commissioners Michael Mena and Jorge Fors, made it clear that while they were voting yes on first reading, it does not mean they agree with the proposed changes as written and does not guarantee their vote on second reading. Regardless, the item is one vote away from passing at 2nd reading which has concerned residents nervous.
As explained in our previous story and as the saying goes, the devil is in the details. Allowing properties to take advantage of remote parking allows developers to build more in regards to height and density within the building envelope. Currently, properties would need to build parking, which is not feasible for most of the properties along Miracle Mile. As a result, the look and feel on historic Miracle Mile has remained the same since 1922.
Prior to the meeting, Lago wrote a memo outlining his position on the zoning code wanting a lower height and density requirements. He wants to keep the building heights to no more than 3 stories with significant setbacks. Lago agrees with remote parking and does not want to see parking garages right on the mile.
Commissioner Patricia "Pat" Keon lead the charge to quickly pass the nearly 1,000 pages of a new zoning code because the city has already invested $25 million re-doing Miracle Mile streetscape. As per Keon, the city now needs to help developers redevelop Miracle Mile. What would the struggling business owners say about more construction disruptions?
"In doing remote parking, what we are creating is a tool to be able to achieve that vision as to how the Mile will develop. Is it a gift? Is it not. Listen, one way or the other, it's a tool to be able to achieve a vision" said Keon who is not in favor of restricting density or height on Miracle Mile.
Keon went on to say that restricting massing would not please developers. "I think maybe, it takes more meat off the bone than you really want to do. I think you need to leave enough meat on it to encourage people to develop," said Keon.
In contrast, Lago wants to ensure that massing is reduced, which is aesthetically a lot more appealing. "We need to consider what we're doing here, because we need to protect the integrity of Miracle Mile." said Lago. He wants to see Miracle Mile to be more in line with Worth Ave in Palm Beach or Rodeo Drive in L.A. in terms of scale.
Lago says there are developers looking at opportunities to build massive structures if Keon gets her way, citing the Barnes & Noble site in addition to a hotel without parking across from Hillstone's known as 220 Miracle Mile. Gables Insider has also learned that the owner of the site of the former Navarro Pharmacy at 93 Miracle Mile also wants to build a hotel if this zoning re-write is approved.
After the vote, Keon asked Lago why he keeps on bringing up 220 Miracle Mile. She asked, "What is 220 Miracle Mile?" Lago reminded her of the project, which appeared before the commission that was out of scale and was not buildable within the current code.
"The reason why we have the zoning code here, you may differ, but the reason why we're here today is because there has been an internal push to get this project pushed — of epic proportion like I have never seen. … But let's be honest with ourselves, you have pushed for this project [220 Miracle Mile] and have pushed and pushed and pushed to the extent that you have even attended a Planning and Zoning meeting to make sure this gets rammed through." said Lago.
Keon quickly responded, "I didn't". Lago then raised his hands with marked pages from the July 29th, 2020 Planning and Zoning meeting in which her testimony appeared in three separate pages.  She appeared before the city's board seemingly lobbying in favor of developers. Lago called her appearance before a lower board unprecedented and heavy handed.
Gables Insider learned that Keon also attended a prior Planning and Zoning board meeting on October 17, 2018, in person.
Vice Mayor Lago addressed Keon saying, "I hate to remind you, you don't work for the developers, you work for the residents."
Commissioner Keon continued to seem 'forgetful' on the dais, also claiming that the project at 220 Miracle Mile had not gone before the city. However, staff corrected her saying that the project did indeed come before the commission and several boards earlier this year.
Gables Insider spoke with former city officials and planning and zoning board members who confirmed its unheard of for a sitting elected official to appear before the planning and zoning board for advocation of an item that will appear before the commission as-a-whole.
In wrapping up the heated debate, Mayor Valdes-Fauli said "Miracle Mile is sick.", implying that these changes are necessary. However, Commissioner Mena's responded saying, "Keep in mind that as we approve board swaths of zoning that would bring significant amounts of commercial retail to the downtown area; that will only make it harder for Miracle Mile and its tenants to compete."
The second hearing for the Miracle Mile proposed zoning re-write will take place in December. It should be noted that Vice Mayor Vince Lago who is eligible for re-election has decided to run for mayor in 2021. Pat Keon, also eligible to run for re-election as commissioner, has been considering a run against Lago.