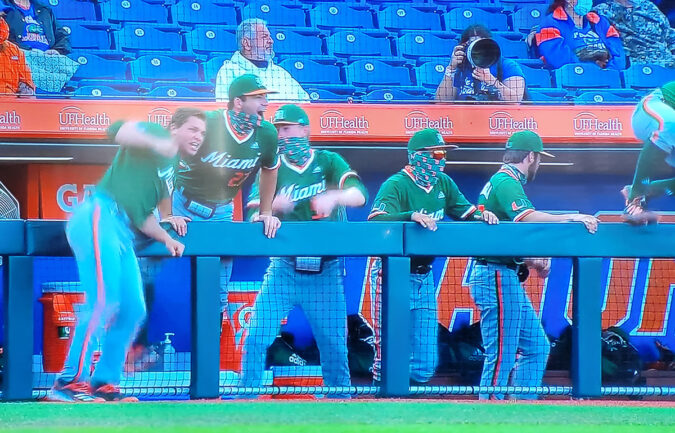 The Alumni game returned to the Light after Missing out last year due to COVID. Many of our favorites were on hand to welcome back the crowd and treat the fans to an evening of baseball and welcome the beginning of a new season of Cane baseball. This is usually a tuneup session where the future plays the oldies in a confidence builder. Instead, not only did they boost their level to an uptime high but put the hurt and showed no respect to their senior heroes. Behind the pitching of Carson Palmquist and company, they held the Alum to just a single hit, striking out 12 while only giving up 2 walks. Carson can credit 9 of those strikeouts pitching 5 very strong innings. Gave up the sole single off the bat of Romy Gonzalez leading off the 4th inning. While our pitching staff was putting on a clinic so did the bats make a strong statement. A 13 run barrage behind 14 hits where everyone in the starting lineup contributed with at least one hit. Three players had multiple hits and the only thing missing from the outflow of hits was the bomb. Gaby Gutierrez almost made it with a GRAND SALAMI, but only came away with a very deep SF to left-center. Gino gave everyone a chance to bat switching out in the 5th inning. It was an evening for all to remember, particularly our freshman playing for the first time in front of the Cane fateful cheering them on. Towson beware, after tonight this is a team ready to take on all takers. A 13-0 clobber why shouldn't they feel they are the baddest team around.
Starting lineup was pretty much expected. Leading off was CJ Kayfus playing first. Mike Rosario batting second playing right. Our OF is loaded with quality players and I expect to see this will be fluid determining who is hitting and who is not. I was thinking Zach Levenson might have started over Mike in right but as I stated we are top-heavy for OF. Batting third was Yoyo as the DH. As I mentioned in my last writeup, it appears he has some type of arm injury preventing him from throwing the ball. Hopefully, this is temporary and he will be back playing third. Batting cleanup Max Romero catching. Carlos Perez is out for an undisclosed time due to an injury to his thumb which must have happened over the Christmas break. Backup for Max is JD Jones. All three catchers hit for power.  Jacob Burke batting 5th playing left. Hard to leave him out of the lineup but you can only have 3 OF at one time. I was looking at Gaby Gutierrez to start in left because of his HR power. He displayed it in the 8th and how far he can drive the ball. Batting 6th, Dorian Gonzalez playing second. He is my first choice behind Henry Wallen who was playing third tonight in lieu of YoYo. Henry batted 9th in the order. Coming in batting 7th was Dominic Pitelli which position-wise was a no-brainer at short.  Jacoby Long playing center batted 8th. The OF is very fluid as I mentioned and on any given night you might see any combination of the 8 OF listed on the roster. Starting pitcher Carson Palmquist who I expect to see next Friday on the mound for opening day.
The one thing I don't want to see is the team get overly confident coming off this shellacking and to realize the Alum is not your typical team they will face this season. the Alum were sloppy in their play on the field and did not show the usual hustle one would expect from a competitive team. The Alum were having fun and for most this might have been their first-time back on the field in quite a while.
Carson showed no mercy in the 5 innings pitched which in itself is noteworthy. This is what is needed from all our starters which was not the case last season. Our starters struggled just to get three or 4 innings. Carson looked sharp tonight striking out 9 and only allowing a single hit coming to lead off the 4th. Only allowed three base runners to reach first base. He hit one batter in the second and walked the leadoff batter in the 5th. 
The heart and soul of any team is quality pitching, but you must have the support of an offense that can put runs on the board early and not let off the throttle. That is exactly what happened tonight starting in the first. CJ Kayfus led off with a single followed by Mike Rosario tripling to right for the first run of the game. Added a second run on an E6 which brought Mike home. Spotting a 2-0 lead in the first can't help to relieve pressure for Carson on the mound. The 2-0 lead was helped along by the slopiness of the defensive play from the Alum. 
This continued in the 2nd with an opening single by Dominic Pitelli followed up by a single to right by Jacoby Long which got by Willie Abreu in right scoring Dominic all the way from first and Jacoby ending up on third. CJ would score Jacoby on a ground out making it 4-0. 
4-0 lead would stay as is until the 5th when the scoring machine went into overdrive. The 5 runs came on the heels of 3 errors, two of which cleared the bases. Had runners on 1st and 3rd no outs (walk, single, WP). Henry Wallen hits to right getting by Willie. The relay to short who throws to third getting by him. and Henry completes the circuit around the bases-clearing everyone in front of him. Starting all over again CJ singles and YoYo triples scoring YoYo. SF to right by Max Romero and the game has become a total route at 9-0 at the end of 4.
At the end of the 5th, with the game well in hand, massive changes as Gino cleared out the dugout. The only person remaining Dorian Gonzalez still playing second. Things did not start heating up until the 8th when 4 more runs were added to the score. The inning started with Renzo Gonzalez PH who replaced Dominic at short gets hit by pitch. Lorenzo Carrier PH for Long singles. Runners on 1st and 2nd, catcher's interference called giving Zach Levenson a free trip to first to load the bases. Gutierrez SF to center brings in the 1st of 4 runs. Edgardo Villegas get hit to reload the bases followed by JD bringing in run #2. Henry Wallen's single for two more and the visiting Alum wave the white flag and the inning ends at that point. 
With the score at 13-0, Rafe Schlesinger brings the curtain down with a pair of strikeouts and a groundout 5-3.
Between Palmquist and Schlesinger, had Andrew Walters, Alejandro Torres, and Anthony Arguelles each throw one inning with only allowing one baserunner to reach first base on a walk.
Defensively we played almost perfectly only committing one error in the second which Dorian lost the ball in the lights. Otherwise, fielding was error-free. What was not perfect was our baserunning. This was the weak link in tonight's play. Caught stealing twice. Picked off at first and outstretching for extra bases. They need to learn to read the pitchers better. Did not have one successful steal. After 3 unsuccessful attempts in the 1st 3 innings never did attempt against the throwing arm of Adrian Del Castillo.
Offensively, the bats were singing with 14 hits. For the most part, it was mostly a small ball affair but three hits were for extra bases. Double by Dominic Pitelli and a pair of triples( Mike Rosario, YoYo Morales). With all the hits pounded out only three players went for multiple numbers. CJ Kayfus 2-3; Yoyo 2-2 (triple); Jacoby Long 2-2.
Brief-time to celebrate for tomorrow, it is back to scrimmaging putting what was learned tonight in preparation for opening day a week from today. The first pitch tomorrow comes early at 10 AM