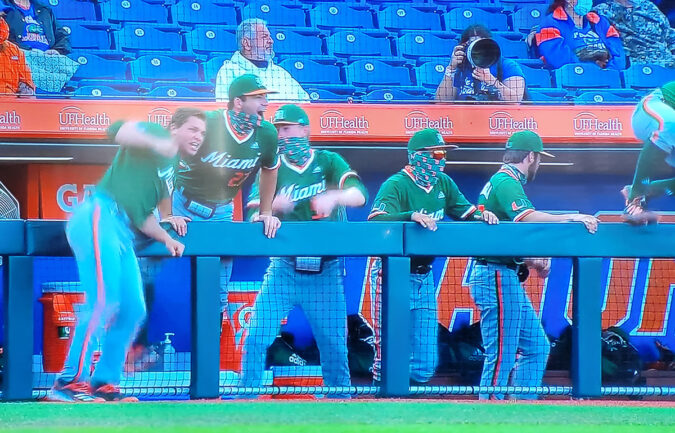 With the start of the regular season one week away, concern continues to grow about whether the pitching staff will be ready. If today was any indication of what to expect, we are definitely in for a long season of disappointment. Two of the three starters made their appearance today: Gage Ziehl and Karson Ligon. I can critique their performance in one word: horrific. Control was their nemesis in not being able to find the strike zone. Too many walks, WPs, hits, and not enough strikeouts. After a disappointing 4 plus innings from each, the BP looked just as bad if not worse. Maybe our hitting is that good and although they are, it does not take away that from what I have seen this preseason, the pitching staff is NOT ready for prime time.
Gage and Karson are a good guess as being two of Gino's starters for next week's opener against Penn State. The other is Alejandro Rosario who will make his appearance tomorrow for the Alumni Game along with Ronaldo Gallo and Closer Andrew Walters. I might be totally off-base on this forecast, but all indicators are pointing in that direction.
Gage had a better first inning not allowing a run to score allowing only a walk. Karson on the other hand had no control whatsoever initially giving up a HR to Dario Gomez on his first pitch and proceeding to walk three to load the bases. Lorenzo Carrier given the opportunity to totally end Karson's day instead hitting into a 6-3 DP. Three walks, a bomb of a HR, and a couple of WPs don't leave a good taste in one's mouth.
The second inning they each gave up a run. Gage opens the second walking Jacoby Long who steals second and advances to 3rd on a WP. After striking out Renzo Gonzalez, hits Jack Scanlon. Runners on the corners, set up what I call the razzle-dazzle where the runner on first tries to force a throw to second and gets into a rundown. This opens the window for the runner at third to come home while the runner at first keeps from getting out until the run scores. Carlos Perez took the bait and Jack put up enough delay for Jacoby to score. This is a sucker move and Carlos should have known better. Less than two outs give up the base, not the run especially if you have someone who knows how to run the bases on third. Karson continued his misfortunes in the second opening with a lead-off single by Gaby Gutierrez and closing with an RBI double by JD Jones.
Third inning both got off without giving up a run but for Gage it was back to the scoring column with a lead-off bomb by Edgardo Villegas to right center to start the 4th. Got lucky next with Ian Farrow trying to stretch a single into a double and getting thrown out at second. One more hit by Zach Levenson but no more runs.
The 5th saw departure by both before they completed their inning. Before leaving, the offense left them something to remember them by. Jack Scanlon said his goodbye with a 2 run blast. Alex Walsh who replaced Gage got into the HR discussion with one of his own coming off the bat of Blake Cyr with one on. Karson also didn't leave on a positive note in the 5th with a trio of walks, a balk, and a throwing error for a score. Sebastian Perez had to bail him out striking out Ariel Perez with BL. Neither Karson nor Gage gave sterling performances today which gets you to wonder if these are two of our best, what do we do for an encore?
Sebastian did not come away scot-free giving up an RBI double to Renzo Gonzalez in the 6th. After Walsh gave up the homer in the 5th for the next two innings he skated by without giving up a run.
Carlos Lequerica replaced Walsh in the 8th after Alex escaped with an 8-2 DP to finish the 7th. Carlos was the only pitcher to escape without a run scored going for a 3up/3down performance. The bottom half of the 8th Gunther Braendel made his contribution to the dismal performances of our pitching cadre. Gunther never made it past one out before being relieved. Opening walk to Ian Farrow, double by Gaby Gutierrez, and Zach following with an RBI single. Manages to get Ariel Garcia to fly out to center but after walking JD Jones, his day was done. Chris Scinta comes in to stop the bleeding but doesn't do so until Dominic Pitelli brings in one more run with a 4-3 groundout.
The scrimmage ended on a low note wondering what might have happened to the non-throwing shoulder of Chris after giving up a triple to Carlos Perez. Walked off the mound and told JD he could not continue. That climaxed a day of pitching at its worse.
While pitching continues to be at a low, the same can not be said of the offense. The bats continue to sizzle pounding out 15 hits, with 9 of them for extra bases. 4 Doubles (Renzo Gonzalez, Gaby Gutierrez, JD Jones, Alejandro Torres); one triple (Carlos Perez); 4 HRs(Dario Gomez Edgardo Villegas, Jack Scanlon, Blake Cyr). Four had multiple hits. Carlos Perez 2-4; Gaby Gutierrez 2-3; Zach Levenson 2-3; JD Jones 2-3.
Just might be our batters know too well our pitching crew. The real test will come next week when we open against the Nittany Lions. We will know if I have been blowing smoke or we have serious issues. The real test will come in week 3 against the Gators. That is for another day. Tomorrow, it is all for fun in which the Alum hopes to do what no other Alum team has done in more years than I can remember and that is to embarrass our hope for 2023.