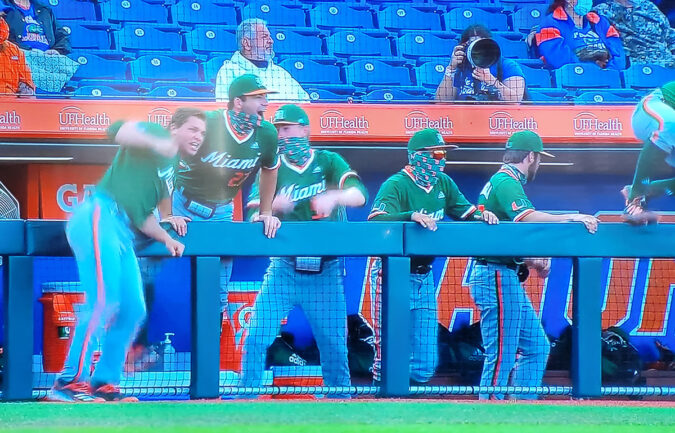 Don't be fooled by preseason crystal ball forecasts by Baseball America as 7th best in this year's recruiting class. I place very little weight on all the hype on who is best and how well this year's team is going to be. I can't remember when the last time they have been right as to players or team. Last year they had us going to Omaha and this being one of the best prospects ever. You saw how that went as with our returning players. Bottom line is what can you do for me now. We will always find diamonds in the rough who were not even on the radar scope preseason and those who just could not cut the mustard from HS to collegiate ball. Preseason starts next month and hopefully they will allow spectaculars in the stands, specifically me, so I can give you an unbias opinion as to how I see it for the forthcoming season. Last year I was sucked into all the hype and when I was able to see the reality of what we actually had for a team, I realized once again, fake news. Perfect example is this year's football team. A total train wreck offensively and defensively. The same with the Dolphins. Seeing is believing. You can throw away everything you read about recruiting class and forecasts come Feb when they take to the field and the first pitch is thrown. Even then, don't start making plans for Omaha. We looked great against Florida, and then the roller coaster of a frustrating season followed with no hitting and dismal returns from our starting pitchers not being able to get beyond the 5th inning.
We will just have to wait and believe that even with 11 players exiting into the portal which included Lala, Rivera, Gil, and Alex Toral who transferred to FSU, that we still have some HR power remaining to take us to the next level.
Small ball doesn't win ballgames. When you have runners on base, you can not leave them stranded. If we don't want to see a repeat of what seems like every year, we need punch in the bat for that extra base hit or better still clearing the bases with the bomb. Better base running, smart fielding, and consistent pitching is the only thing to move this team forward. It is definitely not what is written in print. Our hitters and pitchers can't believe what the media is telling them about themselves. They need to believe and perform and not to taken in with all the hype. Last year, our hitters left our pitchers out to dry, because they could not put runs on the board and leaving men on bases. Mental toughness and execution on the mound and at the plate is what is going to carry this team forward and not the hype and the waving of the flag. It is a tall task to lay on these kids, but the road to Omaha has to be taken one step and one game at a time.