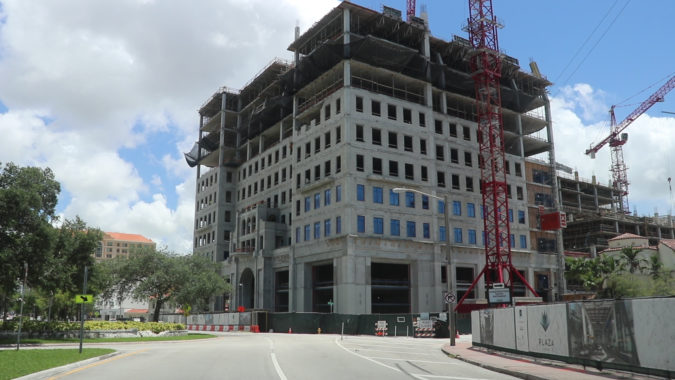 By Anthony De Yurre and Jennifer E. Fine on October 24, 2019 Posted in Real Estate
The clear evolution of infill real estate redevelopment in South Florida and Greater Miami is towards a true mixed-use environment that makes areas desirable places to work, live, and play.  Coral Gables, with its vibrant commercial areas, is an example of a municipality within Greater Miami-Dade County that is leading this charge through a specific mixed-use zoning code overlay to promote these "placemaking" pedestrian friendly projects.  More and more, significant knowledge of these mixed-use standards is critical to the success of any Coral Gables real estate development project.
Coral Gables' own objectives and policies of the Coral Gables Comprehensive Plan, recognize the importance of mixed-use development. For example, Objective FLU-1.1., states that a goal of the plan is to preserve Coral Gables as a "placemaker" where the balance of existing and future uses is maintained to achieve a high quality living environment. Policy FLU-1.9.1, encourages balanced mixed-use development in the central business district and adjoining commercial areas to promote pedestrian activity and provide for specific commitments to design excellence and long-term economic and cultural vitality. Additionally, Policy HOU-1.5.2 sets out the specific City goal to "encourage residential mixed use as a means of increasing housing supply within the Downtown/Central Business District/Mixed Use Development Overlay Area, thereby promoting increase in commercial and retail activity, increased use of transit, reduction of auto dependency, in association with minimizing visual and physical impacts of nearby lower density areas."
These Coral Gables mixed-use goals and policies are applied through the City's Mixed-Use District (MXD) overlay and regulations. The purpose of the Coral Gables MXD regulations is to provide for residential uses at a higher density in exchange for public realm improvements and to create a diversity of uses, including residential, office, retail, and public open space. An MXD may constitute an individual mixed-use building or may be assigned as an overlay zoning designation in the Commercial (C) and Industrial (I) Districts.
Where MXD is proposed as an individual mixed-use building, multifamily residential use is permitted as part of a site plan approval, which requires conditional use review and approval at a public hearing. While the underlying zoning district regulations are still applicable, it is important to note that the site-specific standards do not apply to properties seeking assignment of an MXD overlay, and approval of an MXD overlay deems the underlying site specific regulations void.
One of the requirements of the MXD regulations is a minimum site area of 20,000 square feet for both a mixed-use district and for a project or building. One of the benefits of developing under the MXD regulations is that there is no minimum or maximum lot coverage. It is important to note that a minimum of 8% of the total square footage of the building square footage or the entire ground floor, whichever is greater, must include a mix of uses. Equally important is that Coral Gables Mediterranean Architecture Design is mandatory in the mixed-use overlay districts.
Both Floor Area Ratio (FAR) and height vary depending upon the underlying zoning and future land use map designations, but residential density is permitted up to 125 units per acre, except in the Central Business District (CBD) and North and South Industrial Mixed Use Districts where there are no density limitations. Importantly, density and FAR can be transferred throughout the site, so long as all other requirements are met. Lastly, certain pedestrian amenities and public realm improvements are required, with each project requirement being unique in this sense.
The MXD has successfully proven to be a valuable tool for developing planned unified projects and a walkable downtown area where residents and visitors can live, work, and play. Thus, implementation of the Coral Gables MXD regulations has been and will continue to be a critical component of future commercial development in Coral Gables. Of course, knowledge of the law in a vacuum does not translate into success and a high-level working knowledge of the Coral Gables site-plan approval process, conditional use review and public hearing approvals is equally critical to successfully develop a project in the downtown and surrounding commercial areas of Coral Gables.