Karelia Martinez Carbonell
Martinez Carbonell is the president of the Historic Preservation Association of Coral Gables
In 1951, Lucile Neher, won a seat on the Coral Gables Commission as the first female elected official on the dais. Lucile, a native of Ohio, added "Madam Commissioner" to her other titles of wife, mother, and business owner. She served for six years in the Gables city commission–a two-year term from 1951 to 1953, and was reelected to a four-year term from 1953 to 1957. According to a media report, she declined to seek reelection in 1957 "to make way for somebody else."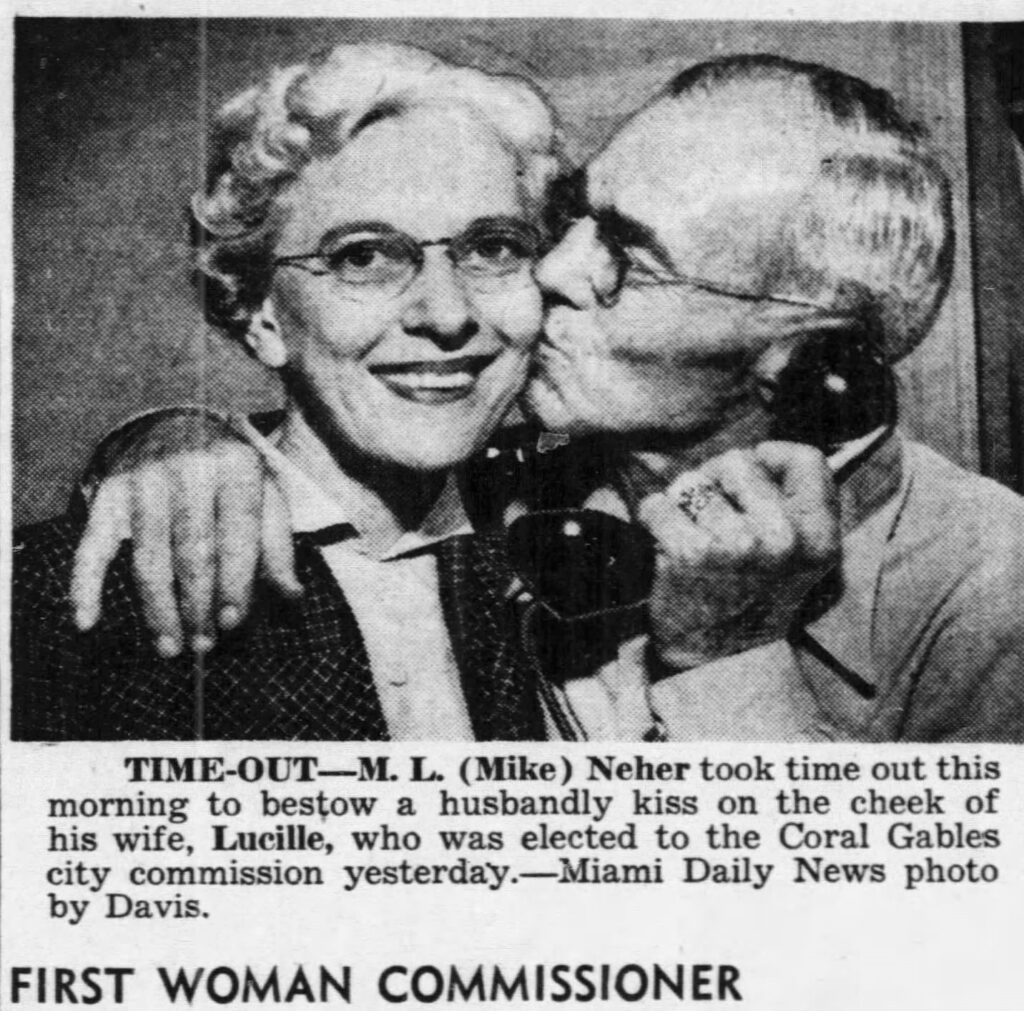 Lucile Pretz was born on a farm in Plain City, Ohio July 20th 1902. After graduating from Ohio University, she moved to Florida to sell real estate. That career was cut short by the real estate bust of 1925. Land sales behind her, she pursued an opportunity in government as assistant to the Miami Beach city accountant. During this time, she met her future husband, Michael Neher. Once married, they moved to Coral Gables where Lucile lived for 42 years until her death in 1967. The couple owned and operated Marvel Dry Cleaning and Fur Storage on Miracle Mile.
Lucile Pretz Neher was an active member in her community, serving as the first president of the privately-incorporated People-to-People program in Coral Gables. The program was founded in 1956 at the request of President Eisenhower. Under Neher's leadership, the city adopted its first sister city of Cartagena, Colombia in 1957. Today, the sister-cities program continues to expand in Coral Gables with agreements in 10 other regions: Aix-en-Provence, France; Granada, Spain; La Antigua, Guatemala; Province of Pisa, Italy; Quito, Ecuador; Santa Tecla, El Salvador; San Isidro, Argentina; Sevilla, Spain; Puerto de Santa Maria, Spain; Andorra la Vella, Andorra.
"The best for women"
Lucile was also a charter member and past president of the Soroptimist Club of Coral Gables. The club, whose name was coined from the Latin soror meaning sister and optima meaning best, stands for 'the best for women." She also served several terms as president of the Junior Orange Bowl Committee. Both organizations are currently active in Coral Gables.
As Coral Gables Commissioner, she is credited with bringing "a woman's touch" to city hall renovations, including the addition of a mural. At the top of the building's stairway is a wall mural painted by renowned American painter, illustrator and muralist John St. John [1911-1986] whose other public works include the first exterior monumental mural on a public building in the United States. The mural, titled "A History of Florida," is 350 feet in length and three stories high on the campus of the University of Miami. The city hall mural is titled "Landmarks of the Twenties" and depicts buildings and scenes from the early years of Coral Gables. St. John was commissioned to do the 20 foot X 13 foot mural by Commissioner Neher in 1957 at a cost of $2,800. [Historic American Building Survey, prepared by Carol R. Alper, Coral Gables Historic Preservation Board of Review, 1981]
Other accomplishments as commissioner included the beautification of the main entrances and plazas; and the planting of thousands of trees and shrubs along the parkways. She also sponsored adding and/or repairing sidewalks in many neighborhoods, school areas and commercial districts. Among many awards and accolades, Lucile Neher was named "Woman of Achievement" by Business and Professional Women's Clubs of South Florida during her first tenure as Coral Gables city commissioner. 
Lucile Neher and her husband moved quite frequently. They lived in their "honeymoon cottage" at 814 Milan Avenue for about three years, then moved to Sevilla Avenue, next to Altara, then Salzedo, Giralda, Segovia [where she resided during her terms as city commissioner] and lastly at 1415 Dorado Avenue.
Lucile loved traveling to Europe and the Caribbean including flying to the Bahamas and Cuba out of Watson Island by Seaplane, a popular and preferred mode of transportation from the 1930s to the 1950s. According to a December 1960 Miami News interview, she mentioned, "I want to go back to Africa," referring to her four month junket around the world that included two months in Africa and the Congo.
The Honorable Lucile Neher certainly "did her share," as she would say when asked about returning to public service.
She passed away a month shy of her 65th birthday on June 30th 1967. She was survived by her only son, B. E. Neher.
[Research and documentation provided by former Coral Gables resident Kendell Turner and current Landmarks Advisory Board vice chair Jane Maranos.]