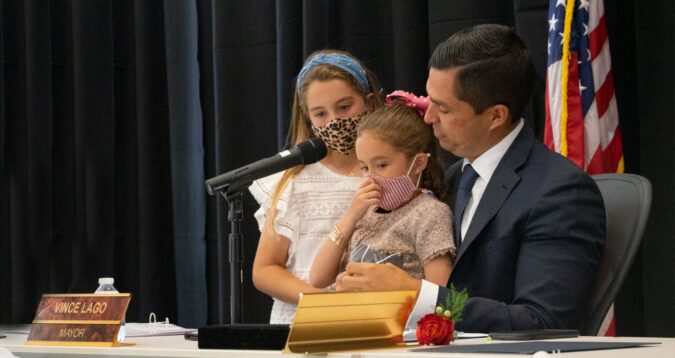 "I want to start by thanking everyone who is joining us today. Especially my wife Olga Mari, and my daughters Mirentxu and Catalin. My dad and mom, my brother and sister, my brother in-law and sister-in-law, along with my entire family.
I want to also recognize all the elected and former elected officials who are joining us this morning – including our local and county leadership.
I am extremely honored and immensely humbled to have been granted the opportunity to serve as mayor of Coral Gables. I am blessed to live in a city with such a rich history, vibrant culture and engaged residents.
As many of you know, I have always loved our city. It has been a place I call home and has held a very special place in my heart.
From my days as a child exploring parks with my grandfather, to spearfishing with my friends, to marrying my wife and raising my beautiful girls in the city, I am proud to live in this great City of Coral Gables and beyond blessed to live in our great country, the United States of America.
America is a place where immigrants, like my parents, can live the "American Dream," where we all can enjoy liberty and the pursuit of happiness. I am proud to live in a nation where everyone regardless of race, ethnicity, gender, religion, sexual orientation, or political affiliation, are free to express themselves and indulge in the simple freedoms that make our country unique.
In the words of Jose Marti, "As the bones to the human body, the axle to the wheel, the wing to the bird, the air to the wing, so is liberty the essence of life. Whatever is done without it is imperfect."
As a first generation Cuban American, my parents instilled in me patriotic values and taught me what it means to be an American and how you must work hard to fulfill your dreams. Being an American is not just a title, it is a privilege, and my interest to run for office always stemmed from my passion to serve our community and our beautiful country.
I want to thank my parents who have inspired and molded me into the man I am today, especially my father, Dr. Vicente Lago, who taught me the importance of giving back to the community from a young age. I live to make my father proud and if I grow up to be half the man he is, then I will consider my life a success.
There are some who cannot be here today, but I know they are here in spirit like my grandfather, Dr. Vicente Lago Pereda who was Chief of Public Health and a Congressman in Cuba; my grandmother who lived on Minorca for many years and was instrumental in not only my upbringing, but the upbringing of many of my closest friends who are here today when she would pick us up from Yolanda Garden School and spend our summers at Oceanfront. Also, my in-laws who I greatly admire, and their faith has always inspired me.
Most importantly, I would like to thank my wife and children for their love and support. Without their support, I would not have made it this far. To my wife Olga Mari: thank you. Your patience and support over the years, has allowed me to dedicate time and effort towards serving our neighbors. You are my rock.
I chose to run for Mayor, because I hope to make our city a better place for the next generation, which includes my girls, Mirentxu and Catalin. I love them very much and I am grateful for our their love.
I must also thank my colleagues whom I have had the privilege to sit on the dais with; and congratulate our new incoming members to the Commission. I look forward to working together with all of you over the next few years.
As we put the election behind us and we get ready to govern, there are certain issues that we need to address if we really care for our city and its future:
First, we need to avoid falling prey to the easy temptation of injecting partisanship into local elections. Some have and will continue to push partisan politics in order to try to score easy political points in the short run. However, over the long term, partisanship will corrode the core values of our municipal governments, destroying consensus, strangling harmony, and turning compromise into a scarlet letter.
Second, we will never succeed in encouraging greater participation in our local elections if these elections keep getting funded by dark money and secret political committees. Our residents deserve to know who is behind these entities and who is funding these attacks, especially now that some media outlets have chosen to turn a blind eye to candidates who openly benefit from these mechanisms.
Finally, we must work to increase transparency in our elections and our government. I ran on a campaign of transparency and I plan to govern with transparency. Today, I am announcing that I will be reaching out to my colleagues so that together we can work with the Miami-Dade Ethics Commission to conduct an audit of city lobbying protocols and procedures, to ensure that our residents always know who is meeting with their elected officials and what positions they are advocating for.
During my last eight years as Commissioner and Vice Mayor, a lot of important milestones have been accomplished. Today, we look towards the future and we are enthusiastic to announce some of our new initiatives.
As part of my first directive as Mayor, my office is working to launch the Mayor's Office first-ever Strategic Priorities Plan, which outlines my goals as mayor for the next two years. Beginning May 1st, I will embark on 100 days of Listening Tour where I will meet with residents, business owners, and civic organizations to listen to any concerns or ideas and will also launch a city-wide survey that will be helpful to me and my team as we aim to improve our city.
I also look forward to announcing our Transportation and Water Quality Task Forces. These groups comprised of residents will be critical in working to help us identify solutions and funding sources for the quality of life issues facing our community.
President Abraham Lincoln once said, 'Commitment is what transforms a promise into reality'. As your Mayor, I am committed to shaping the future of our city with you. I promise you that I will do everything in my power to place the needs and concerns of residents first and move the city forward. I will continue to represent and listen to everyone in our community.
I look forward to serving you and remember, 'my door is always open.'
God bless the City Beautiful and God bless the United States of America!"