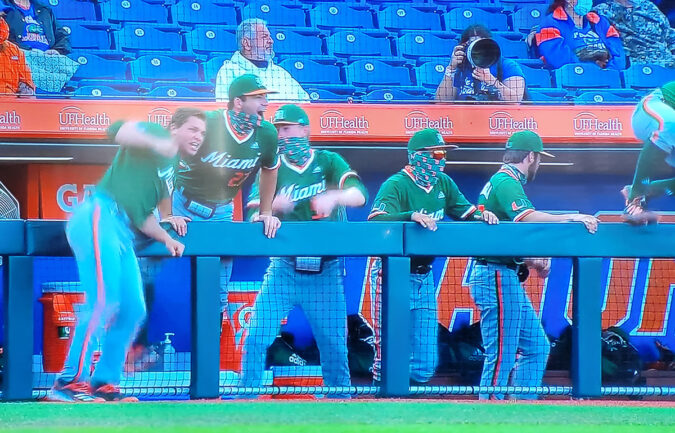 A bit of old news for some getting the word last week, but it has not got any prettier a week later. Joining the exit of what appears to the largest exit ever that I can remember the count is now at 11. Joining Raymond Gil, Jordan Lala, Gabe Rivera, and Alex Toral 7 more have left for what they hope are greener pastures. Why they are leaving is anyone's guess but primarily due to probably lack of playing time and little chance of anything changing with those that are returning and those joining the program. Coaching might also to at the top of those disgruntled with the program. Most of these kids came to Miami for the opportunity with dreams to making it to the next level and don't see that happening sticking around for yet another year warming the bench. Hopefully wherever they land they will be given that chance to start on a regular basis and make an impact on their draft opportunity. 
For those keeping track on the latest leaving, add these names to those who have already departed: Position players Tony Jenkins, Chad Born, (outfield) Adam Frank (outfield/infield), Jared Thomas (catcher/outfield), Luis Espinal (infield) and pitchers Alex Munroe and Victor Mederos.
Let's hope that with the incoming class and those transferring in we have a couple that can make a difference in home run power, hitting consistency, and giving quality innings on the mound. With those players returning we still should have a potent force to contend with. If there's any certainty on who has a lock on a starting role would have to be our left side of the infield with Yohandy Morales and Dominic Pitelli. The right side of the infield is wide open with CJ Kayfus holding down the first base slot at this time. With Anthony Vilar being drafted 2b is wide open. The same with Carlos Perez behind the plate with Adrian also having his number called. As for the outfield, this is open season as to who will get the starting call. Like last year, I am sure we are going to see a lot of new names in the starting nine. Hopefully, unlike last year we can fine some semblance of stability especially with the starting weekend rotation.
These and other questions I am sure will work itself out in three short months when the fall preseason kicks into action. Let's keep our fingers cross that the bleeding exiting has ended and Gino and staff can start cleaning up from these departure and put together a winning season that doesn't self destruct like it did this year.