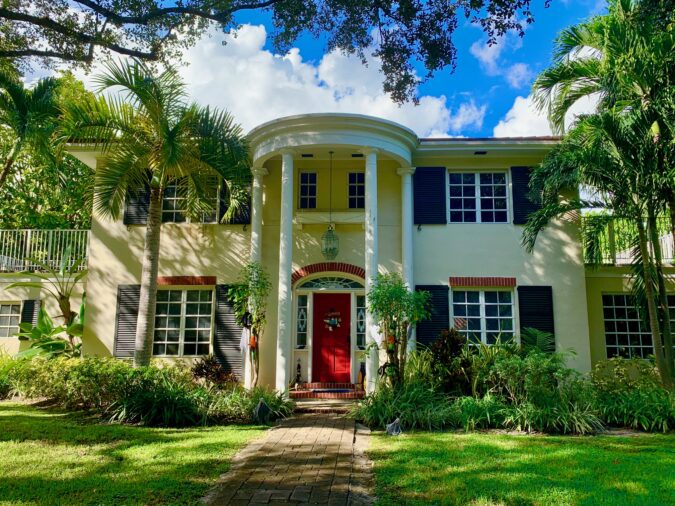 By: Dr. Karelia Martinez Carbonell
On Wednesday, the Historic Preservation Board will be faced with an important decision: preserve or lose the resource to demolition. The Board will consider local historic designation for 649 Palmarito Court per recommendation of the Coral Gables' Historic Resources Department. Staff has produced an in-depth 34-page designation report in support of preserving the property.
Under the City's Historic Preservation Ordinance, a property may be considered significant if it can be associated with persons or events which have made an impact on our community, or if the property is deemed to possess architectural distinction. This home is significant on both counts. But for this piece, the focus will be on "persons who have made an impact in our community," and they are George and Minnie, the original owners of 649 Palmarito Court.
The home on Palmarito is an early example of Neoclassical-architecture [also colloquially known as Georgian or Colonial Revival] in Coral Gables. A most patriotic of styles, a 1988 Miami Herald real estate ad refers to 649 Palmarito Court as a "1939 stately Georgian home with giant oaks." And it is fitting to refer to the home as a "Georgian" since its original owners selected their new home to reflect their Georgian and Colonial heritage.
So who were the original owners and why are they important to the Coral Gables community? They were somewhat of a celebrity couple. One had the distinction of being the youngest mayor of his town and the other a direct descendant of one of our nation's founders.
George and Minnie Simpson brought their Southern charm, hospitality, and pride of heritage with them to Coral Gables and settled in the Palmarito neighborhood. Their choice of architectural style reflected a lifestyle full of tradition and patriotism. In late 1939, they selected for their new residence a Neoclassical/Colonial Revival style construction designed by the well-known architect William Shanklin, Jr., a southerner from Mississippi. The builder was northerner George E. Batcheller, who was a significant developer highly admired by George Merrick.
And so began the home life of George and Minnie at 649 Palmarito Court. A life dedicated to civic altruism. Their home, always a place of welcome, was host to numerous events and social affairs for state dignitaries and members of local club chapters. George and Minnie were pillars of their society.
Back in Minnie's day, women were known by their husband's name. Therefore, Minnie Wolcott Simpson was officially referred to as Mrs. George C. Simpson in the many society pages. But that was fine with Minnie. She was a traditionalist and proud of her ancestry. She could trace back her heritage directly to "Oliver Wolcott" one of the original signers of the Declaration of Independence. And she lived to honor that heritage. She dedicated her time to local and state leadership in the D.A.R. [Daughters of American Revolution] Everglades Chapter [Coral Gables], rising to Florida Regent in 1940. She chaired local and state affairs in the DAR including St. Distaff Day [an old tradition inherited from Colonial times of sewing for charity], she fundraised for the DAR Museum in DC, and led the Conservation and Thrift committee.
Celebrating American heritage was Minnie's life-long commitment. This was reflected in her other volunteer work for the D.F.P.A. [Daughters of Founders and Patriots]. For the 200th anniversary of the birth of George Washington, Minnie Simpson, representing the Everglades Chapter of DAR, dedicated a tree to the first president's memory at Old Fort Dallas on the Miami River. The building was saved from demolition by the DAR and it has served as its headquarters since 1929.
Aside from her commitment to American history, Minnie was also involved with local clubs. She was active in the Coral Gables Garden Club, serving as president from 1938-1940; Coral Gables Women's Club; Ladies of the Civitan Club; elected officer at University Baptist Church; and a supporter of the Opera Guild of Greater Miami. After a full charitable and patriotic life, Minnie passed away in 1987 at age 89.
But Minnie Simpson was not the only civic-minded leader in the family. There was George too.
George C. Simpson was an attorney who practiced law in Miami since 1923. He was with the firm Hudson & Cason for eight years and later formed his own practice. Originally from Talbotton, Georgia, he was elected mayor of that town at the young age of 27.
During his lifetime, he dedicated his personal time to civic activities. George served as past president of the Miami Civitan Club; Vice President of the Riviera Country Club; He was selected as a Governor's Colonel under Governor Fuller Warren; and nominated as Commander of the Harvey Seeds Post, American Legion. George passed away in 1970 at the young age of 76.
The Simpsons lived a full lifetime in their home from 1940 to 1988. Places matter. People matter.
The call to the Historic Preservation Board is to accept the recommendation of the city's preservation staff and grant historical significance to 649 Palmarito Court, a residence designed by William Shanklin,Jr., an architect whose four other residences have garnered historical status in Coral Gables.
As presented in the information above, George and Minnie made an impact in their community. They were patriots and their home stands today as one of the earliest examples of Neoclassical homes built in Coral Gables. Their home's traditional style reflected their traditional lifestyle.
Preserve Palmarito. Do not let history be gone with the wind.
Below is the link to the 34-page staff designation report. 1_Report_–_LHD_2020-008_–_649_Palmarito_Court.pdf
To support staff's recommendation of 649 Palmarito Court, please send your comments to the attention of the Historic Preservation Board in care of Kara Kautz and Billy Urquia [[email protected]; [email protected]]
[Recognition goes to Jorge Zaldivar board member of the Miami Pioneers & Natives of Dade for the research used in this article.]