By: Karelia Martinez Carbonell, president Historic Preservation Association of Coral Gables
Merrick was "adored as a human being," observed Arva Parks in her 2015 book. The late historian was Merrick's greatest cheerleader.
HOW INSENSITIVE THAT ON THE 135TH ANNIVERSARY OF MERRICK'S BIRTH, the University of Miami decides to cancel George Edgar Merrick. It is a disservice to the man whose actions are contrary to the narrative being espoused.  
Dr. Dorothy Fields, historian and founder of the Black Archives Historic Lyric Theater Cultural Arts Complex, credits Merrick for his "admiration of the Bahamian community for their expertise and impact."
When examining history, one must accept the whole story, not pick and choose. One must balance history, not carve it or cancel it. Taking one quote and using it to describe a man's whole life is unfair. The past should be discussed within a measured and relevant historical context.

A comment in Gables Insider states, "Revisionist history strikes again. This is a dangerous trend we're on and institutions of higher learning are sadly leading the charge. I'm black and I'm offended by these actions by UM."

The University of Miami solely exists because of George E. Merrick. He not only donated the land but also committed to a $5 million personal donation. Others pledged but only Merrick made good on his promise. George Merrick served as Regent and Trustee of the University from its beginning to the time of his death in 1942. The University of Miami must rightfully honor their founder George E. Merrick. However, if the point is to disassociate the school with the Merrick name, then it must disassociate itself completely with Merrick. No name. No school.
---
Amanda Rose, a University of Miami law student and member of the Historic Preservation Association of Coral Gables, created a petition against the decision and penned a letter to university leadership in opposition titled "Preserve George Merrick's Name & Legacy."
https://www.change.org/p/preserve-george-merrick-s-name-legacy-at-the-university-of-miami
"There is a current phenomenon to rename and tear down our history and our founders' legacies," she wrote. "When I witnessed this manifest in my own community, I felt compelled to act."
"More people need to stand up for what is right." Katherine P.
---
George E. Merrick was born June 3, 1886. This year marks the 135th anniversary of his birth. He grew into the "modern man" of the 20th century—an entrepreneur and visionary; a millionaire who gave away most of his fortune before he lost the rest of it; a civic leader; a humanitarian. He was a patron of education and founded schools as part of his new planned city.
He was active in Coral Gables for less than a decade from 1920 to 1928 and look at what he accomplished—a city which will turn 100 in 2025.
George Merrick supported civil society and places of worship. The first church built in the city, the Coral Gables Congregational Church, was dedicated to his father, Solomon Merrick, who was a Congregational minister. George and his mother Althea were charter members. It was one of the first public buildings erected in Coral Gables and it continues to serve the city to this day.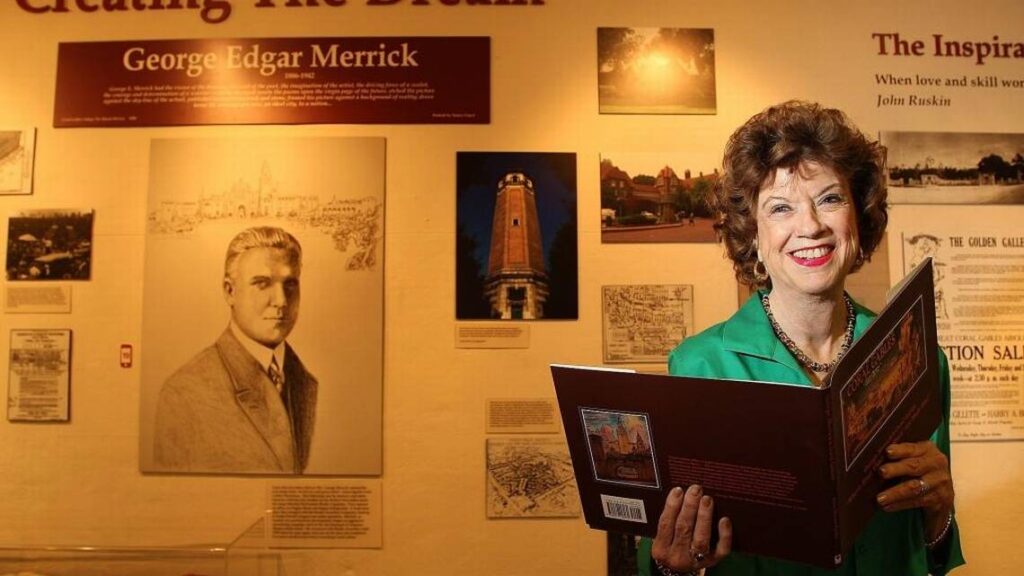 He was an advocate of the working people. One of his first moves as postmaster was to give equal pay to women. Arva Parks' 2015 book, George Merrick, Son of the South Wind, is testament to her esteem for the man. Her words help underscore Merrick's true legacy including his affinity for the Bahamian laborers and his many works helping that community. Also in her book, Parks mentions that "Many years later, Merrick would honor these Bahamians in a series of stories he entitled 'Men of the Magical Isles'." One line in the story highlights Merrick's praise and admiration for them, when he writes, "Very few realize today how much our Bay country owes, in its very foundation, to the Bahamian [laborers]."
In 1925, Flora MacFarlane, one of the area's first female homesteaders and a schoolteacher who taught Black and White children at the Peacock Inn, sold 20 acres to Merrick's construction company. The purchase established a Coral Gables subdivision named after MacFarlane. Today the MacFarlane District is one of a rare example of a black community to be nationally designated. Many Bahamian immigrant laborers subsequently built homes there. St. Mary's Baptist Church, the first and only African American church in Coral Gables, was built in 1927. In an article published in 1941, Merrick credits the Bahamians for "having a most distinct and important influence…and brought inspiration…and other valuable knowledge and experience" when building with natural resources such as coral rock and other tropical materials. Apart from the MacFarlane District, Merrick also developed Golden Gate for the Black community. Here he again donated land and his own money to build several Mediterranean-style buildings designed by his team of architects. The Ponce de Leon High School [today a middle school] was part of that development.
Two years after founding Coral Gables and funding the University of Miami, Merrick was decorated by King Alphonso of Spain with the honorary title of "Don of the Order of Isabella La Catolica" The Order is a Spanish civil order in which membership is granted in recognition of services that benefit the country. The Order is not open to Spaniards exclusively, and it has been used to award many foreigners.
Apart from the royal order title, George Merrick was a man of the people, a civil servant, and above all a good man. Merrick died at 55. Indeed the good die young.