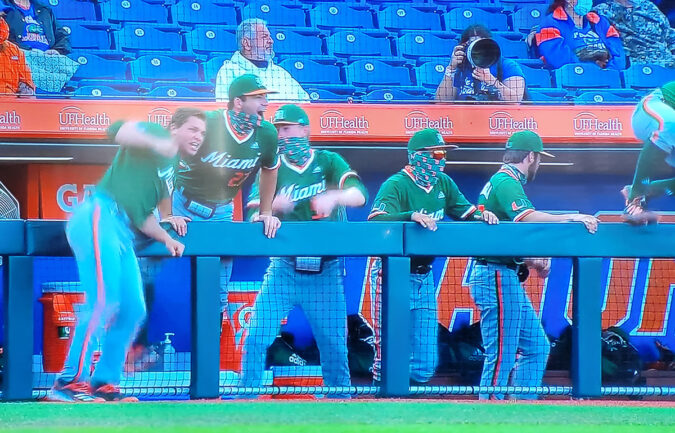 ---
Feb 19, 2021, Miami started it run to Omaha at Gainesville. This weekend they return to the same location with the dream still very much alive. The path has been very frustrating with an offense not meeting expectations and a starting rotation that never seem to get beyond the 5th. Gino commented prior to the game, "it is a start of a new season where the slate is clear."  64 teams have one goal in mind: make it to Omaha. In order for Miami to live out this dream, they had to get passed South Alabama coming into the Regionals on a 5 game win streak and of course our nemesis Florida. Miami on the other hand is coming off a disappointing showing at Charlotte. The offense was not hitting and the pitc hing failed us. Today half of our issues came to play and the other half continued to go through the motions. It was a contrast of pitching performance with South Alabama relying on off speed pitching where a fast ball might get into the low 80's compared mid 90's from Miami pitching. Miami had no problem making contact with the ball but that is all they could do. They struggled with just 4 hits and had to rely on a SF by DC to collect their only score which would be enough to take game one. For Miami, Alejandro Rosario pitched his best game of the season going where few had gone before. Not since April 25 had a starter pitch 6 innings or more. Rosario put on a showcase performance going 6.1 innings of shutout ball allowing for S Alabama only hits(4). Daniel Federman and Carson Palmquest d carried the flag the rest of the way to earn a spot in the winner's bracket to meet with South Florida tomorrow afternoon.
Miami went with a slight change to their batting order with CJ Kayfus leading off starting in RF for the first time. This might have been a costly decision played out later in the game.  Tony Jenkins in center batting 8th. Alejandro Rosario with the rock on the mound.
Right from the start, two things had our offense in a bind. South Alabama starter was LH and all he threw was off speed stuff which messed with our timing. Our hitters would have no problem making contact and would not see their first strikeout until the 6th inning and then strike out with 4 consecutive batters before returning to not being able to find an opening. Their first real threat came in the first inning when CJ led off with a single but quickly had this erased with Anthony hitting into a DP. Yoyo came back with a single and DC walked to put runners on 1st and 2nd. A WP advanced both runners only to have Big Brother fly out to right. The way they were contacting the ball you knew it was only a matter of time before runs would be put up on the board. The wait became longer and longer with each inning coming up empty. It wasn't until the 5th with Dominic Pitelli singling to left center that things started happening. CJ is HP and Anthony lays down the perfect SAC advancing both runners. DC who has been having a difficult second half of the season found enough to send a long fly to center with BL to bring in the sole run of the game. Big Brother was robbed from breaking open the game with runners now on 2nd and 3rd by their 1B making a spectacular driving grab of the ball hit sharply down the first base line. Miami had to settle for one run but that was enough to decide the outcome to this pitching battle from both sides.
South Alabama had a chance to tie the score in their half of the 6th with a two out triple that was totally misplayed by CJ in right. Wearing his sunglasses other than over his eyes, let the ball fall to his side which fortunately Rosario comes to the rescue striking out the next batter. In partial defense for CJ, he did get hit in the mouth just prior in the 5th and he might have been suffering from being hit. Still inexcusable for not properly wearing his sunglasses.
Offensively, there was no offense. They can't to continue to play hitless ball, batting today an overall .174. and expect to move forward in the Tournament.  Pitching can go so far and today it was exceptional. Even Carson showed signs of not being UNSTOPPABLE. He appeared to be all over the plate, not throwing strike after strike which has been his trademark. He would go deep into the count but fortunately other than a opening walk in the 8th and HP in the 9th, managed to record the final out 4-3 and record his 14th save of the year.
Tomorrow it is South Florida starting approx at 4PM. We pull off another victory, behind hopefully a strong offense, then it is possible that we might get through the Gainesville Regional without having to play Florida. Not to get too far ahead of ourselves, but we are matched off with the Texas Regional and Texas won their opening game 11-0. As I stated earlier, if our offense continues to struggle, we will go to Texas, if we win, on a Wing and a Prayer.