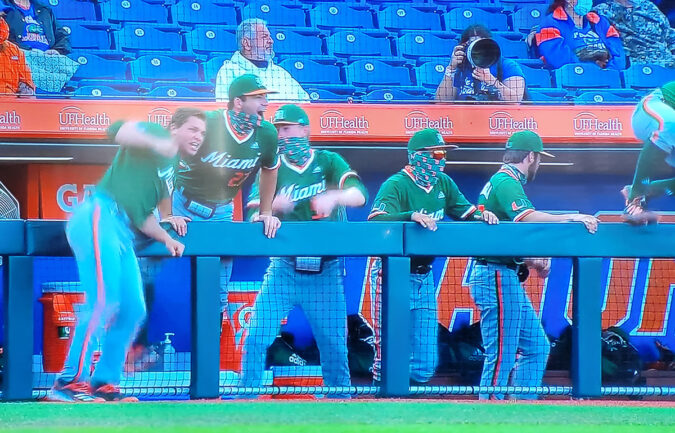 Took a step back today as 4 new hurlers took to the mound to complete this week of scrimmaging. Hoping to see a budding diamond in the 4 pitchers today, which had 2 freshman (Gage Ziehl,Karson Ligon,) facing off and Juniors (Matt Raudelunas(RJR), Anthony Arguelles) to wrap up the 5 1/2 innings. The most notable change from yesterday other than the command on the mound was the return of the infield being a bit sloppy and not being able to execute the DP. Did however see two excellent plays in the OF by Jacoby Long which included the defensive play of the game. This was his day of redemption from yesterday hitting into two DPs and not being able to lay down a bunt twice with runners on and no outs. Today he went 1-2. It was also a day where you didn't want to be working behind the plate. Both Perez and Romero took pretty good hits from foul ball/WP as well as the home plate umpire getting hit hard on a passed ball. Fortunately, all three were able to continue.
Gage Ziehl and Karson Ligon faced off in the initial innings. Right in the first inning, the defense returned to its old ways with a pair of errors coming surprisingly from two vets Yohandy "Yoyo" Morales and Dominic Pitelli. YoYo had a routine grounder and the throw to first was way off the mark. Two plays later, Dominic just wasn't able to handle a grounder back to him putting runners on the corners. WP scored the initial run. Today's start was like Deja Vu from Thursday. Loss of concentration losses ballgames and something that needs cleaning up. Second inning, Gage settled down striking out the first two batters before Carlos Perez went deep to RC for a double. Another WP advance Carlos to 3rd but would not advance beyond that point. Gage's final inning opened with a walk to Edgardo Villegas which was followed by a double by JD Jones scoring Villegas all the way from first.Gage looked good at times but did not receive that diamond look I was hoping for.
Karson Ligon did not give up any runs in his three innings which is a plus in itself. Defense could have been more supportive in being able to execute the DP but this will come with practice (fingers crossed). Only had one runner reach 1B and struck out 4. He was never in any trouble and deserves close watching to see how he progresses. He definitely won the match up between the two freshman.
Second half of the day had a redshirt junior, Matt Raudelunas, from Madison NJ and returning junior  Anthony Arguelles. The first thing that caught my eye was the leg and body motion of Matt with a bunch of speed. No one with a radar gun to check on how fast he was throwing. What he had in speed, there was a lacking in control. The first batter he faced he hit (Max Romero). Dominic saved a single through the right side on a diving grab for what should have been a DP but the relay from second was poorly executed. Back to back singles (Ariel Garcia, Jacoby Long) loaded the bases. PB striking the HP umpire scored a run. With a strikeout by Henry Wallen with runners on 2nd and 3rd, ended any further damage. In the 5th, 2 running catches by Long displaying speed and disregard for his body prevented any further base runners. Final inning was not a clean inning giving up a walk and a single by JP Gates but no runs. Thought at first that Matt's approach on the mound could be interesting but not in the way I expected. JD is definitely going to have to work with him or it might become a long season in the BP.
Finally Anthony Arguelles who for some reason only pitched 2 innings. Started off giving up a single to JP advancing to second on a 1-3 ground out. Dominic RBI single scored JP from second. Anthony ended the inning striking out Renzo Gonzalez. After giving up a lead off single to Gaby Gutierrez, the rest of the inning went by uneventful. As I earlier stated, he never pitched his 3rd inning for whatever reason.
Offensively, the bats are still trailing behind the pitching as expected with only one batter with multiple numbers. JP Gates with a pair of singles having a 2-3 day. Have yet to see on whether he will be pitching this season and I probably missed him earlier. He is one of our three two way players. The others being Reno Gonzalez and Carson Palmquest which I can almost guarantee we won't be seeing him other than on the mound unless injuries catch up to us and we will need him as a PH. JD Jones and Carlos Perez each with a double today. One thing I can say is that all 3 of our catchers have power and will see how Gino is going to work with this. My guess for now is Perez is the go-to catcher with Romero a close 2nd, but expect to see all swinging a bat this season. They have what most of the rest lack: pop in the bat. We have several with the ability to go long, but what I still see lacking is the ability to lay the ball down. For whatever reason, Gino is reluctant to give the bunt signal. Probably because he doesn't have the confidence in there ability to do so. 
Defense, is something which needs constant work. Executing the DP right now needs the most work. We had more FC then I have seen in a long time. Maybe our runners are faster, but not being able to get the ball over to first in time is not acceptable. The OF like every year is in abundance. As to who gets the starting call will be a difficult decision. Burke has a rocket of an arm in center as does Long with his speed and today showed that he has no fear of putting his body on the line. Can not see having Gaby Gutierrez with the power he puts behind the bat out of the lineup. Still have a ways to go to work this all out. Someone in the OF will get the call for DH. Before JP got injured last year, he became a regular before Raymond Gil replacing him when injury struck.
We return next Tuesday to start the week of scrimmaging. Days will be Tues, Thurs, Sat and Sun. Times to be yet determine