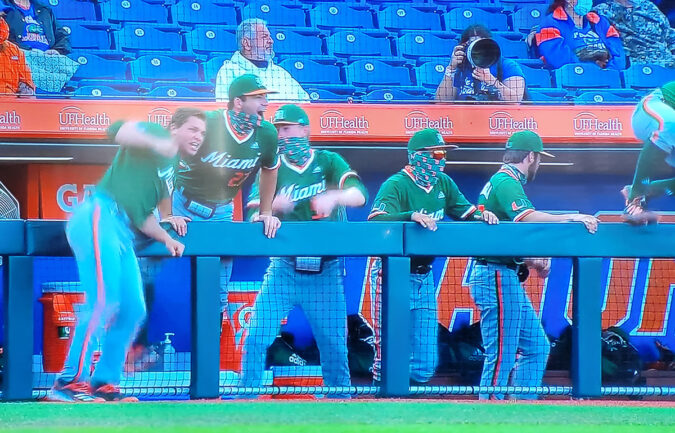 Scouts were out in force with radar guns checking on two of our potential weekend starters: Alejandro Rosario and Alex McFarlane. Both were tossing the rock in the 90s with Rosario consistently in the mid-'90s. Our hitters did not take a step back.  Actually, with the increased velocity of the ball, they were taking better strokes and started to show what all have been waiting for. Strikeouts are still in the nonacceptance range coming down to 14 from 22 on Wednesday. Better control from our pitchers today had walk productivity down to just two, after an uncontrollable 14 on Wednesday. As mentioned our hitters started coming out of their winter hibernation by doubling their productivity from Wednesday going from 4 to 8. 6 of the 8 were for extra bases, and of those 6 three of them cleared the stadium. A lot of positives coming out of today's scrimmage showing more aggressiveness on the bases and showing more of being able to lay down a bunt. However,  concern on whether one of our weekend starters might not yet be ready. This is the second week that Alex would have seen an early departure during the regular season. Speed is there, but it is the question of control and serving up the wrong pitch.
Six pitchers on the program, with really only two that the scouts were showing a major interest in. Rosario and McFarlane had the spotlight for the first 4 innings and the guns were up and copious notes were transcribed by all. Rosario did not disappoint throwing 95-96 for his fastball but offsetting it tossing junk in the low to mid-80s. The first inning went as hoped. 3up/3down with a K for the final out. Second, started with a leadoff double by Dorian Gonzalez with CJ Kayfus executing a beautiful unadvertised SAC to advance Dorian to third. Heads up by Ariel Garcia playing second makes a nice play to home, 4-2 catching Dorian easily at the plate. The final two innings were uneventful with 3up/3down with a K for each inning. Alejandro showed that he is ready to be on the shortlist for a weekend starting call.
Not so for Alex who continues to struggle to get back into form. For the first two innings, he showed the brilliance of last year controlling the batters with his fastball. Max Romero did interrupt a flawless first inning with a line-drive shot to the RF wall but testing the arm strength of Lorenzo Carrier ended up on the short end by being thrown outstretching a long single into a double. Lack of speed made the difference and Carrier's arm. The second inning had Alex at his best striking out the side with two looking. Whether two innings were enough and should have hung up his glove for the next two innings his world exploded. JD Jones opened the 3rd with a single and Dorian got his second hit for the day, but this is what the fans have been looking for all spring: A Yarder. Maybe this was the dam breaker, the rest of the offense needed to kick start: Monkey See, Monkey Do. After putting up 2 runs in the 3rd, Dominic Pitelli and Jacob Burke go back-to-back with yarders of their own to start the 4th. Max Romero missed out on an earlier double in the first, redeeming himself following the two round-trippers with a no-doubter double standing up. This would normally expect a visit to the mound had it been the regular season, but Alex pitches on. Gets the next two batters before Edgardo Villegas prematurely ends the inning with a double of his own and possibly ending Alex's dream, for the present, a weekend rotation start.
For the final two innings, one inning apiece for Anthony Arguelles, Rafe Schlesinger, Alejandro Torres, and Andrew Walters.
Our BP is showing to have some teeth. Anthony's stay was brief with a 3up/3 down performance striking out 2. As was Rafe also having to face 3 batters, striking out one. Alejandro, of the 4, had the most difficulty. Walked the first two batters he faced (Pitelli, Burke) and it appeared he got rattled. with men on base. Pitelli got the jump twice stealing second and third and made it home on a WP. Burke was a slightly different story getting to second on a balk and then stealing third. However, Burke was unable to cross the plate with Ariel Garcia striking out and Zach Levenson flying out to end the scrimmage.
Offensively, it appears that things are beginning to stir with the bats. Appears that it is the slower speeds that they are having the most problems with. Still, the long ball finally made its appearance into the preseason with 3 HRS (D Gonzalez, Pitelli, Burke) and 3 doubles (D Gonzalez, Villegas, Romero). Two had multiple hits: Max Romero 2-3(HR) and Dorian Gonzalez also 2-3 (Double,HR). Keep our fingers crossed that this is the start of what we have been looking for in our young talent.
Defensively three standout plays two from Ariel Garcia playing second( throw to home) and playing third (5-3). The other great defensive pay was the out 9-4 which Carrier threw out Romero at second.
Things are beginning to come together. Tomorrow a change in time to possible inclement weather. The 7 PM start time has been moved up to 11 AM.