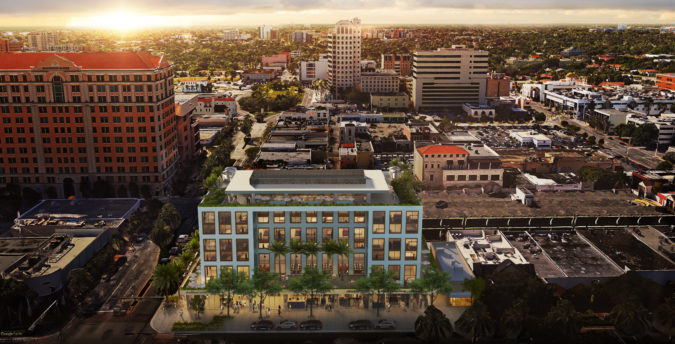 The latest development project making its way through City Hall is a proposed seven story hotel with zero on-site parking owned by Terranova Corp.
Gables Miracle Mile, LLC., located at 220 Miracle Mile, has plans to redevelop the existing two-story commercial/office building fronting Miracle Mile with a 120-unit hotel with 16,000 square feet of ground floor retail and approximately 11,000 square feet of upper floors commercial.
HEIGHT
At the October 8th City Commission meeting, the project received approval for a Transfer of Development Rights (TDRs) in a 3-2 vote.
A motion was made by Commissioner Keon, seconded by Commissioner Mena, that this matter be approved as an Ordinance on First Reading.
The motion passed by the following vote:
Yeas : 3 – Commissioner Mena, Commissioner Keon and Mayor Valdes-Fauli
Nays : 2 – Commissioner Fors, Jr. and Vice Mayor Lago
TDR's allow the developer to take unused development rights from an historically designated property within the Central Business District and apply it towards their project. The TDR's allow the developer in this case to secure an additional 25% of Floor Area Ratio (FAR) which essentially means an increase in density.
The developer may build up to 70 feet under the provisions of the Miracle Mile Overlay. However, the developer applied for a Mediterranean Bonus which allows for an increase in height up to 83.5 feet.
Although much discussion was had at the commission meeting and TDRs approved, the project is not near the finish line just yet. In an email from City Attorney Miriam Ramos to Vice Mayor Vince Lago, there appears to be several issues at hand that need to be ironed out including one that would set precedent on height along Miracle Mile.
"Height – the project is allowed to go up to 70 feet under the provisions of the Miracle Mile Overlay. The applicant has applied for Level 1 Mediterranean Bonus which would allow them to go to 83.5 feet. The Miracle Mile Overlay Ordinance does not expressly prohibit or allow bonuses. In several places in the Zoning Code, bonuses are expressly prohibited," wrote City Attorney Miriam Ramos in her opinion. She added that, "it is important for the Commission to note that allowing the use of a bonus on this project will set a precedent for similar projects in the Miracle Mile Overlay in the future."
PARKING
The issue of parking in downtown Coral Gables, and in particular Miracle Mile, has been a topic of great discussion over the last few years. However, 220 Miracle Mile believes they will be able to run a full-service hotel without parking for guests or staff.
The project proposes access to the hotel through the back alley located on Ponce de Leon Blvd between Miracle Mile and Andalusia Avenue. The existing alley is a narrow working-communicator used for deliveries, staff parking and dumpsters for businesses on Miracle Mile and Andalusia. The newly announced Cheesecake Factory location would also abut the same alley.
Community worries are that the use of the alley would be unrealistic and problematic. Some believe as proposed, it would cause delays in deliveries and congestion, in addition to accessibility concerns for public safety equipment to reach the rear neighboring buildings along the alley.
"We believe the right thing to do is to support a pedestrian experience for guests in an area that already boasts one of the highest walkability scores in South Florida. This project is designed to limit traffic impacts in our community, recognizing that most travelers today opt for ride-share or other transportation options. The hotel will accommodate the few travelers who arrive by car but, in the downtown area, a mix of unique transportation choices, like electronic scooters, the Coral Gables Trolley, and Freebee rides, are also available, limiting the need for private vehicles. In fact, the hotel will generate far more pedestrian traffic and far less peak vehicular traffic for Miracle Mile than other uses – such as office or multi-family – which supports local business owners," said Mindy McIlroy, President of Terranova Corp.
The Coral Gables Trolley and Freebie, both publicly funded, are transportation alternatives that have been discussed. In addition, the applicant has referenced the increase in ride-share mobility such as Uber and Lyft as favored methods of transportation for their targeted clientele.