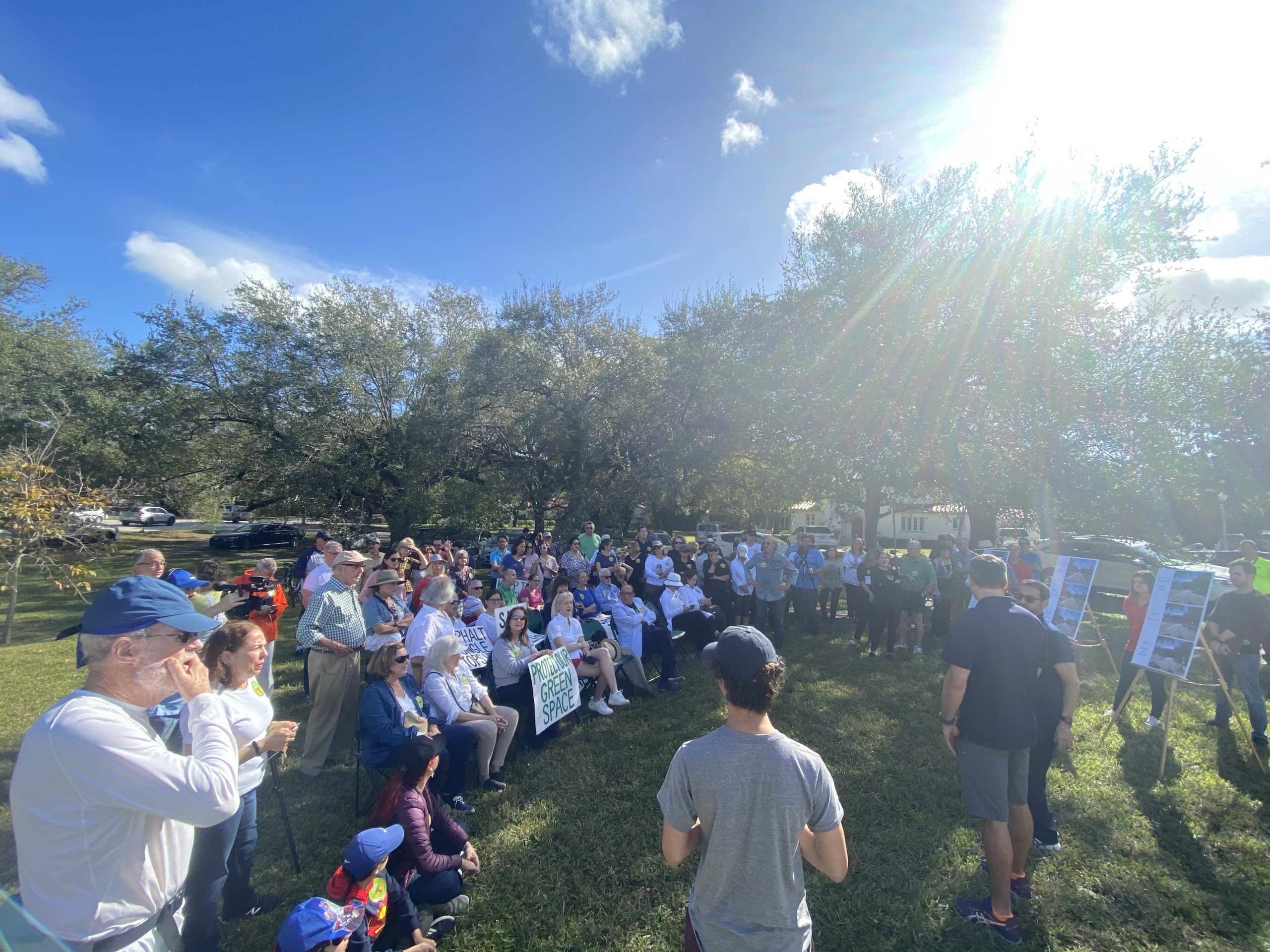 The second on-site Alhambra Bicycle and Sidewalk project (also known as Complete Streets) took place at the corner of Coral Way and Alhambra on Saturday. Dozens of residents walked, rode bike and drove to the meeting which was held on the green space buffer entering Coral Gables from Coral Way heading east. The contentious meeting was almost called off by Assistant City Manager Ed Santamaria however he was able to move the meeting forward on by allowing complete dialogue to take place. All in attendance had a chance to take the microphone to either ask questions or make a statement.
The scheduled meeting comes just days before the next commission meeting taking place Tuesday, January 28 in which Mayor Raul Valdes-Fauli has placed a resolution directing City Manager Peter Iglesias and his staff to remove the bike lane from further consideration on the Alhambra project.
The City displayed various conceptual photos of different Alhambra Circle segments. However, the city admitted that at least one of the posters was inaccurate by displaying the wrong width of the street. Furthermore, residents were outraged when city staff did not have drawings of the proposed traffic calming on the bridge on Alhambra and Taragona Dr despite being emailed just a few weeks earlier with a proposal.
Longtime Alhambra resident Silvia Pinera-Vasquez asked if the city had conferred with Miami-Dade County who has jurisdiction of all roadway modifications on Alhambra, a collector roadway. The city responded they have not since there is no design to present to the county at this stage in the process. Outcries were heard and follow up questions about fire and rescue vehicles being delayed ensued. Ultimately the city had no answer other than they promised fire rescue and police both sign off on all traffic calming in the city.
Another resident was outraged that she has been to all meetings and the talked about would-be proposed traffic calming circles have not been properly presented and addressed.
Overall the main message from opponents and residents on Alhambra is the city works for the people and not the other way around. They are against the project and the method in which it has been carried out, specifically applying for a grant without even polling residents for interest.
There's much more controversy that went on at this meeting but one thing is for certain, there will be a large crowd at next Tuesday's meeting ready to speak their mind – both in favor and against.
Here are a few video and audio clips that give a glimpse as to how divided this issue has become. One 'concerned resident' told Gables Insider "Why has the city put us in this position? Why has it become a neighbor vs. neighbor fight when there is so much to do in this city like paving roads! Shame on those who have led this effort so far as to divide our beautiful community."
We will share the full video recorded by Coral Gables Television once it's made available.