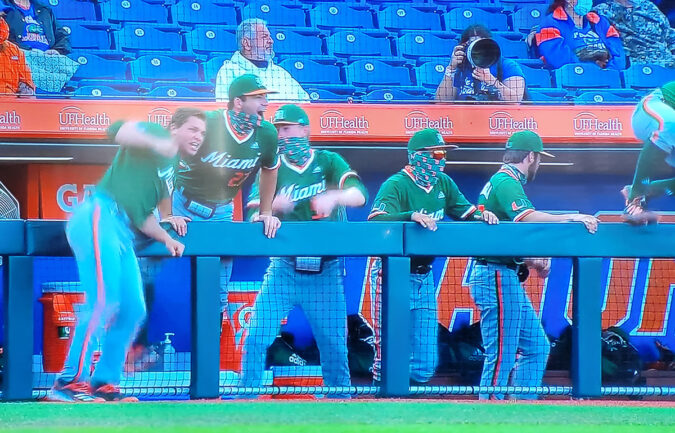 After an embarrassing lackluster performance on the opening day of preseason, we had a different quality of baseball all around from pitching, fielding, and even hitting. Where pitching should be front and center over hitting at this stage, one player specifically continues to draw my attention as being a difference-maker for this coming season. Fifth-year transfer student Dario Gomez from San Joaquin Delta College out of Nevada for the second day continues making solid contact with the ball. In his one at-bat on Wednesday he had the best hit ball of the day with a double to deep left center. Today he opened with a pair of walks and finished the day with an RBI single and RBI double.
Although only into the second scrimmage, look for him very probably starring in CF if he continues at this pace. Gaby Gutierrez is picking up where he left off last year making solid with the ball with a single on Wednesday and connecting for the first HR of the preseason for team Miami. Two batters later freshman Blake Cyr joined Gabby with a solo shot of his own to left to become the first freshman to join the distance makers. Both shots were at the expense of freshman pitcher Cole Dirks. Sorry to say none of the freshman pitchers (Cole Dirks and Gunther Braendel today and the three from Wednesday) have shown anything to write home about. Definitely no hidden treasures so far from this young crop of hurlers.
Six pitchers had their chance today to start earning the covenant starting rotation weekend slots. Returning pitchers Gage Ziehl and Karson Ligon opened today's festivities. After seeing mediocrity on Wednesday, it was nice to see Gage make quick work of the first three batters faced needing less than 10 pitches to retire the side. In the second inning, Gage ran into a bit of complication with back-to-back walks to Dario Gomez and CJ Kayfus. WP advanced Gomez to 3rd followed by Jason Torres grounding out 6-4 bringing in Gomez for the opening run of the scrimmage. Karson also had an easy first inning after initially walking Edgardo Villegas, striking out Ariel Garcia and Lorenzo Carrier hitting into a 6-4-3 DP. Like Gage, had walk issues in the second also giving up a pair of walks to Carlos Perez and freshman Ray Bermudez. Dorian Gonzalez tied the score at one with an RBI single.
Veteran Alejandro Torres who transferred in last year from FIU and returning junior Ronaldo Gallo, also in last year's portal window from FGCU got to pitch the next two innings. Torres, like the two before him had a scoreless first inning and ran into a bit of a setback in his second. A leadoff single by Zach Levenson who would eventually score on a Carlos Perez double. They had Carlos in a rundown at third after Adrian Dominguez grounded out 4-3, but catcher Jack Scanlon, junior transfer from Oregon, missed the tag and fellow catcher Carlos skirted around the attempted tag to score the second run of the inning. Ronaldo, unlike his predecessors, got scored upon in his first inning and went scoreless in his second. Ronaldo's first batter reached first on an Ariel Garcia error playing third. A double by Renzo Gonzalez, followed by a walk to Dario Gomez, his second, set it up for a SF to left by CJ Kayfus to bring in the lone score of the inning.
Finishing the day we returned to two freshman pitchers Cole Derks and Gunther Braendel whom I made mentioned in the opening paragraph. Of the six throwing today, Cole had the roughest outing giving up an RBI single to Dario Gomez in the 5th and two homers by Gabby and Blake in the 6th. Not an all-inspiring debut performance. Gunther had a scoreless 5th after an opening single, WP, and hit batter. With one out, managed to get the final two outs stranding runners on 2nd and 3rd. The 6th could have been a real crusher except for the defensive play of the game by first baseman Adrian Dominguez. With a runner on 1st from a lead-off walk to Jason Torres, a line drive diving catch by Adrian doubling off Jason who could not get back to first in time. Jacoby Long followed the DP with a triple down the first base line over the head of Adrian. This was followed up with an RBI single by Renzo Gonzalez and the inning concluded, as well as today's scrimmage, with an RBI double from today's offensive player Dario Gomez.
Defensively, today was a vast improvement over the debacle from Wednesday. A beautifully executed 6-4-3 DP initiated by Dominic Pitelli along with a couple of diving OF catches topped off by Adrian play of the day at first highlighted the day.
Accolades offensively to Gabby and Blake for the pre-season shots over the fence along with multiple hit performances from Renzo Gonzalez 2-4 ( double,RBI) and Dario Gomez 2-2( double,2RBIs) with Jacoby Long gathering the first triple of the preseason.
Right now as I see it, there are no runaway leaders for weekend duties in the starting pitching rotation. The Big Guns have yet to show. How they will use Andrew Walters whether as the Friday starter or closer may still be open for discussion.
Big difference from Wednesday but a very long way to go before we are ready for prime-time viewing. Freshman pitching is going to have to take a major strive forward if we are going to be competitive this season. From what I have seen to date, I have not been at all impressed with their performances. Don't think the transition from HS to college ball has not gone as smoothly as they had hoped.