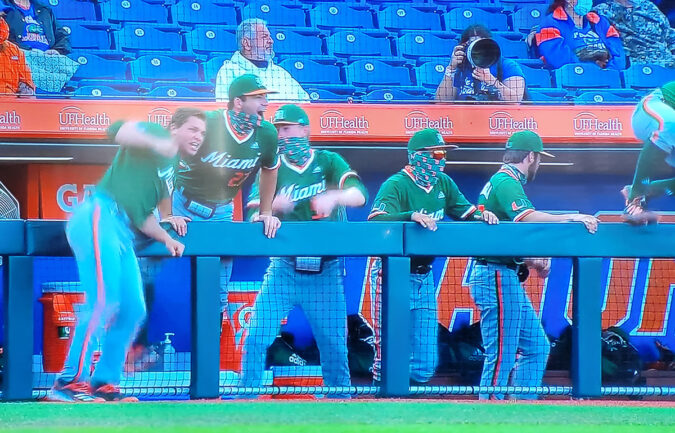 The clock is ticking down with less than one week for the Alumni Game which will be held Saturday 11 February at 6PM. This is always a fun event in which we get to see our heroes of the past who provided us so many memories are once again challenging the current roster of hopeful future greats. For the majority of fans that will be in attendance, this is their first look at the 2023 team which has been picked to win the Coastal Division. Unfortunately, for those who have been following my reports, you know that I am not in agreement with anything involving preseason selection as to All-Americans, draft selections, or Conference ranking. More so on how we will finish mainly because of our questionable pitching. Today, it was more of the same in which a potential starter failed to show he deserves the call, one that showed he is ready for the call from the BP, and a look at what appears to be our setup and closing pitchers.
Due to weather and scheduling changes, I did not attend Saturday's scrimmage but reports I received were conditions were miserable playing through the drizzle, poor field conditions accounting for fielding miscues, and no earth-shattering news on a breakout pitcher. Alejandro Rosario had the best showing and probably put a lock on a starting call. Alejandro's problem is that you never know which Alejandro will be pitching on a given day. Pitching in the high 90's, if he is hot will give you a good 5 or 6 innings or if not he be blasted off the mound in 2 or 3. He is my "iffy" choice for starter and my guess will hold down Sunday until he gets blown off the mound. Pitching opposite him for 4 innings was Rafe Schlinger who gave up a couple of runs in the first but settled down. Definitely will be considered for mid-week. Hitting, there were extra-base hits caused by weather, but another HR by Yoyo was tattooed out of the ballpark that weather was not even a consideration.
Today, conditions were more favorable to play and the timing could not have been more perfect. The scrimmage concluded at the same time Mother Nature decided to make a calling over the Light. Ronaldo Gallo, the last entry for a possible starting role was opposite Ben Chestnutt, that has been struggling through preseason and has earned in past commentaries as " having his chestnuts roasted". Today he actually looked better until he had a bit of roasting in the 4th. Ronaldo got to earn that banner being "roasted" in the 2nd and should have stuck the final nail for any prospect to keep his hat in the area for a starting role. He failed last year to live up to expectations and both the preseason in the fall and spring has yet to put in a quality pitching performance. This leaves me with my final two choices for weekend starters Karson Ligon and and Gage Ziehl with Rafe Schlesinger at mid-week.
As earlier mentioned Ronaldo and Ben started off today's festivities scheduled for I assume 4 innings each. Unfortunately Ronaldo could not get beyond two with a once again struggling performance being handed 4 runs for his lack of effort. The first inning, Jacoby Long greeted him with a first pitch single which got things started for him on the wrong footing. However recovered nicely picking off Jacoby at first to clear the bases. Survived the inning with one further miscue; hitting Zach Leverson. The second, was the inning that convinced me that any hope for a starting call has been all but a dream from happening. Might change during the course of the season, but for now definitely not. He has not shown he deserves to regain this honor which he had for a short period last season. Dario Gomez, who I feel will be our starter in center, opened the second with a triple to deep center. This also was either on the 1st or 2nd pitch. Dorian next to bat singles to right for the first of four runs to follow. Carlos Perez next to bat walks putting runners on 1st and 2nd. Ian Farrow continues the onslaught with an RBI double for run #2. Second and Third, Dominic Pitelli lays down a beautiful SAC bunt scoring Carlos for the 3rd run and batter #6 Jason Torres ends the bleeding with an RBI single of his own almost convincing Gino that he has seen enough and was just about to shorten the inning with only one out recorded and 4 runs. Before doing so Gino Sends Dario Gomez for his second at bat for the inning after leading off with a triple. Hard hit ball back to third getting past Yoyo for an E5 and that ends what little chance Ronaldo had of regaining the starting call and sending his role to that of BP duties.
Ben Chestnutt did pitch 4 innings and not having the best of preseasons did surprisingly well through three. Like Ronaldo, got off to a shaky start with Edgardo Villegas leading off with a first pitch double. Two batters later a 6-3 groundout by Yoyo scored Edgardo from third having advanced on a groundout by CJ Kayfus to first. Second inning, Jack Scanlon was the only base runner after being hit by pitch with two outs and then caught stealing second. The third inning was Ben's best to date striking out the side only relinguishing a two out double to Ian Farrow. This new found confidence in his pitching was quickly put to rest with Yoyo leading off the 4th and pounding one off the scoreboard withh his 2nd homer in as many days. Gaby came right back with a single of his own and Ben looked like after that celebratory third inning he was reverting back to having his "chestnuts roasted". After the third hit of the inning by JD Jones things were getting bleak, but he managed to survive with just one run on the board. Not sure where Ben is located in the pitching charts but I imagine the third inning he moved up and will get his chance to see action.
Replacing Ronaldo in the 3rd was Chris Scinta who keeps on earning points for relief duty and today was no exception. Gave us one very good inning striking out two (Carrier,Kayfus) and allowing just one hit (JD Jones). Gunther Braendel took Chris's place in the 4th and also put in a quality day performance with a 3up/3down showing. Chris without a doubt has earned mid relief duties and is someone to keep your eye on being just a freshman. Gunther has his good/bad days, but this was a definite good day.
We move to the 5th with Brian Walters and Alejandro Torres. I think you can take this to the bank as I see the headlines reading, "The Walter Brothers being Miami's Setup and Closing Pitchers". I can not think not only will they make for a good read but from what I have seen the best candidates for the job. Brian I see as next year's closer, if not starter, making easy work going 3up/3down (Kaden Martin,Renzo Gonzalez,Ariel Garcia) today. Opposite Brian was Alejandro who has to be sinking deeper in the depth charts. Not another good outing leading off against the hitter Torres (Jason), no relation, who like Yoyo got a ticket to trot around the bases at Alejandro's expense. This also coming on the first pitch. Things got lucky for him after Dario singles and Dorian walks both being thrown out attempting to steal second. Can't say for certain who was behind home plate at the time. Either Jones or Scanlon. I know it wasn't Perez because he struck out for out #3.
This brings us to today's Closer. Andrew Walters hoping to show why he has earned this coveted position rocked the boat showing signs on his downfall the latter part of the season when Mr Unhittable was exactly the opposite. All batters today hit him hard and CJ Kayfus particularly so sending his belt over the fence convincingly. Hopefully not relapsing on what we saw postseason last year, he is still our best candidate to take us across the finish line in a close contest.
Offensively, another day where our batters showcased their muscles finding the holes. They are going to have to do this all season if we expect to live up to preseason prediction of winning the Coastal. Fifteen hits pounded out over the course of 5 1/2 innings.Of the 15 hits, 7 for extra base. Three for doubles(Edgardo Villegas,Ian Farrow(2)); one triple(Dario Gomez); Three HR( Jason Torres,CJ Kayfus,Yoyo Morales). Four players brought in multiple hit today. Dario Gomez 2-3(triple); Ian Farrow 2-2 (2doubles,RBI); Jason Torres 2-2 (HR,2RBIs); JD Jones 2-2.
The bats are what going to keep us in the game. They are going to have to continue to produce as they have the past few sessions until our pitching can catch up to them in keeping our opponents off the board. I think we have our starters as I so stated, but not one is a surity for being lights out including our Closer who today we saw had indicators of not making quick work of it. Brian for setup looks like who we have been looking for and Chris Scinta should give us good relief. Not much to go to from our BP, Gino will end up utilizing the same arms until they burn out unfortunately. Let's hope not and their cohorts will be able to step-up up as the season progresses.
Schedule for next week has not yet been published. With the Alumni game on Saturday, uncertain how much Gino will want to push the arms of our pitchers.