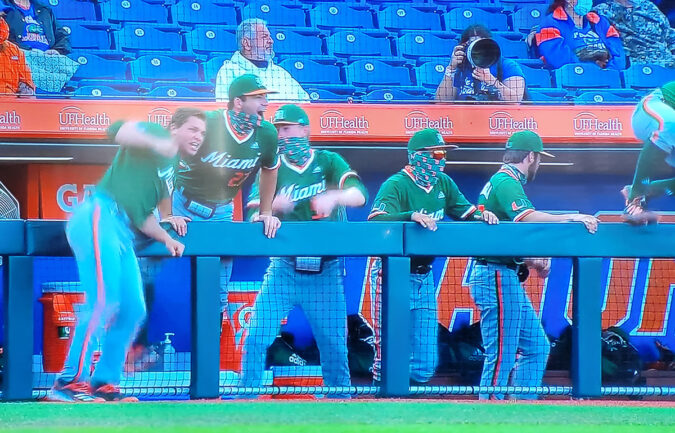 First look at the 2023 season which is less than one month away. Circle your calendar for Friday 17 Feb. for the first pitch against Penn State to open the regular season. Preseason won't start until next Friday when the NCAA opens the door officially for spring practice. Today, the team unofficially practiced on their own without the coaches on the field. However, they were not far from out of sight. They were watching from the clubhouse overlooking the field. What I came away with only reconfirms what I concluded at the end of the fall preseason. The Achilles Heel is definitely the bullpen. Today's practice lasted 4.5 innings seeing 7 pitchers take their turn on the mound. Of the 7, only Andrew Waters who started and pitched 2 innings was the mainliner for today. The rest are hopeful of having their names heard for relief duty. Unfortunately from what I saw, their wait might be longer than they would like. I take this being day one, but still for a few of their time on the mound they did not impress me nor the coaches watching from afar. They did not make many points in their favor.
Andrew Walters started today's festivities throwing opposite Rafe Schlesinger. Both pitched 2 innings and Rafe is probably on the watch list for a possible starter slot or mid-inning reliever. Expect to see his number call regularly during the course of the season if given BP duties. I still have my concerns with Andrew in a starting role rather than closer, but all indicators point towards a starting role. That being the case, who is there for the coveted position of closer? Possibly Gage Ziehl, Rafe, or Alex Walsh who closed today. I expect this will be a fluid position until someone, if any, will stand out and take charge as our go-to guy.
Andrew looked very commanding on the mound only giving up one walk. Renzo Gonzalez the first to bat grounded out 6-3 on the first pitch. So started "unofficially" preseason. Definitely, pitched on a positive note and made a statement to be one of the three in the weekend rotation.
Rafe had a bit more difficulty, striking CJ Kayfus on his first pitch. Dorian Gonzalez hitting into a 1-6-3 DP quickly took any threat of the inning progressing. The first inning behind him, the second would not be so generous. Ian Farrow takes the honors for the first hit of the "unofficial" preseason with a one-out single. Ariel Garcia would follow likewise with a single of his own. Attempted pickoff by Carlos Perez, catcher, to first sent the ball way off its target into right putting both runners in scoring position (2nd,3rd). Either the sun was a factor blinding the 1B from seeing the ball thrown in his direction or it was simply a wild throw. Either, gave Reno Gonzalez the first honors with a two-run single for the first runs. 4-6-3 DP prevented any further damage.
With the departure of Andrew and Rafe, the rest to pitch for today each tossed a single inning. Gunther Braendel picked up where he left off from his last outing prior to Scout Day. He Bombed then and did likewise today. Survived the first batter faced but went downhill from there. Walked Gaby, setting up Dominic Pitelli with the only extra-base hit for today (double). That put runners on 2nd and 3rd followed by CJ walking to load the bases. Hits Dorian for a run with Zack Levensen singling for two runs. Forgoing further damage, Gunther called it a day. I see little usage in the coming season for Gunther.
Ashton Crowther had a much better outing than his last performance in November. Although he hit one batter, struck out two giving him a bump up in the charts to see some action in the coming season.
Myles Caba, a junior transfer, had back-to-back walks which didn't progress from the runner getting beyond second. Also had an opening walk to Yoyo which might have cost the season not only for Miami but might have further implications of a major proportion for Yoyo's season. Attempted pickoff at first had Yoyo sliding hand first back into first. Whether he jammed his hand into first or the ball hit his arm or wrist, he came out of the slide in immense pain grabbed his elbow, and immediately went into the dugout never to be seen again the remainder of the scrimmage. Hopefully, it is nothing, but if not, then you can fill in the blanks. all sorts of speculation quickly circulated among the fans who were in attendance.
Carlos Lequerica gave little encouragement to being a plus factor in relief. He will join Gunther Braendel in warming the benches in the BP watching the game from afar. Like Gunter gave up a trio of runs with a pair of opening singles to Carlos Perez and Gabby Gutierrez, then walked Pitelli to load the bases. This set up CJ with a 2-run RBI single followed by walking Dorian. Runners on 1st and 3rd, no outs, Jack Scanlon, catching, got caught in the oldest trick in the book. Dorian tries and succeeds in getting Jack to throw to second on an attempt to steal second. The steal was not even close (safe) but worse Dominic had no issue taking home for the 3rd run. Just not smart thinking on Scanlon's part.
Winding up the session was Alex Walsh. His hat in the ring for closer didn't help with an opening single from Jacoby Long, but redeemed himself with back-to-back strikeouts to Blake Cyr and Jack Scanlon. Fly out to right by Alejandro Torres completed day one to the "unofficial" opening day to preseason.
Offensively, nothing to write home about. A lot of hard-hit long balls but only 9 hits with only one for extra bases (Pitelli-double). First day back after winter break. Hitting looking as expected which should not be our issue this season. They just can't let their foot off the throttle in the mid-innings and need to strike early. That said, might be able to provide a cushion for our pitching which still bothers me. Hoping a knight in shining armor makes a presence and provides us with what we seem to be lacking in the consistency of our pitchers. We are probably needing a few more knights if we hope to be a contender rather than our usual pretender. We have a bit more time to work on our Achilles Heel. The biggest concern to come out of this session will be the status of Yoyo Morales.
Tomorrow, we go at it again around 315-330PM.