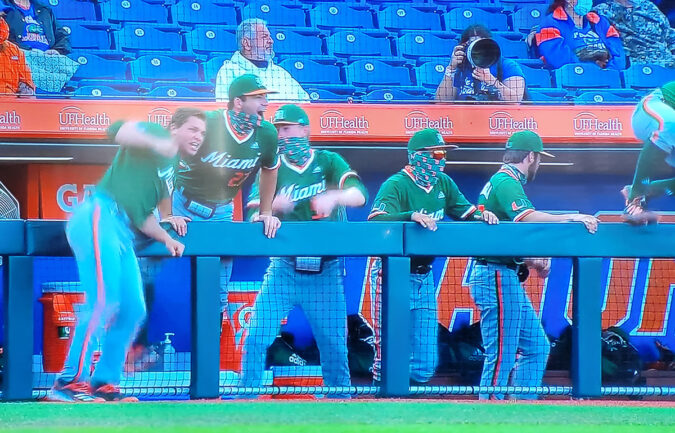 Today wrapped up the first week of scrimmaging which was pretty much anti-climatic. Only 5 innings were played but nothing really stood out pitching, fielding, or hitting-wise. Six hits total, four of which were for extra bases (doubles), and no one once again with multiple numbers and just two runs scored. The remaining possible starter, Ronaldo Gallo, showed improvement in control from last week and if it comes down to Rosario or Gallo to start on Sunday, my choice is Gallo. The iffy factor for Alejandro still burns my brain. I just don't have confidence he can go the distance required of a starter. Not saying Ronaldo can, but the bets are that he probably would. Hopefully, in the next two weeks, one of our hurlers will break away from the pack. The concern becomes stronger regarding the BP in that 4 of the 6 pitchers throwing today saw limited action this weekend appearing either on Friday or Saturday. What is the message being sent?
Ronaldo Gallo and Ben Chestnutt opened today's scrimmage each for 3 innings. I can see Ronaldo in consideration for a starting role but after last week's outing, Ben had his chestnuts really roasted. Both pitchers were hit pretty hard with only Ben letting a run cross the plate. Both had an easy first inning with Ronaldo going 3up/3down on two hard hits to the OF. Ben also only faced three batters after initially walking Dorian (o/s second). Each recorded a strikeout. In the second inning, things started warming up. After two straight strikeouts to lead off the second for Ronaldo, CJ Kayfus breaks through for the first hit of the day (double) which got stuck in the RC fence. A long fly by Gaby to the fence ended the inning. Ben was not as fortunate. He two got the first two out and like CJ, Renzo Gonzalez also connects with a double. Unlike Ronaldo ending the inning with the next batter, Ariel Garcia puts the first score on the board with an RBI single. Both pitchers hit hard for the most part but found a defensive player at the other end to provide further damage
The remaining 2 innings were handled by 4 pitchers each completing one inning. Gunther Braendel, who pitched an inning on Friday got a second opportunity today. Didn't have to worry about a BL situation today with a 3up/3down day. Definitely looked a lot better than Friday. As for Sebastian Perez who came in to relieve Ashton Crowther on Friday who had loaded the bases, got a little burned with a one-out double from Yoyo, followed up by Jacoby Long coming through with an RBI single. The next two batters flew out deep.
Ending today's scrimmage had another two repeaters: Brian Walters and Alejandro Torres. Brian who looked good on Friday found himself in a crack after initially walking Dominic Pitelli and CJ Kayfus, but managed to wriggle his way out having Gaby hit into a 5-4-3 DP. Tough test for the youngest to face off against three of our better veterans.JD Jones grounded out 1-3 to end the inning. Alejandro Torres finished this weekend's festivities and also pitched Friday who did not fare well on Friday giving up a pair of hits and a run. One less hit he gave up, but a significant one to Dario Gomez going deep for a stand-up double. but came right back recording the final two outs with Yoyo striking out looking to wind up week one of the preseason scrimmage.
Offensively, the bats are still looking to wake up with the consistency that everyone is expecting. As earlier mentioned 6 hits, of which four were doubles ( Dario Gomez, Yoyo Morales, CJ Kayfus, Renzo Gonzalez). The lone singles by Jacoby Long and Ariel Garcia is mentioned because each recorded an RBI from their hit.
There was talk of a Wednesday night scrimmage starting at 7PM before the weekend series. Will know more later in the week. Believe they get Monday off to rest before taking back to the field on Tues for practice and hopefully a scrimmage on Wednesday. Will keep you posted.