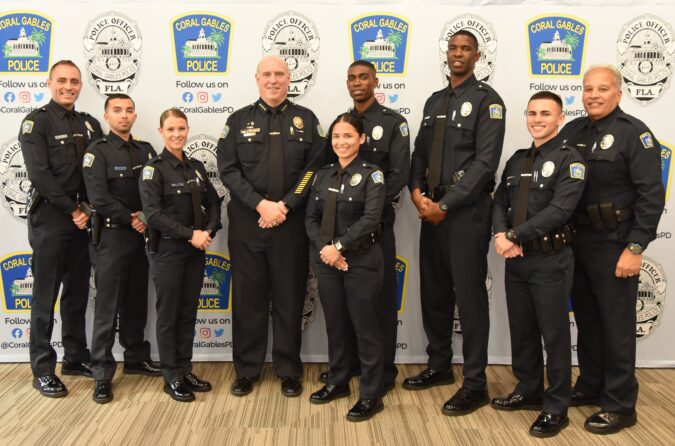 ---
On Friday, December 17th, the Coral Gables Police Department welcomed 8 new officers to the department.
Chief Edward J. Hudak, Jr. administered the oath of office to Officer Gregory DiCarlo, Officer Christopher Pena, Officer Stephanie LaRicci, Officer Casey Rivera, Officer Michael Clarke, Officer Brian Asbury, Officer Michael Aleman, and Officer Carlos Alvarez.
. Officer Michael Aleman served as a Coral Gables neighborhood safety aide prior to becoming a police officer.
Officer Carlos Alvarez retired from the Doral Police Department and now will serve as a traffic officer for Coral Gables PD.
Officer Brian Asbury
played basketball overseas.
Officer Michael Clarke also played basketball overseas.
Officer Gregory Dicarlo was part of the Coral Gables Police Explorer program over 15 years ago and now is fulfilling his dream of becoming a police officer.
Officer Stephanie LaRicci has as father who is a police sergeant with the Pinecrest Police Department.
Officer Christopher Pena graduated with a degree in Economics.
Officer Casey Rivera was part of the big brother/big sisters program.