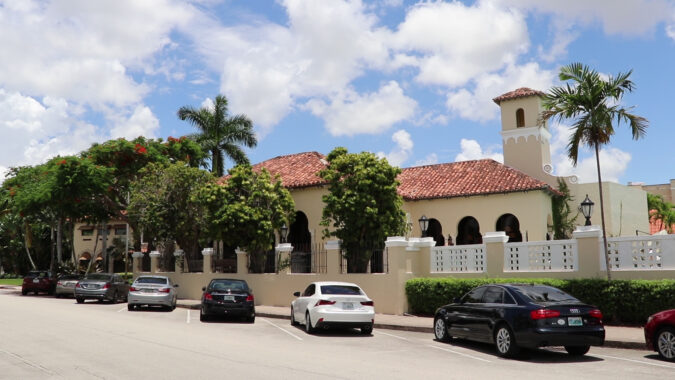 According to the City, Coral Gables Country Club, operated by Coral Gables Grand, LLC., finds itself in financial trouble advising their landlord, the City of Coral Gables, of inability to pay August's rent. On March 9th, 2020, the State of Florida Governor Ron DeSantis issued a State of Emergency directing the temporary closures of restaurant dine-in and event/banquet halls and fitness centers among other non-essential businesses. The Coral Gables Country Club's revenues are primarily driven from operating events and conferences.
In reviewing the Sales Tax Reports, the City was able to assess that the Country Club's operations have been affected more significantly by the COVID-19 health emergency than other City tenants. In August of 2020, the Country Club informed the city of their inability to pay rent.
The Country Club has negotiated a possible amendment to their lease agreement if ratified by the city commission, deferring rent and creating a payment plan. The amendment calls deferment for 100% of rent due for August 1 and September 1 and 50% of rent due October 1, November 1, and December 1, 2020 ($95,650.31) (the "Deferred Rent") and waives any late charges, fees, and penalties provided for in the Lease during the deferment period.
In addition, the Amendment to Lease will also provide the Tenant with an eight (8)-month Deferred Rent Repayment Plan (January-August 2021) during which the Tenant will pay the Landlord monthly rent pursuant to the Lease and will also make monthly installments toward the Deferred Rent.
There are questions about how the Country Club has handled deposits for events and memberships to the fitness center during the pandemic, something commissioners have asked staff to investigate and report back before voting on this lease amendment.
Update: Gables Insider spoke with Country Club operator, Anthony Di Donato and he confirmed that all parties who placed deposits for events have been allowed to postpone to a future date.
In addition, Di Donato said that actually what they are asking for is the city to do the right thing and help its businesses. The club's business model has been temporarily affected by COVID-19 shutdowns by the Governor and County Mayor. The majority of their rent stems from the money-making rental of ballrooms for all sorts of events.
Di Donato says they used to have 20 events a month on average, now they are seeing 2-3 a month. "We do not have financial trouble, we are however trying to be fiscally prudent and we just don't expect our ballrooms to be filling up anytime soon. " said Di Donato.
The long term plan is that one day the country club can be operating at optimal capacity, something that may not be possible in 2021. The Country Club is certain that that day will come, but they just don't know when and are asking the city to do the right thing and adjust the rent due.