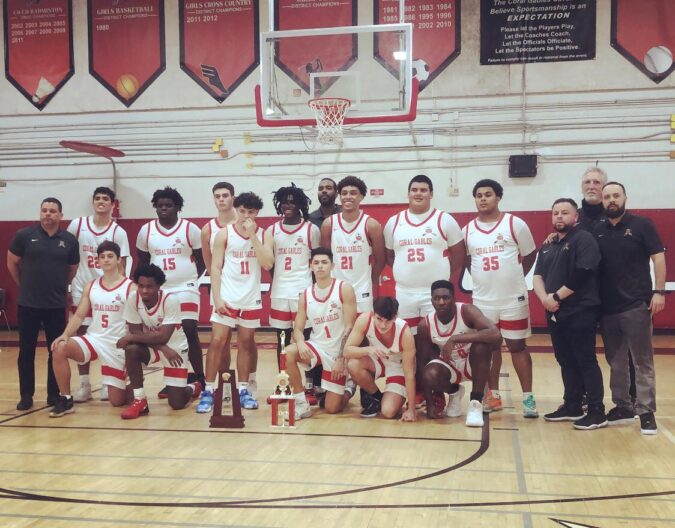 COVID has made for many difficult situations over the course of this year. Many have looked to sports as a way to disconnect and enjoy time away from the stresses being created.
This has been the case for students at Coral Gables Senior High School as well. Over the course of the season, the Cavaliers boys have played impressive basketball with a 14-4 record and winning their last 8 games.
They were scheduled to play Palmetto Senior High School in the Class 7A regional quarterfinal this past Saturday, when the rug was pulled out from under them two hours before tip-off. The Cavaliers had played Colombus High School Friday, February 12th and Columbus' Assistant coach and several players had tested positive for COVID after the game, triggering Miami-Dade County Public School's mandatory 14-day quarantine.
The Cavaliers were instructed to forfeit the game and relinquish their chance of advancing in the playoffs. Every member of the team tested negative for COVID.
Columbus, while being the cause of the quarantine, has its own protocols and was allowed to play on. The Cavaliers' season was seemingly over.
Community uproar brought the school district and the Florida High School Athletic Association (FHSAA) to a halt. The pressure was on.
Miami-Dade COunty School Board Member Mari Tere Rojas, who represents the school in the school board, stepped in and began working with Superintendent Alberto Carvalho to find a solution.
The FHSAA agreed to change the playoff schedule to accommodate the quarantine timeline, so long as all schools agreed. The prospects seemed bleak, as two Broward schools at first declined, but the hard work of Rojas and Carvalho paid off as they convinced Superintendent of Broward Schools Robert Runcie to step in and get the approval of the remaining schools.
The result: The Cavaliers will face off against Palmetto Senior High School this Friday, February 26th at 7:00PM.
"Congratulations to our boys basketball team for being allowed to continue their season. We are so happy for you all and wish you the best of luck on your upcoming game." read a tweet on the CGSHS Twitter account.
A great example of what can be accomplished when the community works together for a great cause.
GO CAVS!