Eating House quietly prepared over the last few months while fans of the original location waited with bated breath for the latest iteration of the famed eatery. It reopened last weekend to a full house after almost a year and a half hiatus. Offering an elevated spin on its beloved dishes in addition to a full liquor bar, ample seating and modern industrial design, Chef Giorgio Rapicavoli along with partners Alexander Casanova and Laura Faraci continue to test the boundaries of menu creation with an ever-changing, eclectic selection of small plates and entrees. Eating House became a permanent fixture in Miami's
evolving culinary scene in 2012; and the second installment of Rapicavoli's adored Gables staple is sure to quickly become a go-to spot for locals for its relaxed ambience and menu centered on upscale comfort food.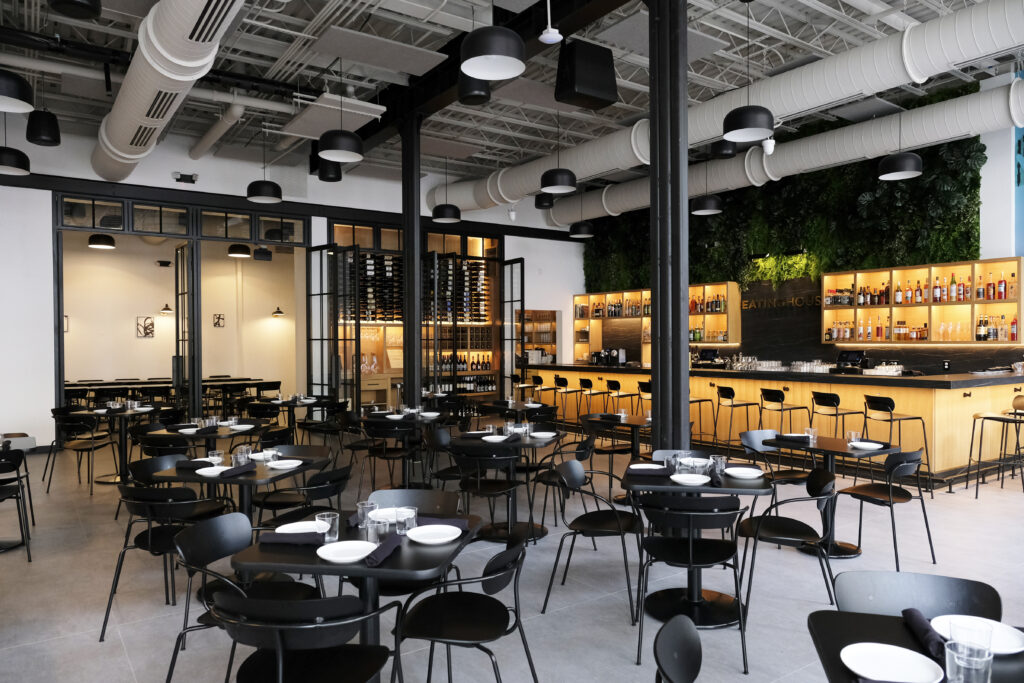 "These changes represent the evolution of Eating House," stated Rapicavoli. "We've grown up over the last decade and we wanted our new menu and space to reflect that."
Eating House continues to highlight classic culinary influences while ingeniously incorporating locally and regionally sourced products. Guests can expect an exciting array of new starters such as Yellowfin Tuna Crudo – egg yolk, sunchokes and black truf le leche de tigre, Crispy Potatoes – whipped gruyere, 'French' onions and pepper, Chilled Sweet Potatoes – cilantro 'aguachile', jalapeno and spiced cashews, Brussels Sprouts – cooked and raw, miso 'Caesar' and Parmigiano Reggiano, Wagyu Beef Carpaccio – yuzu, Parmigiano Reggiano, artichoke, dry miso and, naturally, an E.H. original, Heirloom Tomatoes – nuoc cham, herbs, frozen coconut milk, among others.
Larger plates consist of five dishes including Amish Chicken 'Two Ways' – grilled breast, fried thigh and carrot, Cavatelli 'Carbonara' – egg yolk, heritage bacon, black truf le and 'carbon' breadcrumbs, Sea Scallops – coconut creamed corn, banana curry and black lime, Halibut – Jerusalem artichoke, vanilla bean 'au poivre' and caviar and Wagyu Denver Steak – onion soubise, confit onion and burnt onion caramel.
Sweet plates include a grown-up version of the infamous Dirt Cup – candied hazelnut, dark chocolate, hazelnut ice cream and gianduja, Potato 'Beignets' – Cry Baby vanilla ice cream, vanilla caramel, vanilla salt, and E.H. Mess – whipped yuzu curd, nata de coco, passion fruit sorbet and meringue.
An impressive wine, cocktail and beer program rounds out the experience at Eating House. Specialty cocktails include E.H. Old Fashioned – Angel's Envy bourbon, Cap'n Crunch, rye, strawberry and vanilla, Nerdy – Arette tequila, ancho reyes, aperol, lime, grapefruit , spicy salt, Crib Notes – Bombay Sapphire gin, strega, gif ard grapefruit, absinthe, rosemary and Josefina – cream cheese washed 100-proof bourbon, guava cordial, salt and lime.
"Our Giralda location is fresh – a blend of classic and new — from the menu to the vibe," said Faraci. "We are excited to share this next chapter with our fans that have been waiting patiently, as well as introduce newcomers to the E.H. experience."
For the interior, Eating House selected leading Miami-based design firm Locus Architecture to bring their vision to life for the 3,300 square foot space. The new location, much larger than the original restaurant, offers a private dining room off the main dining area which can host up to 25 seated guests cleverly hidden behind expansive glass doors so that onlookers might longingly take in the fun from afar. Upon entering, an L-shaped bar seats 15 and the dining area can seat 164. White walls, warm lighting and lofty ceilings in an airy space punctuated by black tables, chairs and mirrors give the location that rare and exciting feeling that you're somewhere else. The aesthetic ushers guests in from off the bustling pedestrian walkway of Coral Gables' Giralda Plaza and the food and beverage program keeps them in those posh seats.
"We're thrilled to welcome back our loyal guests and eager to invite new patrons to come see us," stated Casanova. "We appreciate the Miami community and we're so grateful for the continued love and support.
Born and raised in Miami, Chef Giorgio Rapicavoli has dedicated his career to championing The Magic City's culinary scene and inflecting his Argentine and Italian heritage into the city's rich melting pot of food and culture. He is the first-ever Miami contestant to win Food Network's Chopped which resulted in the opening of Eating House's pop-up restaurant. After quickly becoming one of the city's most sought-after dining experiences, Rapicavoli reopened the same concept in 2012 as a standalone restaurant to widespread critical acclaim. His latest project, Luca Osteria, named after his four year old son, opened in February 2021 on Giralda Avenue's 'Restaurant Row' in Coral Gables.
New Year's Eve
Eating House, which reopened its doors at a new address less than two weeks ago, is also offering a sharing-style menu highlighting its signature dishes. The set menu is $150 per person and includes a complimentary glass of bubbly. Dinner reservations can be made by visiting: www.eatinghousemiami.com. 
Heirloom Tomatoes: Nuoc Cham, Herbs, Frozen Coconut Milk
Yellowfin Tuna Crudo: Egg Yolk, Sunchoke, Black Truffle Leche de Tigre
Cavatelli 'Carbonara': Fresh Black Truffles, Heritage Bacon, 'Carbon Breadcrumbs'
Halibut: Jerusalem Artichoke, Vanilla Bean 'Au Poivre', Caviar
Wagyu Beef: Onion Soubise, Confit Onion, Burnt Onion Caramel
E.H. Mess: Yuzu, Passion Fruit, Meringue, Nata de Coco
Dirt Cup: Candied Hazelnut, Dark Chocolate, Hazelnut Ice Cream
Eating House is located at 128 Giralda Avenue, Coral Gables, FL. 33134, just steps away from its sister restaurant, Luca Osteria. For reservations or more information, visit www.eatinghousemiami.com or call #786-580-3745.