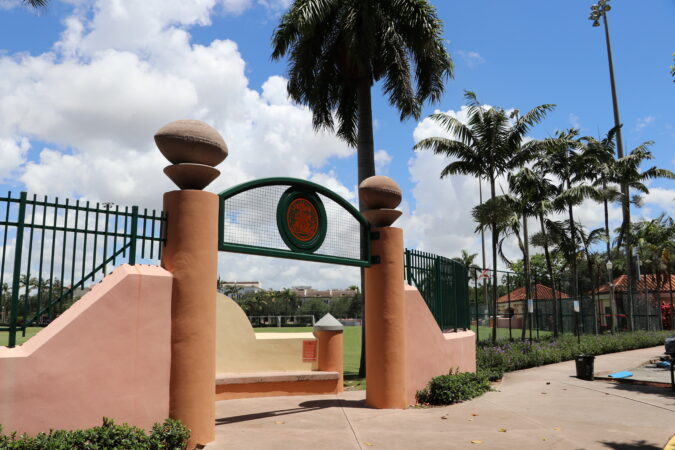 By: Andres Robelo
On any given day, a dedicated Coral Gables tennis player can book a court in just a few taps on his or her phone. Later on, there's a good chance he or she can see the people who developed the booking system out on those courts.
 
Inspired by local tennis facilities, Playbycourt has revolutionized booking tennis courts.
 
"With Playbycourt, you just say 'I want to play,'" said one Coral Gables active tennis player. "With two clicks, you've booked a court and I can do that over my phone.
 
"It has been great, really no complaints," he added. "These guys are super friendly and they play tennis as well, so sometimes I see them on the courts and they're just nice people."
 
In 2015, Playbycourt's founder, a local resident, was inspired to create a new booking system for their local tennis facility after realizing how cumbersome of a process tennis clubs were enduring.
 
"We had the traditional book, the written book where we'd have to write down and move people around if necessary. It was very time consuming and tedious," said a former employee of Salvadore and Biltmore tennis parks. "We were very popular with our locals, so we would have to put them on a waitlist once we were booked and that became very cumbersome as well."
 
With improving residents' tennis experience in mind, Playbycourt's team worked on a solution. After 12 months of designing a program specifically for the needs of Coral Gables, Playbycourt was born. It eliminated the hassles of paperwork and phone calls as well as minimized booking errors.
 
With Playbycourt, the staff could focus on what really matters: creating the perfect guest experience.
 
"Anything to make my job easier so that I could give my time to other things," the staff member said. "I always thought it was too tedious to have to deal with this every day with everyone on the waitlist, having to call them back. (Playbycourt) puts people on the waitlist and it pops up with its available. It's probably even better than when I left."
 
The Playbycourt team brought to city commissioners' attention that they could provide a solution to booking difficulties and improve the quality of service for the tennis community. They developed a pilot specifically for the city at no cost and in 2017, Playbycourt officially launched with Coral Gables as its inaugural client.
 
"We spent four months going to City Hall every week making sure we met with all our city officials to gain support for our initiative," said Playbycourt's founder.
 
Now, Playbycourt has over 50 clients across the U.S. and Canada, including the cities of Boca Raton, South Miami and Pompano Beach.
 
Coral Gables tennis players were recently forced to part with the court booking system that has eased their lives. Opting for a program called RecTrac Courts System, the city has lumped all parks and recreation activities into one website, creating a bogged down user experience very different from what tennis players have become accustomed to.
 
"I have to say that the changes recently made to remove PlaybyCourt has been a serious downgrade in service and quality," said another Coral Gables resident. "The changes are comparable from going from a Ferrari to an old used clunker vehicle."
 
Playbycourt provides simple pathways to book a tennis court, invite your tennis partners, get on the waitlist, and check court availability all with 24/7 customer support readily available to help. RecTrac is more complicated and services many other parks and recreation activities in addition to tennis.
 
Your support is needed to give the tennis community's frustrations a voice and bring Playbycourt back for Coral Gables residents. Sign the petition and reach out to your city official.
 
Together, the tennis community's voice will be heard.
 
Thank you for your support.
You can find the petition we started below.
https://www.change.org/coralgablestennis
 
____________________________________________________________
 
City Officials Contact Information
 
City Manager | Peter Iglesias | [email protected]
Parks & Recreation Director | Fred Couceyro | [email protected]
Tennis Operations Supervisor | Robert Gomez | [email protected]
City Commissioner | Vince Lago | [email protected]
City Commissioner | Jorge L. Fors, Jr. | [email protected]
City Commissioner | Patricia Keon | [email protected]
City Commissioner | Michael Mena | [email protected]