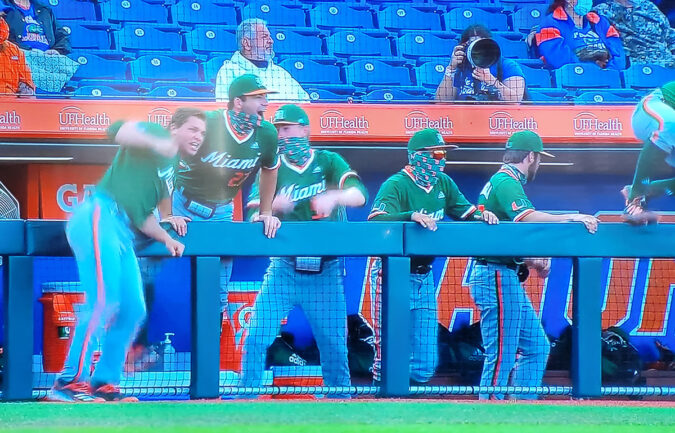 Preseason play started for me today with a 6 inning intra-squad game. If today was an indicator of what is to come, we have a long way to go before this team is going to be competitive. They have only been working out for a couple of weeks and didn't start intra-squad until last week but first impression is not exactly pretty: defensive wise. The top half of the  first inning alone there were 3 errors, two by Alejandro Rosario, who is returning in hope of  a starting weekend rotation slot. After today he is going to have to work a bit harder. The transport portal changed the complexion of what the green and orange looked like for the upcoming season. We lost 11 to the portal which took away a lot of seasoned players. The one who might come back to haunt us is Alex Toral who changed his colors to the garnet and gold of the Seminoles. Although Alex struggled last year and not the swiftest of foot he still packed a punch that could change the course of a game. With the short RF fence in Tallahassee expect to see big numbers from him. Gil, Rivera, Lala were the big names leaving along with a couple of notable pitchers. This is a big void to fill and going over the 35 man squad, you won't find one senior among them. 6 Juniors to look for senior leadership with JP Gates probably the go-to guy in the dugout. 12 freshman and 17 sophomore make up the remainder of the team. That said you can see that DiMare and his crew have a tough road ahead getting this into a smooth orchestrated team working from the same page. Over the course the next month I will try to give you a perspective on how we are progressing and whether this will be a building year or a competitive season.
Preseason  is basically where the scouts are mainly keeping their eyes on the pitching since they are usually way ahead of the batters at this point in time. Today, 4 pitchers tossing 3 innings each had an opportunity to give the scouts their first taste of what is to come. First rotation was Alejandro Rosario who is returning from last year. This sophomore got off to a very quick start being one of our weekend starters but like all our starters last year could not stay in the lime light for long. With a year of seasoning, I am sure Gino is looking for more consistency on the mound. His  Opposite was Alejandro Torres, a soph transfer from FIU. 
Rosario did not win any glowing reviews in the first inning committing two very costly errors resulting in two runs. Was able to field the ball well but that is where is ended in throws to first and third. The defensive play was overall sloppy and talking with a few people who were at the scrimmages earlier said it has been the norm of their interaction. They seem to be on a different wavelength which with more practice, Gino should get out the kinks. Second inning Rosario settled down striking out two but in the 3rd a lead off HR by Ariel Garcia, freshman, showed we might have some pop in the bats this season. Garcia was shuffled around the infield as Gino does this time of season. For Rosario's performance today, needs a lot of work from what I saw if he expects a weekend rotation.
Opposing him on the mound was newcomer Alejandro Torres, a RH soph, who I felt won the matchup between the two. First 2 batters he faced struck out swinging and making quick work of Yoyo to ground out.  He was the only pitcher to keep Yoyo in check, but more about this later. Second inning, back to back singles by Dominic Pitelli, returning SS, and Renzo Gonzalez, freshman, set up a SF by Carlos Perez, returning catcher, for the only run Torres gave up. Torres made quick work with 3up/3down in the 3rd. Need to keep an eye on him as preseason progresses.
Second half of the scrimmage had Ronaldo Gallo, soph transfer from FL. Gulf and Jordan Dubberly, returning Junior who saw little action last year. Ronald in his first two inning had no problems with the first 6 batters faced giving up just one hit. It was inning six, that his day came crashing down. Started off with a lead off triple which got under the glove of Lorenzo Carrier, freshman, playing RF. Decided to make a diving catch which did not make the hi-lite reel as it got by him and rolled to the fence. Next to bat was CJ Kayfus, returning 1B who finished strong last year replacing Toral at first who came in mainly defensively in the latter innings last year. CJ hits a fly to center which last year would have resulted in a run but, not today. It looks like we might have an outfielder who has an arm which we had zero last year. Jacob Burke, soph transfer, fielded the fly and throws a bullet home to get Jacoby Long, decisively at home making this the defensive play of the day. A run saved, but only momentarily. Yoyo goes long for the second time today after doing likewise in the 4th off of Jordan Dubberly with a man on. Hope Yoyo is saving a few for the regular season. Overall a good start for Gallo and I give him a plus alongside Torres Jordan Dubberly was the remaining pitcher of the day and watching him I could see why he saw little action last year. Gave up a lead up single to CJ followed off by Yoyo first homer of the day. Added to the 2 runs in the 4th, another in the 5th set up with a lead off throwing error by Yoyo and a SF two batters later. The 6th was not more favorable with an RBI double by Max Romero, Freshman catcher, who went deep right center. Jordan scorecard today puts him in the BP for a long season ahead. Will see if there will be any change or if he further cements his spot in the BP.
Offensively, still very early to make crystal ball decisions as to who is and who is not and this being my only first scrimmage. However you can't overlook the power of Yoyo carried over from last year. The Portal took three from us and we know we can not win games going short ball, so Yoyo might be a real difference maker this year. We also have two catchers with potential muscle who should be able to drive the ball. Carlos Perez who everyone expected big things last year, but was overshadowed by Adrian Del Castillo. This might be Carlos's breakout year. He will be alternating with Max Romero, who showed today he has punch in the bat. Another heavy hitter is Ariel Garcia who went the distance deep onto the track field in left. As preseason moves along I am sure more of the youth will by making their way to the spotlight. Looking at them as a whole, they look undernourished and could use a whole lot of conditioning.
Defensively, not going to waste any ink on an issue that has been around since the beginning of time. Timing, fielding, and mental hardening are what needs forever work which I hope they manage to work out. I do have to say Burke's throw to home was most impressive and a arm we have not seen in a few seasons. Throwing arms by catchers Perez and Romero both looked good. stopping WP getting by them is a work in progress.
Next scrimmage is the weekend with both days starting at 230 as of now.