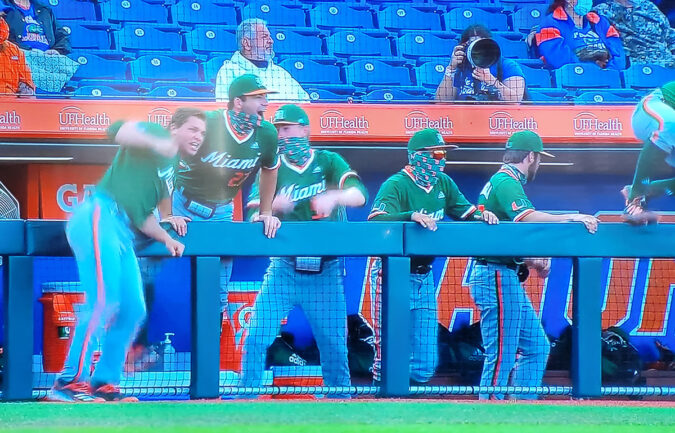 ---
Put a different set of pitchers on the mound and you will note the quality of play defensively increases measurably as control of the game is taken away from the bat and lessening the possibility of fielding miscues. Today Gino went with more or less with the the A team of Palmquest, Garland, Walters and McFarlane. Not saying that somewhere in this mix you will find a weekend starter and closer but today's performance by these four showed they are at the least in the running for serious consideration. This is still early in the preseason and as I stated on Thursday, pitching should be ahead of the bats and today they showed just that. Hits were down, strikeouts more, and runs less crossing the plate. With better command on the mound, so reflected in the defensive play being a whole lot more supportive in not a single error resulting. Of the 6 hits today, only two were for extra bases unlike the 3 HRs, triple, double pounded out in a 12 hit frenzy Thursday.
Like Thursday, four pitchers, each pitching 3 innings had their opportunity to show their wares in a very respectable crowd for a Saturday afternoon. Probably twice the number of scouts as from Thursday, but today's lineup deserved star billing. Starting off today was last year's closer Carson Palmquest throwing opposite Jake Garland who will be in the competition for holding down one of the weekend slots. With all the mayhem we had last year, it is definitely open season.
Carson last year was something special to watch on the mound during the regular season. He was totally lights out and hopefully he can find that same spark. Don't know if he was tired come post season, but he definitely was not throwing the same quality ball as he had where no one could touch him. Today, not throwing as hard as last year he still pretty much controlled the plate striking out 5 of the 11 batters faced. Walking two in the third, not exactly true Carson form, but no runs on no hits. Still too early on whether he will return to his role as Closer or move into the weekend rotation.
Jake, as did Carson did not allow a run to cross the plate but was more generous in the hit department giving up a lead off single in the first to Renzo Gonzalez, freshman, who is one of our two way players who I am sure will get the opportunity to make his way to the mound before the preseason wraps up. Again, I might have already missed him since I just learned about the preseason a week late. Renzo was the only one with multiple hits today along with having multiple strikeouts(3). In the second, Jake had a ball get away from him striking Edgardo Villegas in the head. He made it to 3rd on Renzo's single to right, but a ground out 4-3 by Dominic Pitelli ended the inning. Jake, got himself into a bit of a bind in his final inning with a one out double by Gaby Gutierrez, freshman, advancing to 3rd on a single by Zach Levenson. Dominic almost made a great play at short but his throw was off, but not far enough to allow Gaby to score.  With runners on the corners, Jacoby Long grounded into a 4-3 DP to complete 3 scoreless innings.
Andrew Walters and Alex McFarlane closed out the day. Both are returning pitchers from last year. Andrew started off the top half of the 4th, getting a quick 6 outs in his first two innings striking out 3 without giving up a hit. Final inning cruised through his first two batters faced striking out Reno Gonzalez for the first out. Yoyo doubles on a dropped diving catch to left and scores with a single by JP Gates who tried to squeeze it into a double getting thrown out. That was the only run to score for today's scrimmage.
Alex McFarlane took it on home working the bottom half of the innings. The 4th and 5th he struck out 4 of the 6 batters faced but in the 6th he had to work after walking two to open the inning, but was saved by the pitchers best friend; Jacoby Long hitting into a 6-4-3 DP. That was Long's 2nd DP of the day. Adding to his day of misfortune, with the runners on 1st and 2nd with no outs, he was not able to lay down a bunt twice before hitting into the 6-4-3 DP. With a runner on third, Alex ends the scrimmage with his 5th strikeout.
A very good day of pitching with the bats relatively quiet. Unlike the 3 HRs and triple on Thursday, as earlier stated in the opening just 6 hits today and a bunch more strikeouts. This left little chance for the defense to make any mental or solid errors which haunted them in their previous outing.
Tomorrow they go at it again moving the time up to 1150AM. Uncertain as to the number of innings. Probably be seeing new untested faces on the mound trying to work themselves into mid relief, mid week, or possibly starting rotation slot. Remember last year we had two freshman in the weekend spotlight( Victor Mederos, Alejandro Rosario). No telling we just might have another hidden jewel or two.