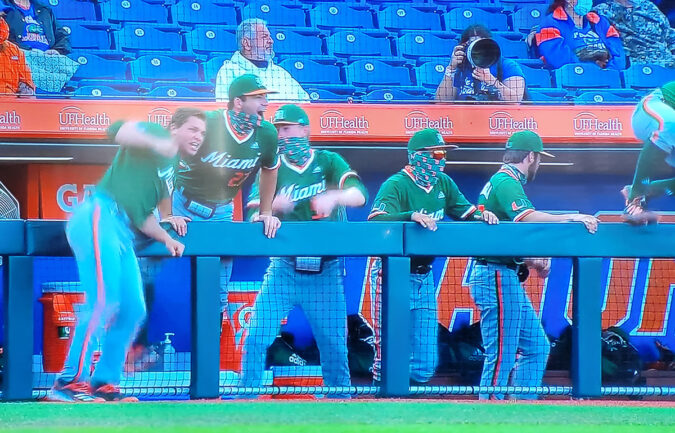 ---
Something is wrong with this picture. At this point in the preseason, pitching should be ahead of the hitting, but for whatever reason, pitching has been taking a back seat, where one is wondering  what is to become to the weekend rotation. I have seen no one clearly above anyone else maybe with the exception of McFarlane and Palmquest and possibly Walters. Jury is still out on the rest. Rosario, I am hoping will pick up his game and Arguelles basically in the same boat. What I have seen so far in the freshman I have not been all that impress. Compared to last year's class these guys have a long road ahead of them before making headliners out of them. Haven't really seen enough innings pitched by everyone to classify who we will be seeing when the call to the BP is made. Right now, I am concern with our pitching.
After very marginal pitching at best on Tuesday, The pitching stepped on a notch but so did the hitting. Another 8 inning scrimmage featuring 4 pitchers. Alejandro Rosario vs Alejandro Torres in the first 4 and finishing with Ronaldo Gallo and Jordan Dubberly. This is my second look at these foursome. Notable improvement by all four pitchers and after Tuesday lackluster performance by their fellow pitching teammates, anything would have been an upgrade
Rosario started off giving up a lead off single to Pitelli who gets picked off early. Second inning Alejandro cruised through only giving up a single  to Carlos Perez. Worked himself into a bit of trouble in the 3rd with back to back hits by CJ Kayfus and Yoyo Morales putting runners on 1st and 3rd one out. Managed to work his way out of any runs scoring striking out Max Romero and Gaby Gutierrez grounding out 5-3. Scoreless 4th. This was a much better outing from last week where he gave up 3 runs and did not look at all like last year. Right now I would say he is probably a front runner for one of the weekend slots.
Alejandro Torres pretty much had a similar day performance as last week. he was attacked early with Jacoby Long leading off and taking advantage of the shift. The infield moved to the right and he went left. This was followed by CJ Kayfus doubling to left center, his first of two doubles today, scoring Long. Walking the 3rd batter, Yoyo, he faced might have earned a visit to the mound during the regular season but play went on. One out, runners on the corners, Gaby Gutierrez hits a SF to center scoring CJ, but Yoyo is thrown out at second tagging from first for an 8-4 DP. Run scored before the out. Move ahead to the 4th, a one out double by CJ, his second, set it up for Yoyo with his 3rd HR of the preseason. He had two last Thursday off of Gallo and Dubberly. All three hit pretty much to the same spot. Not the best of days for Torres but I still see potential from what I have seen from others.
Ronaldo Gallo started off the second half of the day. Scoreless 5th, but got in trouble with Jacoby Long  leading off the 6th with a double followed up by an RBI single by CJ. 7th inning we got to see the only DP of the day after Zach Levenson led off with a single, followed by Jacob Burke hitting into a 6-4-3 DP. Fortunate for Ronaldo because he gives up back to back walks to Pitelli and Henry Wallen before Renzo Gonzalez pops up to third ending the inning. Gallo ends on a high note 3up/3down.
That leaves the final pitcher of the day Jordan Dubberly. Last week, I had him packing his bags to spend a long time cooling the bench in the BP. I would almost say that he can start repacking but not totally yet. He was looking good through the first 3.2 inning but it takes three outs to complete an inning and this is where his world collapsed. Before we get the the 8th, let's review what he did leading up to that point. In the 5th, he was making a believer of my earlier evaluation with a lead off single to Pitelli, who got thrown out attempting to steal second. With the bases cleared and one out Renzo Gonzalez doubles where he is left stranded. The 6th was 3up/3down to include 2 Ks. The 7th went quietly as well as did the 1st two outs in the 8th.Jacob Burke singles and advances to 2nd on a WP. Pitelli brings him on an RBI single, followed up with a shift triple to left by Henry Wallen scoring Pitelli. It would have been a double but Henry noticed because of the shift no one was covering 3rd and he sort of waltzed in with a standup triple. Strikes out Renzo Gonzalez for the final out. Scorecard is still out on Jordan, but today was an improvement over last week.
The bats were alive and swinging away today. One bat was so alive that it too wanted some action and left the hands of Edgardo Villegas only to end up in the netting high above the dugout where it remained for the rest of the game. Total of 19 hits spread out over 8 innings to include 4 doubles (Long, R.Gonzalez,Kayfus(2)), a triple (Wallen) and 1 HR (Yoyo). We had several players with multiple hits : Dominic Pitelli 3-3 (2 walks); Jacoby Long 2-5; Yoyo Morales 2-3 (walk); and CJ Kayfus 4-5. CJ was red hot with the bat today making good contact on all appearances and Yoyo needs to slow down and save some of these long distance blasts for the regular season.
Didn't say anything about the defense the last couple of days because they actually got their act together which I hope they continue to do so. With everyone moving around to various positions we have yet to developed a rhythm which will eliminate the mental miscues. That is what preseason is all about. Everyone is still in the feeling out stage.
Saturday, weather permitting, will be the first and only chance to put it all together when the team travels to FAU for an exhibition game. With a start time of 1230 they are expecting 60% chance of rain at the start of the game dropping off to 30 by 3 and dropping off to 10% before bouncing back to 50% by 5 and moving upward. As much as I would love to catch this game, the weather is too iffy to make the trip from the Keys. Rain chance for the Gable on Sunday is 70% so this might be a shot weekend for baseball.. Today is Thurs so nothing is set in concrete. Hopefully we will be able to get in some playing time. For those heading north on Saturday, don't forget your umbrellas.