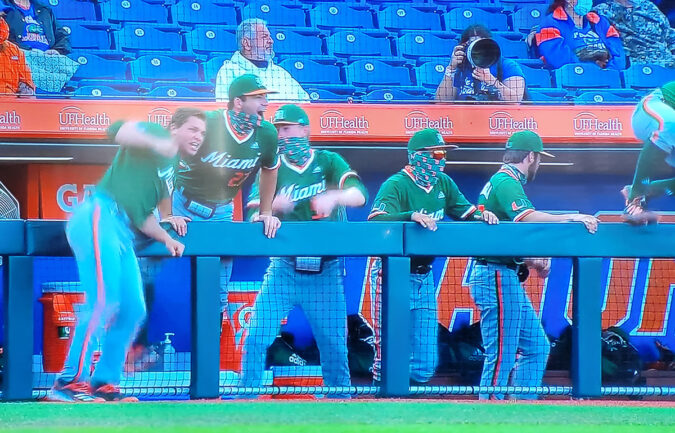 Start of a new week and a look at 4 fresh faces to evaluate in hopes of making it to a starting role in this year's team. Today's report  card  is simply: lot more work needs to be done. Five batters per half inning are allotted/pitcher. and with the exception of the top half of the first, all four pitchers used their allotted number. Hitting was center stage over pitching with just 6 strikeouts the entire scrimmage. Sad to report, no diamonds among these 4 hopeful. That is not saying this is a write-off but compared to the pitching I have seen, these four need the most work. The one area they all need work is control. WP were in abundance today resulting in RUNS.
For today's 8 inning scrimmage Gino utilized three freshman and one Soph. (Jamar Fairweather) who might just be a walk on. No prior school listed other than Westminster Christian . Facing off for the first four were Rafe Schlesinger and Jamar who were followed by David Rossow and Cason Henry. Rafe was the sole LH. With only 5 LH pitchers  on the roster, one on the disabled list from last year Mike Rosario, Renzo Gonzalez (outfielder), and JP Gates who will probably spend more time as DH and Carson Palmquest who if not starting will be closing. Not much to pick from so Let's hope Rafe can turn things around.
Speaking of Rafe, he started off today's scrimmage. The five batters he faced gave up a lead off single to Renzo Gonzalez followed two batters later with a double by CJ Kayfus that advanced Renzo to third who scored on a WP. Second inning Pitelli lead off with a beautifully executed bunt  single passed the pitcher's left followed by what should have been a DP 3-6-3 the throw to second is misplayed by the SS I believe was Jose Izarro enabling  Dominic to take 3rd. Gaby Gutierrez hits a grounder back to Rafe and instead of holding the runner at third elects to go to 1st for the out. Dominic took advantage of this mental mistake and easily scored. No further runs scored but limited out on the batters faced. He did pick up his 2nd strikeout out also struck a batter (Izarro). Not what I wanted to see from a LH who we will definitely need in the regular season.
Jamar Fairweather was Rafe's opposite number on the mound and his performance also had his ups/downs. His first inning was a rarity for today going 3up/3down. Zach Levenson led off the second with a double who advanced to third on a deep fly to center by Renzo Gonzalez. Zach scored on a play to home 4-2 on a dropped ball by the catcher. CJ walked putting runners on 1st and second. Lorenzo Carrier doubles scoring Izarro and CJ following behind him is tagged out at the plate ending a wild second. Third inning Jamar rebounded with 2 Ks and his final inning Yoyo executed the second beautiful bunt of the day down the 3rd base line with no play. Also notable action for the inning was Dominic a beautifully executed DP going to his right and throwing off balanced for the 6-4-3 DP.
In the 4th, change of rotation with David Rossow and Cason Henry pitching for 4 innings. David's day did not start off the way he wanted giving up a lead off double to JD Jones who would eventually come around to score on a WP. The WP was so lost by the catcher that Henry Wallen who was on first after being hit, made it all the way to third. 6th and 7th no runs scored, but it did give us the defensive play of the game in the 7th by Jose Izarro. Jose was playing on the shift to the right side of second made a diving grab  robbing Jacoby Long of a hit. Also in the same inning David picked off Edgardo Villegas at first after he led off with a walk. Final inning gave up a pair of runs with a lead off double by Max Romero on his only time at bat today scoring on a single misjudged by the RF and finalizing his rotation with another single by Gaby Guiterrez scoring Henry Wallen beating out the throw from right.
Cason Henry finished up the foursome with pretty much the same type of day. His day started with a walk to Carrier followed two batters later hitting Zach Levison advancing the duo on a WP to have Renzo Gonzalez bring home Carrier on a SF to center. One out back to back singles by Pitelli  and Wallen set up Pitelli coming home on an error by the catcher not holding onto the ball. The 7th was uneventful for Henry only to have his final inning shattered with a pair of runs complements by a pair of walks and a WP which brought home two runs as a result.
Not a good day for pitching, but the batters were not complaining. Multiple hits by Dominic Pitelli with a pair of singles and doubles by CJ Kayfus Lorenzo CArrier, JD Jones, Zach Levison, and Max Romero. For These four youngsters that were on the mound today, they need to step up their game or they are in for a long season warming the bench in the BP.
What I have seen so far our pitching staff has a long ways to go if we expect to be competitive in the ACC. We will try it again on Thurs.