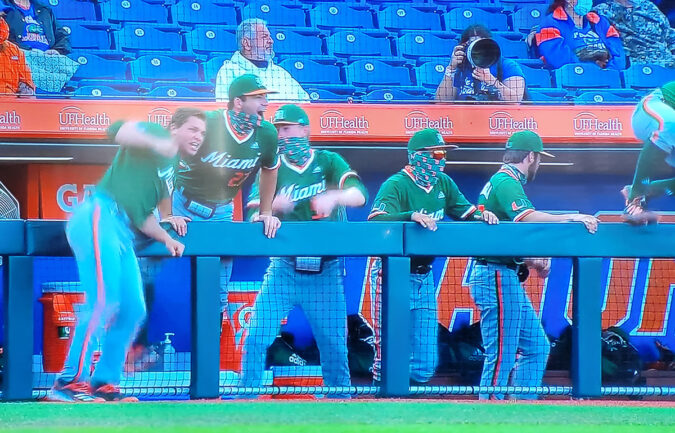 OOPS! Last minute change of venue. Someone forgot to tell the grounds crew at Boca that it might be raining and they forgot to cover the infield. On the better side of caution, the team cancelled the trip and instead had an intra-squad 8 inning scrimmage back at the Light where our grounds crew had a higher IQ as to the weather.
Pitching once again was back in focus as our top 4 pitchers made their appearance each pitching 4 innings. When you get right down to the nitty gritty to who are are best pitchers, no one is really killing it on the mound. Even Carson Palmquest who is probably our best is having issues. Last year until the post season he was unstoppable. Even he is getting hit upon. That being said, I have not seen anyone maybe other than Carson, assume the role of Closer. In Gino's mind which is more important: starter or closer. And again, what does arson want, if given the choice.
Opening today's session on the mound was Jake Garland and Carson Palmquest. I would say two of the frontrunners this year but as I earlier mentioned no one is beating down the door especially our freshman class. Jake cruised through his innings only relinquishing one run which was unearned in the second. In the first, a one out single by Ariel Garcia taking advantage of the shift was short lived with CJ Kayfus hitting into a DP to end the inning. I mention Ariel's single to the opposite field because this is something we need to take more advantage of when the shift is put on. The open field is there for the taking and more emphasis needs to done by our batting coach is working with our hitters to benefit from this gift. In the second, a grounder through the legs of Henry Wallen playing second set up the initial run. Man on first, one out single by Renzo Gonzalez to right sends Pitelli to 3rd. Person who was playing right had no play at 3rd, but instead of going to second with the ball elects to show his throwing arm, which he does not have, as Dominic easily makes it to 3rd and Renzo on the throw goes into 2nd. This is a mental mistake which could end up costing 2 runs. The error earlier did cost a run with a Carlos RBI single. 3rd and 4th 3up/3down.
Carson took on the duties pitching the bottom half of the innings. The first two batters he faced did not at all look like Carson. First batter he faced, Henry Wallen, he struck on his wrist which fortunately was not season ending. Don't know if this shook up the mind set of Carson, but the next pitch went wild sending Henry to second. Settled down after that and it was the Carson one expects, striking out Yoyo and Romero stranding Wallen at second. The second inning, again did not start off well with Lorenzo Carrier doubling to right, advancing to 3rd on a 3-1 groundout, and finishing getting caught on a grounder back to Carson who seeing Carrier going home, stops him in his tracks 1-5. That is heads up ball which some of our younger pitchers would have gone to first instead. 3rd inning a pair of strikeouts to Pitelli and Renzo Gonzalez hi-lighted the 3up/3 down inning. Yoyo's one out triple off the RF wall not well played by Levenson, enabled to secure the extra base. Could not capitalize being left stranded for the final 2 outs.
Second half of the day had pitching Andrew Walters and Alex McFarlane. Andrew had a good session without allowing a run through his 4 innings. Hi-lighted the 5th with a pick off at first of Zach Leverson whom he had just walked. In the 6th, after hitting Henry Wallen, Wallen's second for the day, and advancing on a WP, ends up getting caught on a 9 DP which had Henry 1/2 way to 3rd before realizing the ball was caught in right. another mental mistake. The Gods must have been looking favorably upon Andrew today, after giving up a one out triple in the 7th to Lorenzo Carrier followed by hitting Gaby Gutierrez, he gets JD Jones to hit into a 5-4-3 DP. Final inning saw some action, with Pitelli walking and then getting thrown out at second by Jones and Carlos Perez singling advancing to second on a Villegas error in center but no runs scoring for a scoreless afternoon for Andrew
Walters.
Finally Alex Mcfarlane bringing up the rear for today's pitching quad. The scoreboard paints a different story in which Alex was scored upon each of his 3 of 4 innings, but his pitching really doesn't really reflect on what went down. His defense sort of collapsed on him. He,himself was his own worse enemy in the 6th.  In the 5th, back to back error to lead off the inning with a grounder through the legs of Pitelli and a ball off the glove of Yoyo that was hit right back at him. A legit single by Dorian Gonzalez scored Gutierrez and Jones gets doubled up at second when Ariel Garcia hits a bloop to second caught half way to 3rd. Mental. The 6th inning was nothing but wildness taking over where Renzo Gonzalez got around all the bases after walking via the WP. Was not a pretty inning for Alex. In the 7th back to back doubles by Max Romero and Edgardo Villegas (1st hit of preseason)(from my records and reaction from the dugout) also gave him his first RBI. Final inning quiet with 3up/3down.
Defense, first mentioned in a couple of days was not at its best. Mainly coming from the OF but also had equal billing as well from the IF. RF was where the damage was mostly done with several mental errors. Think Levenson learned that diving for a ball has its consequences as the dive cost a triple. Mental errors throwing the ball in provided extra bases which should not have been. Then there was just the pure errors in the IF. Lost count, but I thing we had 5 legit errors and almost as many mental. This needs cleaning up in the worse sort of way. Few more DPs today (4,) two of which were mental resulting from poor base running.
Offensively, hitting production was down as expected. Just 8 hits overall, with only Lorenzo Carrier in the multiple category going 2-3 (double, triple). There were two others with extra base hits: Yoyo-triple; Romero-double. 
Today was about pitching. Hitting resumed it rightful place behind the boys on the mound. Tomorrow I don't expect the same. The bats should once again come alive a bit more from what we saw today. After seeing may second week of scrimmaging, I am not exactly singing Omaha and hopefully the time remaining, things will start looking more promising. Tomorrow, I expect another 8 innings and last I heard 11:15 start time