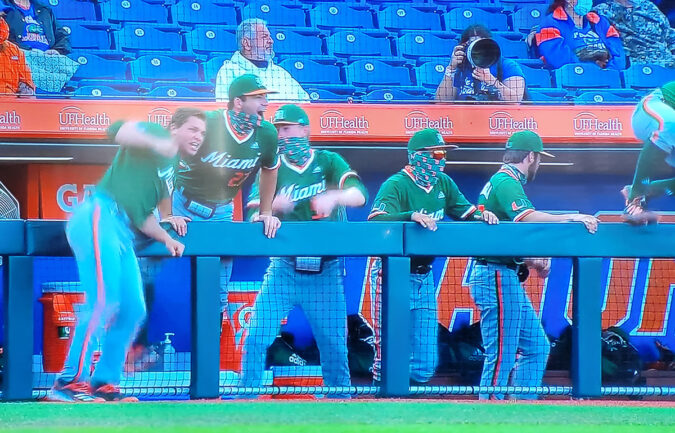 ---
The fall preseason is winding down with the Orange/Green World series set to start on Tuesday. it will conclude on Saturday (Tues,Thurs,Sat) with one more scrimmage scheduled the following Thursday before Scout Day set for next Saturday in 2 weeks. That will conclude the Preseason and will not resume until the Latter part of Jan. They usually have about 3 weeks in preparation for opening day in mid Feb. Normally the Fall session concludes one week prior to Thanksgiving break but they had an early start in which I missed the first week.
After a somewhat return to pitching yesterday, but not exactly at the level we would like it, today it was a step backward in an abbreviated session of just five innings in which we only saw 3 pitchers take to the mound.
Today, I would call the pitching performance a return to mediocrity. If Saturday is the best we have, then we are looking into a season with many disappointments. As this point in time, we don't appear to have a strong BP or starters that clearly separate them from the rest of the pack. This is a team destined to finish at best in the middle of the Conference. Hopefully there is enough hitting to take us to post season. Don't expect Omaha unless Gino can create some Mark Light Magic to extend to all venues. Hopefully other teams in the Coastal are likewise experiencing Post COVID syndrome.
Gage Ziehl and Karson Ligon faced off to start the Sunday morning session. Gage looked good in the first inning quickly taking out the first 3 batters he faced. In the second, things started going down hill and by the 3rd, he was buried. Renzo Gonzalez opened and closed the second with a walk and in between CJ Kayfus doubled bringing Renzo in from second which he stole following Henry Wallen striking out. Gage completely faltered in the 3rd with an error at first to start the machinery cranking. Lorenzo Carrier steals second. A walk to Ariel Garcia put runners on 1st and second. Gage is called for a balk advancing each runner. PB/WP brings a runner in and Garcia moves to 3rd. JP Gates who has not fielded the entire preseason possibly still recovering from last year's injury, doubles (opposite field shift) bringing in Garcia. With two runs in Gaby Gutierrez single for the 3rd run of the inning ending his day
Karson Ligon had a somewhat better day, doing likewise in the first inning only facing 3 batters. Second inning, after walking Zach Levenson, Edgardo Villegas for the second day in a row goes off the left field wall for his double and second hit of the preseason. Dominic grounded out to first was deep enough allowing Zach to score from third. Karson did not let the one run bother him in coming back in the 3rd with a trio of strikeouts to R. Gonzalez, Wallen and CJ. This small token of redemption was quickly erased with Carlos Perez laying it out solid way over the LF fence to start his 4th. Carrier and JP would both single putting runners on the corners. Dorian Gonzalez executes a SAC bunt bringing in the second run and ending Karson's day on a down note.
Final pitcher of the day was Anthony Arguelles who pitched the bottom half of the 4th and the 5th inning after taking a 15 minutes time out. The first batter Anthony faced sort of set the day that was to follow. Yoyo triples to deep center which might have been caught by Long but got a late start on it. Two batters later Zach Levenson does likewise with a triple of his own. Romero 4-3 groundout brings in Yoyo. Zach gets caught in a rundown 1-5 trying to make it home.  The 5th inning totally belonged to Anthony having a 15 min. interruption between half inning to rest. Second batter he faced in the top half of the inning, Jacoby Long, lived up to his name going LONG for a solo round tripper. Second half of the inning came with the defensive play of the game by Dorian Gonzalez playing SS making a driving catch off of Jacob Burke's bat robbing him of a hit. Yoyo following left no doubt of his single as did Max Romero with a single of his own. Runners on the corners, WP brings in another unearned run.
Control plagued our pitchers not only today but has been a consistent problem all preseason. If we have another year where our starters can't get beyond the 5th, I don't know if our BP will be able to bail us out. If we are still close by the 8th or 9th who is going to get the call for Closer. I would say Carson, but he moves up to starter I yet to see someone confident enough to take over his duties. This year, at least until our contingency of pitchers can find themselves, they are going to have to rely on our bats to keep us in the game.
We can't afford the long dry spells of run-less innings that plagued us last year where the bats were silent.
Offensively, we are getting hits but I don't know if it is them or from lack of pitching.  Two today in multiple numbers: Yoyo 2-3(triple) and JP Gates2-2 (double,RBI). Extra base hits accounted for 7 of our 12 hits today. This is the only way we are going to win. We will not do it by small ball because of our inconsistency in being able to score with RISP. maybe this year will be different. In the extra hit category were:YoYo-triple;Zach Levenson-triple; Edgardo Villegas-double; CJ Kayfus-double; JP Gates-double; Carlos Perez -HR; Jacoby Long-HR. Is it pitching or hitting?
We go into the final week of preseason with the Orange/Green World Series where the members of each team run the show and the coaches watch from the side lines. The designated captains pick the players and it is an accumulative score over three days to select the winner. The following week there is one more scrimmage on Thursday of the non-eligible pitchers for the draft followed by draft eligible for Scout Day. Prior to the final scrimmage of the preseason, scouts judge each player for speed and throwing.