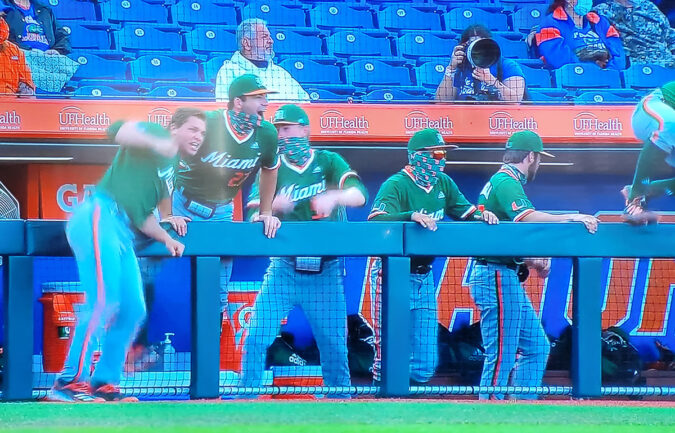 ---
With the fall preseason winding down, we come to the final two game to be played in 2021. The final game will be this Saturday which is set aside for the Scouts. All players will be under the microscope as they are rated as to their skills in hitting, fielding, and speed. Particular emphasis will be on all the pitchers who are draft eligible and they will high light Saturday's festivities. Day is kicked off at 1000 with the skills competition with the scrimmage following at approx 1130. Hopefully the weather will cooperate.
However that is for Saturday, and today we had a 6 inning scrimmage with 4 freshman jocking for position out of the BP. All four need work,particularly Cason Henry who pitched like it was batting practice. On the other side of the coin was Gage Ziehl who only gave up one hit for the 10 batters he faced.
Each of the four, pitched 3 innings each starting with Gage Ziehl and Rafe Schlesinger. As earlier mentioned, Gage had a particularly good day on the mound and best chance of today's 4 to see early action this season in relief. For the first two innings, he made easy work of the first 6 batters faced with not a single ball leaving the infield and recording a strikeout to the initial batter he faced. Noteworthy about the strikeout was it was someone who had not appeared in the Orange and Green World Series and was concerned as to his health or status on the team. Jose Izarra I feel is competing with Henry Wallen for starting at 2B. While Jose did not record a hit today, his infield work was very solid. Just glad to see him back on the field. After pitching 2.2 innings of hitless ball, Gage gave up a two out double to Dorian Gonzalez who was left stranded with Henry Wallen striking out. A very impressive day striking out 3 with no walks or runs and only Dorian putting a blemish on his day.
Opposite Gage was Rafe Schlesinger. No runs for the 1st two innings giving up a walk in the first and likewise in the 2nd. Got a little rough in the 3rd with a lead off triple by Ariel Garcia to LC followed by an RBI single by JP Gates who returned to his DH role. Other than relief pitching, I see JP role will be that of DH. There are others equally talented like Lorenzo Carrier who is better with the bat than glove but JP is more consistent in finding the hole. Think the other person competing the most for the DH slot will be which catcher (Perez or Romero) not behind the plate for the game. Both have out of the park HR power. Today was the best I have seen Rafe pitched this preseason.
Second half of the game was taken over by Cason Henry and David Rossow. As I earlier mentioned, I was not at all impressed with the performance of Cason today. He reminded me of someone pitching batting practice prior to the game. He had nothing on the ball, and he was hit all over the park giving up runs each of his 3 innings. Edgardo Villegas initially faced him to start the top of the 4th. Edgardo has probably been the most improved hitter from his struggling initial outings where he could not buy a hit. The last several games he has been totally focused just missing the cycle (triple) in the final game of the Orange/Green World Series. Today he picked up where he left off going deep to RC to welcome Cason to probably his worse day as a Cane. Following Edgardo solo bomb, CJ Kayfus followed with a double of his own in the same location which just barely missed going over the fence. Error by Dominic Pitelli misjudging a grounder trying to backhand it brought in CJ for the second run. I gave it an error but since Dominic never touched it could have easily been ruled a hit. This is a play he has made a million times accounting for me not being generous. Otherwise, three hits in a row accounting for 2 runs. Didn't get any better for Cason giving up back to back walks to lead off the 5th. This was followed by back to back singles by Kayfus and Long (RBI). Perez who initially walked to start the inning was thrown out from right (Carrier) trying to make it home on CJ's hit. Pitelli, the 5th batter of the inning reached on an E4 (Wallen) to load the bases with one out and the 5 batter rule saved Henry from probably adding to his woes. Did not go unscathed in the 6th putting another run on the board with an SF to Right by Max Romero bringing in Dorian Gonzalez who singled earlier. the 5th batter he faced in the inning he hit (Zach Levenson) finishing his day having only earning the sole out by the defensive play of the day by Edgardo Villegas (diving catch, short center). Definitely a day that Cason will want to forget quickly.
Opposing Henry on the mound and finishing today's scrimmage was David Rossow. He had to work a little harder today than teammate Gage but like Gage he put up three zeros on the board behind DPs in all three innings.
Today we saw the best and the worse in pitching along with good execution of multiple DPs(4); most I seen this preseason. Defense is tightening up with another Kodak catch to highlight the day.
The bats continue to stir the fires. Not as many as we have seen with just only 8 pounded out, but half of the 8 were for extra bases. Two with multiple hits: CJ Kayfus 2-4 (double); Dorian Gonzalez 2-3 (double). Ariel Garcia (triple) and Edgardo Villegas (HR) accounted for the two remaining extra base hits.
This was the final tune-up for the grand finale Saturday where our draft eligible will be on the mound and last impressions from all before they return in Jan to prepare for opening day against Towson Feb 18 for a weekend series. Hope to see you Saturday for Scout Day. Skills at 10 and scrimmage starting about 11:30.