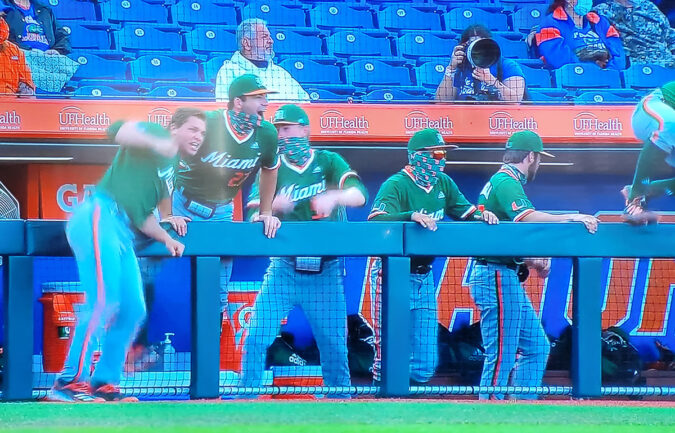 Week 2 of the spring Preseason concluded today with 6 innings featuring 6 pitchers trying to move up in the BP rating scale. Each posturing for a mid reliever slot and eventually to a starting role. The two top headliners pitching 4 innings each were Gage Ziehl a freshman RH and Karson Ligon another freshman RH. Facing off against them was an offensive lineup that had a breakout Saturday and wanted to continue their upward momentum. Production numbers were a bit down but still respectable for a team just coming out of a frozen state. In the Second half of the scrimmage, Gino went to pre-positioning runners setting up different scenarios. The area of concern was dealing with RISP. The pressure increased for the pitchers, but the dividends delivered from the bats exceeded expectations.
Gage Ziehl and Karson Ligon showcased the opening half. Both cruised through the first 3 innings without a run scored. When they went into pre-positioning, things got interesting, and the bats started speaking. Gage only gave up one hit for the first three innings, a double in the 1st to Yoyo, which could have easily been stretched into a triple but settled for two. In addition to keeping the bats silent,Gage chalked up 6 strikeouts; 3 coming in the 3rd inning. In the 4th, Gino made it interesting pre-positioning runners on each of the bases with one out. Yoyo brought in one run with a 6-4 fielder's choice. Runners on the corners, Pitelli singles in another run which Mike Rosario does likewise. Dominic trying to stretch it from third is thrown out at the plate. Wasn't even close at the plate which makes me think if Gino gave him the green light or Dominic tested fate on his own. The inning proved to be an interesting challenge for Gage and I am sure he learned from it.
Karson's road to the 4th was demanding of him and pressed him into a bind starting with the 1st inning. Things started getting bumpy with a one-out single by Jacoby Long which Karson had good fortunes when Jones caught him stealing just prior to Max Romero getting a single of his own. Continuing the barrage of hits, Lorenzo followed with a double putting runners on 2nd and 3rd. A walk to Henry Wallen Gino decided enough for one inning. It gave time for Karson to regroup which he did nicely returning to the mound to strike out the three batters in order. An opening single to start the 3rd by Dorian ended attempting to steal 2nd with two quick outs following. To the 4th and pre-positioning. 2nd and 3rd two outs. Walks Carrier to load the bases bringing Edgardo Villegas to the plate. At only a recorded 5'8″, he has a bit of pop with the bat. Hits our brand new scoreboard for the GRAND SLAM SALAMI.
The rest of the scrimmage, inning 5 and 6, was set aside for prepositioning.I like this format because it tests the pitchers in critical situations and for the hitters taking them to a different level.
Anthony Arguelles was given a runner on first no-outs. Sets up a SAC for Renzo Gonzalez who executed the bunt but what followed was a learning lesson for Henry Wallen playing second. Pitcher and first came in for the ball, Henry who should have been covering failed to do so, getting a late start, resulting in Anthony throwing the ball to a vacant base. The runner on first traveled around the pads scoring on this mental error on both Arguelles and Wallen. Renzo would end up on second. Two batters later CJ Kayfus doubles to right scoring Gonzalez but like Pitelli tries stretching it and gets easily thrown out by Carrier. Of the outfielders, Dominic's is the one arm you don't want to test.
Opposite Anthony was Rafe Schlesinger. His challenge was runners on 1st and 2nd no outs. Long lays down a test book SAC successfully advancing both runners. With the IF in, JP Gates continues to take advantage of the IF setup going opposite field for a 2 RBI single. Gutierrez walks and on Dominic's single JP is caught at the plate trying to make something into nothing.
Alejandro Torres and Andrew Walters received final honors to complete today's scrimmage. Alejandro for his slice of fun had runners on the corners, one out. WP is only able to advance the runner from first putting two in scoring position. To the plate Jacoby Long. Long goes LONG earning him 3 RBIs for his efforts.
This left Andrew Walters with the final challenge: BL, no outs. Andrew was worthy of the challenge, getting Renzo Gonzalez to PO to short and striking out Ariel Garcia and JD Jones to wrap up the scrimmage in high fashion.
Offensively, 8 of the 12 hits today came when the team went to pre-positioning. Years past, RISP has always been a continuing problem and Gino appears to be working to make one less area to be concerned with. In the past, being able to lay down a bunt was a major effort and I am glad Gino is addressing this as another area of concern. The aggressiveness on the bases is still a major work in progress as shown with several getting caught on the short end. The effort is being made and this is a definite positive. As for our hitters two with multiple hits: Dominic Pitelli 2-3 (RBI); Jacoby Long 2-3 (HR,3RBI). Three with extra bases all doubles: Yoyo Morales, CJ Kayfus, and Lorenzo Carrier. Two lit up the board: Jacoby with 2 on base and Edgardo Villegas with the GRAND SALAMI.
No kodak moments from the defense, but the OF was tested 3 times on throwing strength and came away a winner. Other than the error at first in the 5th on a SAC, the defense is looking good.
The pieces are coming together with just two weeks to opening day. Next Saturday is the Alumni Game starting at 6 PM. All our favorites will be back and after watching these pass two days, things are not looking favorable for the Alum to come away with a victory. It will all come down to pitching and our hitters taking advantage of the rust from the Alum. At least that is the plan. Two scrimmages scheduled next week prior to the Alumni Game on Wednesday starting at 715 PM for 6.5 innings and Friday at 4 PM for 7 innings. This is what is scheduled and is subject to change.