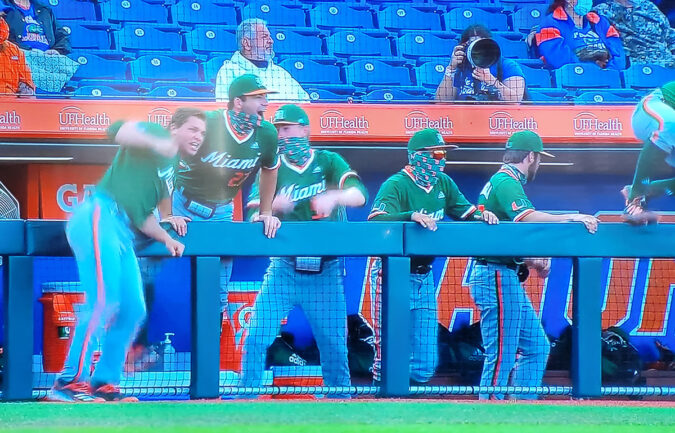 Game one turned out to be a very lopsided affair where team Orange totally dominated play over Green under the orchestration of Alejandro Rosario. After what I call a frustrating preseason, it was like a different Alejandro on the mound today. For 4.2 innings Green could not answer with a base runner until JP Gates finally brought the hitless streak with a two out triple only to end up at third without scoring. By the second inning, the game was for all purposes in the books after Orange had mounted an 8-0 lead coming off a 7 inning second having 10 batters come to the plate. As with have seen all of preseason, today just emphasized that pitching is going to be our Achilles heel when we have to turn our attention to the BP. The rest of today's pitching left much to be desired. This season our starting rotation must be able to get beyond the 5th if we expect to stay competitive in every game. Hitting has been a positive or has it been because of the sub-par throwing arms of our young hurlers.
The teams seemed kind of stacked favoring Orange in which would appear for the most part to be our starting lineup for the forthcoming season. Green's two position players (first,third) were playing this position for the first time this season and it definitely showed in decision making and actually playing the position. Playing third was Jacob Burke who for the entire pre-season games I have attended has always played in the OF. At first, was JP Gates who for me was the first time he has appeared in any of the scrimmages other than batting. He has played the position in the past but the rust on even being on the field was clearly evident. Lack of experience proved very costly in errors which turned into runs.
Green was the visiting team for game one. Rosario staring on the mound for Orange. This was the Rosario that caught everyone's attention last season where as a freshman was dominant on the mound in the early part of the season until he was not. Today he was a master of control totally controlling all aspects of his game. For 4.2 innings not a single base runner reached first. Only had 3 strikeout but pitching like he was it left Green in a fog on trying to find a hole for a hit. Finally with two outs in the 5th, JP Gates was able to finally put Alejandro perfect game to rest. Orange was on a power shift to right and Dorian Gonzalez was playing a deep second in shallow RF. Hard line drive is deflected off his leg and went into RC recording not only the first hit but with interest. JP goes into third standing up on the deflection getting passed Carrier and Long in the OF. The triple didn't shake Rosario's concentration striking out Ariel Garcia looking for the final out of the inning.
While Green was struggling at the plate, Orange was terrorizing the base pads with an unleashing of power. Rafe Schlesinger got the rock to start for Team Green and he was crucified into submission only lasting 1.2 innings. The first inning only took a minor beating giving up one run due to the corners. Jacoby Long led off using the shift to his advantage going opposite field for a lead off single. Dominic Pitelli took advantage of the inexperienced play of JP Gates at first reaching safely on an error. This followed with Burke lack of experience playing 3rd instead of touching 3rd on a ground ball hit back to him by YoYo Morales threw to first instead. Did not even consider going for a 5-4-3 DP which was in the realm of possibility on how hard the ball was hit. Runners now at 2nd and 3rd one out, Rafe throws a PB that gets by Carlos Perez but reachable. Long tries coming home only to be caught sliding into home plate for the second out. Carrier still at bat doesn't leave Pitelli stranded with an RBI single for the first score of the game.
Schesinger skated with giving up only one run in the 1st, but his day was about to go into the crapper in the second. 10 players, 3 walks, 3 hits ( one to include a 3 run HR), an error, and 7 runs would cross the plate before Green would be able to leave the field. Rafe left just prior to the HR by Max Romero. That honor was owned by David Rossow on his first pitch to Max. Orange picked up the rest of their runs with a SF by Pitelli, CJ Kayfus 2 RBI single with BL, and an error by Gates at first.
Things got quiet after a wide open second until the 5th, when Orange put up another run on 3 consecutive singles by Romero, Gutierrez, and Jones. Ronaldo Gallo was pitcher of record for this single inning he pitched.
In the 6th, Green finally made its way to the scoreboard with Anthony Arguelles getting the honors for losing the shutout. Lead off HR by Renzo Gonzalez clearing the RC field wall. Anthony continued providing batting practice with back to back singles by Henry Wallen and Carlos Perez for the second and last run Green managed for today's game one.
Orange answered doubling the output of Green's two with four of their own in the bottom half of the inning highlighted with a ground rule double by Dominic which, if not hoping over the RC field wall, would have earned him a three bagger. This was capped with another bomb of a shot, his second
of the day, by Max Romero clearing the RC wall for another 3 RBI blast.
Alejandro Torres finished the game for Orange but not before giving up a pair of hits to Burke and Edgardo Villegas, striking out Zach Levenson and finishing the day with a 4-6-3 DP off the bat of Reno Gonzalez.
Not a good day for Green losing 13-2. They will pick it up from there on Saturday 1115 for game 2. Other than Rosario, pitching was horrendous. All this preseason hype on the freshman pitching talent we acquired was just that: hype. We are in a bad state of affairs if preseason has been an indicator and today's showing of what we can expect from our BP. Rosario definitely showed he might have earned one of the weekend's slot by his performance today.
Offensively, it was a very productive day at the expense of the inefficiency of the pitching staff to be able to do what they are supposed to do: getting outs. Instead they were driven from the mound in not being able to deliver. 17 hits pounded out over the course of 6.5 innings. Multiple hits today all three coming from Team Orange led off by Lorenzo Carrier 2-2; CJ Kayfus 2-2; and climaxed by Max Romero 3-3 (2HRs,6RBIs).In the extra base category: Pitelli:double; JP Gates:triple; Renzo Gonzalez: HR.
Hopefully on Saturday we will see a better effort by the pitching staff in making this more of a game. I am sure the bats will disagree and will want to continue in dominating pre-season play. Start time again 11:15AM.