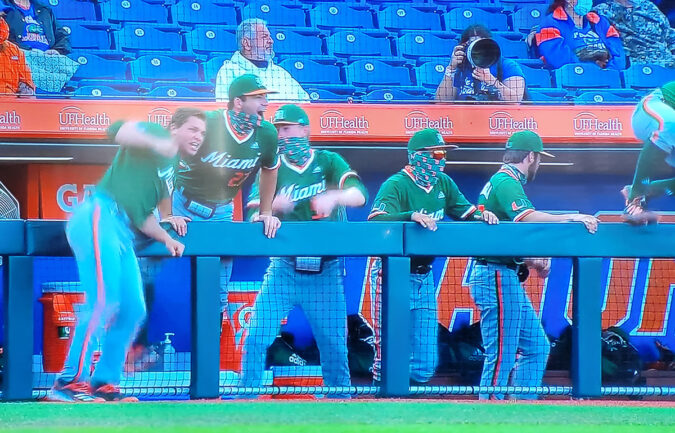 Play resumed today with Team Orange holding a formidable lead over Team Green by a score of 13-2 after 6 1/2 innings. With the exception of today's first inning, today's contest was more placed on pitching rather than hitting. Hit production was down and better command on the mound was shown by today's hurler of the rock. Joining Rosario as one of three starters , Jake Garland through 4 innings looked like he a strong contender on grabbing hold of one of the weekend slots. McFarlane had a very shaky first inning aided by a floundering defense, but settled down as well as the rest of the defense the remainder of today. By Day's end Orange extended their lead going into tomorrow's final day to determine bragging right as the best of the best in intra-squad play.
Team Orange started today's festivities in the bottom of the 7th with Alex McFarlane starting on the mound for Team Green. Right from the gecko, Jacoby Long jumped on the ball for Team Orange picking up where they left off on Thurs. Long hits a deep ball to left which had Renzo Gonzalez turning in the wrong direction and by the time he realized the mistake was not able to probably catch the ball deflecting off his glove for an opening triple. This was a makeable play and should have been the first out. Pitelli next at bat hits a grounder to Wallen who has a play at the plate. The throw was thrown weakly and not even close being way off the mark. Rather than being two outs, instead the lead is extended to 14-2 with a man on first. When things start going wrong, it like a snowball effect. Yoyo takes his stance in the box and delivers another bomb of a shot over the RC field wall. Lorenzo Carrier adds to the hitting frenzy with a hit of his own before the first out is recorded by CJ Kayfus. Romero got the second recorded out and whether by pitch count or mercy decided to end this half of the inning after 2 outs and the score 16-2.
No runs by either side were put up on the board until the 10th as McFarlane settled down for the remainder of his time on the mound. After the 3 run 7th Orange only managed a single hit by Max Romero coming in the 10th with an opposite field single taking advantage of the shift. Green struggled for the next two innings. On their first at bat (8th), Carlos Perez is hit by pitch giving them their first base runner with one out. Carlos didn't stay long at first as Jake picked him off stretching too much of a lead at first. Next inning, one out double by Jacob Burke also falls short getting caught trying to steal 3rd. It was not until the 10th, did all of Green efforts finally payed off. Garland started having a bit of control issues after recording the first out. A walk to Renzo Gonzalez followed by a single by Wallen over 2nd base (between the gloves of Dorian Gonzalez and Dominic Pitelli each diving for it). Long retrieving the ball not having a play at 3rd still throws it there giving Wallen 2nd base. Noticed this a lot from our OFers trying to make a play that's not makeable allowing the runner at first to take that extra base putting one more runner in scoring position . Runners now on 2nd and 3rd with 2 outs (Perez liner to 2nd), WP brings a run home and advances Wallen to 3rd. Runners now on the corners after Gates walks brings Ariel Garcia to the plate. Ariel single brings in the second run of the inning which would also be the last run to cross the plate for Green today.
Orange would get on the board one more time today to extend the score to 17-4 going into the final round come tomorrow. They did so in the 12th inning with a new pitcher, Karson Ligon, on the mound. Yoyo would lead off the inning with a single and two batters later CJ Kayfus rolls the ball passed 3rd base bag for a double scoring Yoyo from 2nd ending the scoring for the day.
Jamar Fairweather and Matt Raudelunas each pitched one inning for Team Orange not giving up a run nor a hit. Karson Ligon had completed his first inning of relief after giving up a pair of hits and a run in the 12th and facing off to his first batter in the 13th (Jacoby Long). Long hits a hard shot back to Karson which hits him in his right wrist (pitching hand). the throw to first went wide of its mark (E1). Grabbed on to his wrist following the throw and after examination by the team trainer left the game. Hopefully this was only precautional and nothing serious will become of it other than being sore. David Rossow came in in his place and finished out the day having a very good showing on the mound only giving up a single to lead off the 14th which ended with Carrier following hitting into a 5-4-3 DP.
Overall, pitching was back in the spotlight today, with hitting settling down. Only one batter had a real day at the park going 3-4 with a pair of RBIs and a no doubter over the RC field fence. Yoyo Morales continues hitting the ball in reckless abandon. Needs to save these bombs for the regular season but everything is pointing on him having record numbers this year. Jacoby Long (triple) and Jacob Burke (double) only ones with extra bases today. Pitching kept the batters in place only allowing 10 hits through 7 innings of play.
Unless Green can pull off the biggest Mark Light Magic ever, I think it can can be pretty safe in say the Team Orange is the Best of the Best. Expecting excellent pitching tomorrow from Carson Palmquest and Andrew Walters. By tomorrow's end should have a pretty good idea on who the frontrunners are for the weekend rotation. With one week to go, I think we are getting a pretty good picture of what to expect this season or at least a better look on who is and who is not. Start time same as today 1115.