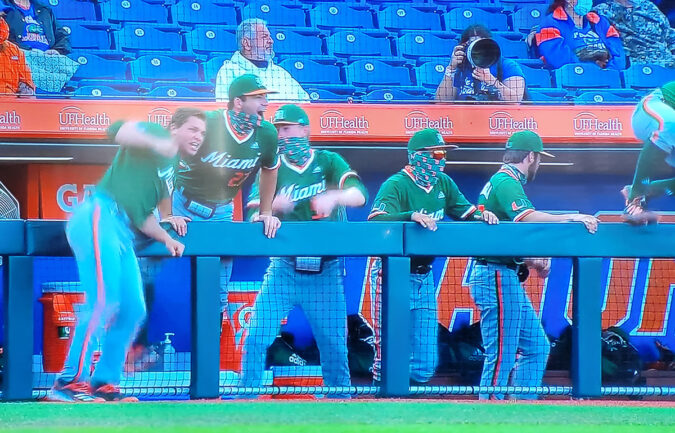 ---
Today, concluded the three day event in which Team Green was facing insurmountable odds of ever climbing back into the series. Green's reply: Never say Never. Green gave it their very best trailing 17-4 entering today game and came to within 6 runs of doing what seemed to be an impossible mountain to climb. Jordan Dubberly for Green supported by Ronaldo Gallo only allowed one run to be added to the previous 17 that orange had accumulated in the prior two outings. It was almost a Halloween scare for Team Orange as Green mounted 4 Run 17th inning followed in the 18th with 3 more. Given enough innings they might have made it into a closely contested affair. Defying the odds, Green almost had enough of the Mark Light Magic to pull out the impossible, falling short 18-12. Team Green held out long enough to be take home the bragging rights of the Best of the Best.
The one thing to take away from what started out as a very lopsided affair is the determination to continue to fight and not throw in the towel. If they take this mentality going into this season, it just might be enough to overcome what I still see as a marginal BP. It is going to have to be our bats to take us to the promise land especially if our starters continue struggling not being able to get beyond the stone wall being the 5th inning.
Green being the visiting team today had Jordan Dubberly starting on the mound and Gage Ziehl throwing for the home team. What hi-lited the first inning for both teams was not that each had a 3up/3down outing but each side taking away two of the defensive plays of the game. For Green, it came with one out, Jacob Burke at bat. He hits a sinking ball towards the LF line and Gaby Gutierrez makes a diving catch of it robbing Jacob of a sure hit and probably a triple if the ball got by him. Team Orange a had a similar fate repaying Gaby for his catch earlier. Gaby hits a low sinking shot to center where Edgardo Villegas returns the favor with a dive of his own to rob him of a hit and possibly more if the ball got by him. Both plays opened the day of what was hoping to be an interesting finale of the Series.
Orange would be the first on the board with Yoyo going LC for his second round tripper in two days. He is definitely locked in and hopefully he is saving some of this power for the regular season. This extended the lead at the end of 16 innings of play to 18-4.
Green answered in the 17th with 9 players coming to the plate and taking away 4 runs. Gage Ziehl who had been recruited by the Cubs in the 11th round never got out of the 2nd before Alejandro Torres had to bail him out for the final two outs. Carlos Perez and JP Gates opened the 4th for Green with back to back singles. JP along with some of our other power hitters are learning how to go opposite field more when the shift is on. This will be key for this season in overcoming the power shift. Need to learn to put the ball where they are not. A WP would bring Perez home. Ariel Garcia would record the only out Ziehl would get via the K, but a walk to Burke followed up by another pair of back to back singles by Villegas and Zach Levenson put two more runs to their tally ending with one more WP bringing in Burke and taking out Ziehl for the day. Gino hopes for a solid class of freshman pitchers this year is like shattered glass. They just on not producing whatever their recruiting rankings might have been.
Torres who transferred in from FIU this year, got Orange out of the 17th but ran into troubles of his own the following inning giving up a two run shot by Edgardo Villegas who his teammates literally carried him off the field. He is a team favorite who for most of preseason struggled to find his first hit and recently he has changed his performance with the bat around. May be the new performance center is working. He had a heck of a day missing the cycle by a triple. The 3rd run from Torres came also via the WP/PB.
As unlikely as it appeared to be happening, Green had picked up 7 runs within 2 innings and closed the gap to 18-11. Orange kept on pumping in pitchers to slow Green down. Still trailing by 7 in the 20th with time running out Orange brings in Jamar Fairweather to close things out. Green was not going to go down easily. Burke opened the inning getting hit, bringing Villegas, having a 2-3 day, and he comes through with an RBI double to bring it to within 6.
During all this resurgence by Green, Orange looked like the Canes of last year doing absolutely nothing in the middle innings. They had been blank in hitting since the 17th when Jones hit a double deep into the RF corner, but ran out of steam trying to stretch it into a triple getting tagged sliding head first into third but his fingers never making it.
In the 21st and final inning, Perez opens for Green with a walk. JP who has been taking advantage of the shift tries one more time and goes deep, deep left center only to have Renzo Gonzalez hurl it in. Ariel Garcia who had been struggling all day with 4 strikeouts turns it around with a deep double putting runners on 2nd and 3rd, one out. Burke strikes out and Edgardo having the best day of his preseason unfortunately ends the day and the series with a pop out to Yoyo ending what was looking to being the story of the preseason.
Morale of this series: It is not over until it is over. Continue to fight no matter what the spread might be.
Offensively, two players in multiple numbers. Carlos Perez 2-3; and Edgardo Villegas 3-5(2B,HR,3RBIs). 3 with extra bases: Doubles: Jones, A. Garcia, Villegas. HRS: Villegas, Morales. Total of 13 pounded out today. One final week capping off next Saturday with Scout Day for the fall preseason.
The pitching we have talked about throughout the preseason. It is just not there and what we don't want is a repeat from last year where we played musical chairs trying to find a starting 3. If we use Palmquest in a starting role, than the all important closure position will need to be filled which I have yet to see anyone over dominating on the mound.
Next scrimmage scheduled for Thursday 3:15ish.