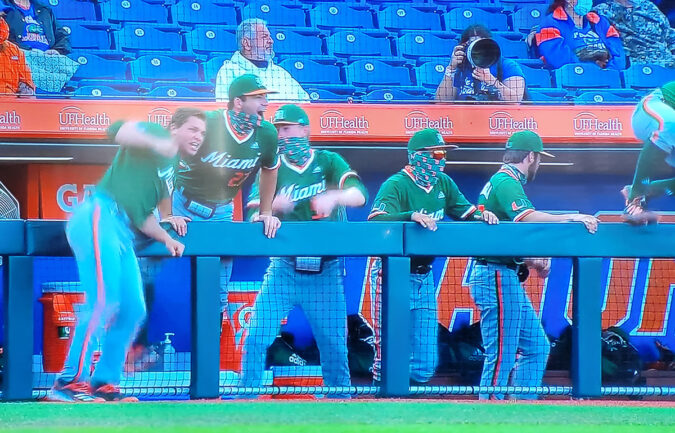 OH ME, OH MY! I was clearly disappointed if I was expecting to see some semblance of baseball. Yes, it is day one, but some of these kids looked like they were playing baseball for the very first time. Defensive play was sloppy, pitching no wow and hitting is just where you would expect it to be. With very few exceptions, no one to dazzle you with their presence. Again, just day one, but for the next month, Gino and the staff have their work cut out for them.
At present the squad is pretty top-heavy with 39 names on the roster. Joining the 20 returnees are 12 freshmen, 4 who had entered the transfer portal, and 3 junior college transfers. Nineteen pitchers trying not only to earn their way onto the team but to make a difference. Of the 19, 6 are left-handed which we are badly in need of. We have one two-way player who just happens to be left-handed but listed as also playing the OF. On first seeing Kaden Martin, a freshman, my first thoughts were that he has the build of a catcher. With the OF once again overly loaded at 10 players Kaden might have a better chance of seeing action as an LH reliever. I heard mentioned he also plays football, judging by his build, but right now how our football team has been playing he has a much better chance to win accolades, and be recognized with his pitching arm. One player I was told to keep my eyes on for raw power was freshman Jason Torres. His only plate appearance made him hit into a 6-4-3 DP and as for his fielding, unless there is an injury, he may never see time position playing in the infield. Slow in ball retrieval, not a great quality arm, and clueless how to play third. Three catchers are listed on the team roster with Carlos Perez and JD Jones returning. Jack Scanion, red-shirted junior, is joining us all the way from the University of Oregon. Will be interesting to see who is going to be the odd man out.JD saw little game time last year but when he played he always made contact with the ball. Never could understand why he did not get more exposure than he did. Gino was locked into Perez and Romero even when they weren't hitting.
I can't over-emphasize that this is the first day of scrimmaging and those who did not play summer ball this summer, this being their first time back on the field competing.
Scheduled for 4 innings, and only got to see 3. Alex Walsh pulled double duty in the third getting a 10-minute rest between half innings. Rather than 4 pitchers scheduled to pitch, only had the opportunity to see 3 in their initial outing at the Light. All three freshmen and all three were left-handed. I don't expect to see 90+ speed from any of them. Hopefully, they have a lot of junk to dazzle the batters. Ashton Crowther was the first to make his debut start in the preseason. Ashton and JD are going to have a lot of sit-down sessions on fielding and pick-offs at first. Before the 1st inning was completed had two errors and a hit batter. Not a very awesome beginning. However, in the second managed struck out the side with one batter reaching first on a fielding error at third. On the flip side, Chris Scinta had his two innings of glory and like Alex did not impress anyone with his performance in the first. He started his baseball career giving up a solid hit by Edgardo Villegas followed by a WP. Somewhere along the way, I lost Edgardo at second and when I looked up I only saw Carlos Perez standing on first after reaching same by an error by Torres playing 3rd. After Zach Levenson flew out to left, Ariel Garcia, soph returnee, hits a solid double down the left field line. Literally, with no coach at third, Carlos took it upon himself and decided to come home which he had no business in doing. The ball was at the relay player who just held onto the ball and after realizing Carlos was going home throw a haphazard toss unsuccessfully to home. If Gino was coaching at third, he would have benched both. One for not paying attention and the other for running when he should have been holding. Again, first-day debacle. Scinta's second inning was stung with the same accuracy as Crowther in throwing other than the plate. Needs work on his pick off maneuver to make sure he throwing somewhere in close proximity to first base. By far the best hitting performance of the day came off the bat of 5th year transfer student Dario Gomez. He connected on a Scinta pitch driving it to deep left center. Now that is what I was hoping to see from someone today. He definitely caught my attention and hopefully Gino's. Unfortunately, he is in stiff competition among the 9 other OF.
Alex Walsh must have been surprised when he found out he was doing double duty with a 10-minute break pitching the third inning. Nothing notable to report on him. Gave up a couple of hits, one to Jacoby Long, returnee, doubling to right and a single to Gaby Gutierrez, another returnee.
It wasn't the best of opening days and the way I see it they can only get better. They have a month to do so finishing Saturday, Nov 5th with Scout Day. The next scheduled scrimmage is this Friday at 450PM. They are scheduled to play 6 innings barring changes.