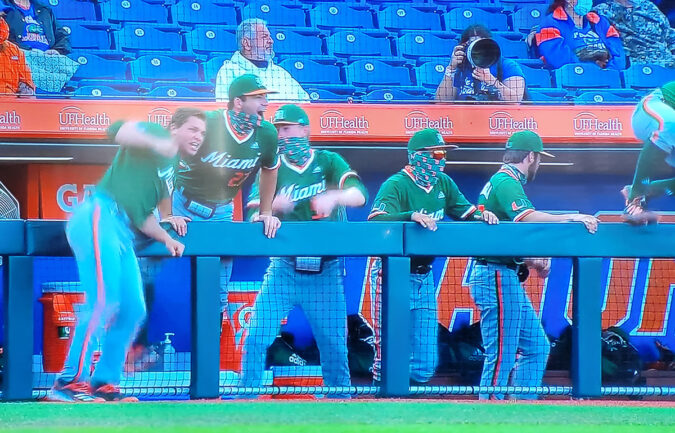 With 16 days left before opening day, added concern must be weighing on
Gino's and JD's minds as to the lack of quality work that he is getting from the BP. Scheduled for 6 innings tonight, was only able to put enough pitchers on the mound to complete 4.5 innings. Whether the pitching was on a pitch count or JD just was unhappy with what he was seeing, 3 of the 6 pitchers scheduled to pitch tonight were pulled early. All 6 pitched this past weekend and their arms just weren't ready which the offense barrage took advantage of. The bats have been pretty much silent, but tonight was a different story with 9 hits including one HR and two players with multiple numbers. Put to rest the thought of a possible consideration for Closer after Alex Walsh dropped down in the depth charts from his performance tonight. The lack of pitching shown tonight, furthers my argument for Andrew staying on as Closer. Like in football, the field goal kicker is paramount in whether a team wins or loses. This weekend was the perfect example in which KC is moving on to the Super Bowl because when all the cards are on the line, a team has to feel confident with their kicker. On the other side all you had to look at Dallas and their kicker. No confidence in him. In a Close game, You must have someone to shut down the opposing team and this is what we have with Andrew. From what I have seen, we have no one else that fits this bill. The season hasn't even started and we are looking at a depleted BP. Our starting pitchers this season are going to have to go the extra mile and give us a solid 6 innings if we are going to be competitive and have a chance to go deep into the postseason.
The so-called Big Guns had the night off and we got to see what the BP had to offer. As mentioned in the opening, all saw action this weekend and most likely on a pitch count tonight. Sebastian Perez, Andrew Walters, Chris Scinta all got into trouble and were unable to complete their schedule rotation. Sebastian almost made it through two but had to bring in Brian Walters for the final out in the second after Dario Gomez doubled followed by Walking CJ Kayfus. Brian stuck out Yoyo to end the inning but his night ended early the following inning after striking out Ariel Garcia. Jacoby Long singled and then Kaden Martin left the yard with a 2 run bomb to left center. After walking the next batter, Dorian Gonzalez, call to the BP and in comes Chris Scinta. Like the two before him, he also was on the fast track for leaving early, after striking out Edgardo Villegas looking but then his day crumbled with a PB/WP followed up with an RBI double from Chris Perez. Chris's day was done because he never came out to pitch the 4th. Instead Alejandro Torres got to do the honors. Of tonight's pitchers's he brought out the best performance striking out two (Cyr,Carrier) of the three batters he faced.
As for the pitchers who filled their assignment, Carlos Lequerica opened for two innings. Completed the first after walking Yoyo with 2 outs and proceeding to pick him off attempting to steal third after he stole second. The second inning picked up a strikeout for the three batters faced. Gunther Braendel replaced Carlos and joined him in giving a commendable performance facing just four batter without giving up a hit. Jason Torres was the batter that got away from Gunther on an error by Ariel Garcia playing short.
That brings us to the final pitcher of the night who some were talking about being our possible Closer. He put that to rest tonight with a very lackluster performance. Coming to pitch the 4th, the first batter he faced was Jack Scanlon who he hit. Managed to get Gaby Gutierrez to FO to center and Dominic Pitelli goes opposite field for a single and sweetens the pot stealing second. Runners on 2nd and 3rd now with two outs (Jones FO to center), hits his second batter of the inning ( Renzo Gonzalez) to load the bases. CJ singles for two runs and Yoyo finishes the inning with a single of his own for an additional walk. Gino had seen enough and ended it there without the final out recorded. Surprised to see him come out in the 5th but after giving up a single and a walk managed to escape without a run.
Nobody was left in the BP for tonight and Gino cut it short at 4.5 innings. The shortness of the scrimmage was brought about by the bats finally making a statement. Nine hits accounted for 7 runs one of which was for a HR (Kaden Martin) and three for extra bases (doubles) (Carlos Perez,Dario Gomez,Dominic Pitelli). Two players had a multiple-hit night: Dominic Pitelli 2-2 (double) and Kaden Martin 2-2 (HR,2RBIs).
The best way to sum up tonight's scrimmage is we need help coming from the BP or this is going to weigh heavy on our starters going deep and our bats need to stay hot throughout the game where we don't have to rely on our closer if Gino decides not to go with Andrew.
Time to regroup with a practice tomorrow and a three-game set for the weekend planned, barring weather. Times probably will be published tomorrow. Things start looking iffy after 3 on Saturday. Friday and Sunday look good all day.