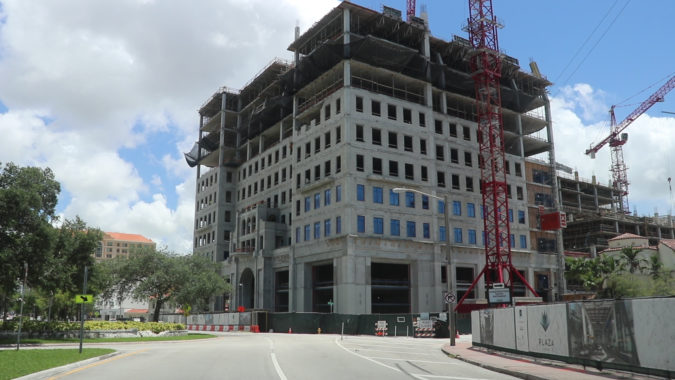 BY ANTHONY DE YURRE AND JENNIFER E. FINE
The City of Coral Gables' zoning code landscape and open space requirements were recently amended as of May 14, 2019. The Coral Gables' zoning code now requires landscape open space to be provided at the ground level and to be "open to the sky." This update will have a significant impact on real estate development proposals in areas such as the Coral Gables Central Business District (CBD), downtown Coral Gables in general, and North Ponce de Leon corridor.
Of critical importance, the ordinance provides that any submittals which have not received final Board of Architects approval must comply with these amendments; thus, potentially delaying approvals. This will create a new challenge to developers who may be required to redesign projects already proposed in order to comply with the new requirements.
Previously, the open space requirements of the Mixed Use District (MXD) regulations could be satisfied by providing landscape open space in "elevated areas", not only on the ground floor. The prior code thus allowed for rooftop gardens and terraces spaces. The ordinance deleted this provision and specifically provides that required landscape open space must be provided at the ground level, be accessible and visible to the public, and that it integrate pedestrian features in a coordinated design with right of way improvements.
The ordinance also revised several other definitions related to open space requirements, including a new definition for "Paseo." The ordinance now defines "Paseo" as a publicly accessible space located on the ground level that enhances pedestrian activity and provides pedestrian oriented amenities. A paseo is now also specifically prohibited from counting towards landscape open space requirements unless the paseo is "open to the sky." The definitions for "pedestrian pass-through", "plaza or square", and "urban open space" were also amended to clarify that all three must be provided at the "ground level."
---
Bilzin Sumberg works with clients whose business and legal opportunities and challenges span the United States and cross borders to Europe, Latin America, Canada, the Middle East, and Asia. The firm's growth has paralleled that of its Miami home base, a region known for its rich cultural, social, and professional diversity. Bilzin Sumberg lawyers concentrate on services at the heart of both regional and international commerce, including real estate, land use and zoning, corporate law, joint ventures, international tax and estate planning, business litigation, finance, and public/private partnerships. For more information, please visit bilzin.com.