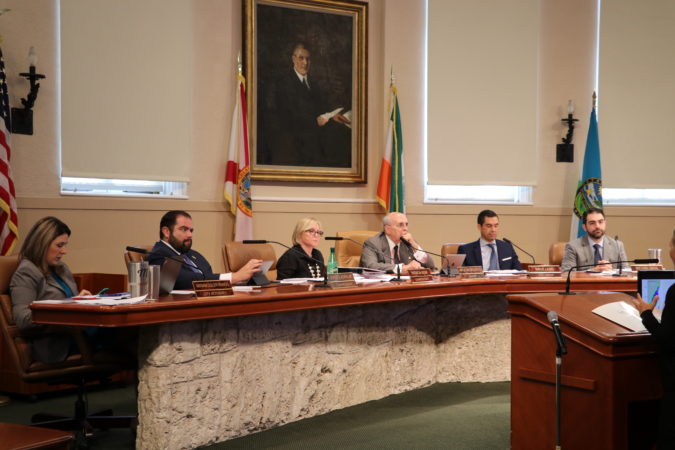 Happy New Year! 🎇
Here's your digest for the first City of Coral Gables City Commission Meeting of 2020.
Mayor's Comments 📣
Discussion regarding Historic Preservation Issues.
Discussion regarding the progress on the Fink Studio.
Consent Agenda 🧾
A Resolution of the City Commission of Coral Gables, Florida approving resident rate discount for Coral Gables teachers who wish to purchase a membership package at the War Memorial Youth Center or Venetian Pool. 👩‍🏫
Personal Appearances 🙋‍♂️
 Robert Ruano has been granted a personal appearance regarding the Alhambra Bicycle Project. 🚲 At the last December Commission meeting, Alhambra Resident Silvia Pinera-Vasquez, was granted a personal appearance and spoke against the project. The Mayor did not let anyone else speak at the time. This time, the Commission will hear from a proponent of the project, Robert Ruano.
Commission Items 🗝
Update from staff on the proposed notification process for tree removals in residential neighborhoods. (Sponsored by Vice Mayor Vice Lago) 🌳 A tree was cut down in Lago's immediate neighborhood recently and many neighbors were upset they were not notified. Lago himself was not notified living just a few houses away. Neighbors felt the tree had a fighting chance and were against it being cut down.
City Manager Items 📑
Resolution to award the Citywide Tree Trimming Services Contract to Superior Landscaping and Lawn Service, Inc. for an estimated amount of $1,169,294.00. 💲
A Resolution authorizing funding in the amount of $100,000 to Illuminate Coral Gables, the light based, fine art installation planned for Downtown Coral Gables in January 2021 💰🎨
A Resolution allowing the City Manager more time to negotiate the Purchase and Sale Agreement with Doctor's Hospital for the Municipal Parking Lot 24 located at the northwest corner of University Drive and Pisano Ave. 🏥⏰
Resolution approving $245,028 in Cultural Grants. 6 Coral Gables Based organizations and 28 Non-Gables Based entities. Click here for a full list of approved entities and funding amount. 💸🎵🎭
Click Here for the Full Agenda Packet