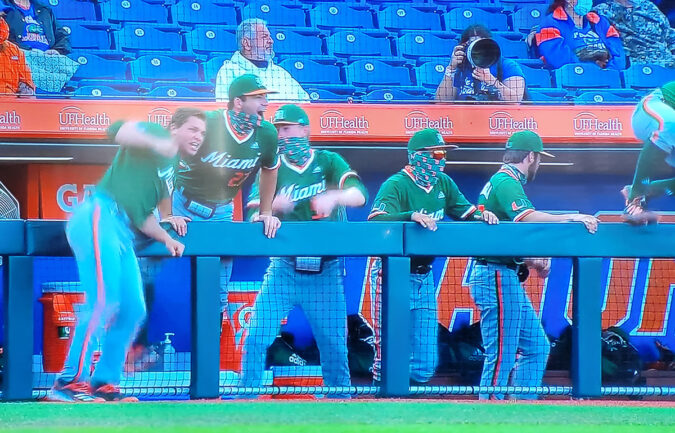 Week 3 of preseason officially kicked off with cooler temperatures and dampness in the air. Productivity was down both in hits and strikeouts. Walks were slightly more but overall the shift is becoming noticeable in that the bats are getting hotter. Of the 9 hits recorded, 6 were for extra bases. Tonight's pitching had 8 non-starters jockeying for mid relief opportunity. It also showcased who I believe is the frontrunner for closer to starting the season.
8 Pitchers on tap for 6 innings. Of the 8, Jordan Dubberly who opened with 2 innings had the best performance on the mound only had to face 6 batters and struck out 2; coming in the first inning. Jordan gave up an initial walk in the first to Dorian Gonzalez but was out stealing second. This was a bounce back from his last outing
From there, the pitching started going in a downward trend starting with Ronaldo Gallo who if this was a regular-season game would not have seen the first inning to the conclusion. Did not start on a pleasant note with a lead-off triple by Jacob Burke on a failed diving catch getting by the Renzo Gonzalez playing LF. Lorenzo Carrier chalks up the first run of the evening with an opposite-field double. This brings Yoyo to the plate clearing the bases with a yarder to the opposite field. Ronaldo had a slight reprieve with Max Romero flying out deep to left. JP Gates batting 5th completes the cycle with a single to left. Hitting the cycle is a rarity in itself but this coming as a result of the first 5 batters faced is not what Ronaldo had in mind for tonight. Did managed to get a second out before walking the 7th batter to come to bat. With runners on 1st and 2nd, two outs Gino had seen enough. The second inning survived without giving up a run but not before back-to-back singles by Gaby Gutierrez and Jacoby Long (bunt). I would say he took a major hit in the depth chart
The next pair of hurlers were Jamar Fairweather and David Rossow. Jamar needed to have a good showing tonight after his last outing where he might have dug himself so deeply, giving up 5 runs in 2 innings that he would never see the light outside the BP. The first inning pitched he did just that with a 3up/3 down performance. The second inning lost a bit of consideration being called for his 2nd balk in the last two games. With runners on 2nd, a SAC back to him he did not pay attention to the runner on 2nd and went for the sure out. Passing up the opportunity of getting the lead runner set up a preventable scoring opportunity. Walking the next batter put runners on the corners setting up a double steal condition. Renzo Gonzalez, on 3rd, broke for home on the throw to second. Shortstop cut the ball off and the throw home was late. This was a preventable run and a more experienced pitcher would have made the play to 3rd on the SAC back to him.
David's night did not fare much better. Zach Levenson opened with a double, advancing to third on a SAC. Dominic Pitelli caught the IF asleep with a perfectly executed squeeze. Jones followed with a double of his own but was left stranded on second with Mike Rosario grounding out 4-3. The team overall has shown marked improvement in their bunting game. Next inning, again the bunt would set up another run. Bunt was executed by Jacob Burke with a man on first. Villegas advanced to 3rd on a WP and trotted on home with a double from Carrier. Appears at this point Fairweather and Rossow might be holding hands in the BP thinking how to work their way up the charts.
Anthony Arguelles and Rafe Schlesinger came in to pitch the 5th inning. Both had a quick inning with a 3up/3down performance.
For the final inning, Alejandro Torres and who I feel has been designated as the closer to open the season Andrew Walters. Torres, sorry to say looks to be slated to be seated alongside Fairweather and Rossow. Control is his main issue. Walked two, struck one, and threw the ball into the center on a pickoff attempt. BL never got an opportunity to try for the final out.
Andrew Walters is not a Carson Palmquest but he did what was asked of him without giving up a run. Of the pitching I have seen, he is our best bet to shut the door when his number is called. It just won't be with the flair that we had with Carson.
Offensively, Hit production was down only able to come away with 9. Of those 9, 6 were for extra bases. If we are going to put runs on the board, we can't, like in past years, revert to small ball. The extra bases pounded out were 4 doubles (Jones,Levenson,Carrier(2)); 1 triple (Burke), 1 HR (Yoyo). Lorenzo Carrier was the only player with multiple hits 2-3 (2 doubles)
Another good evening from the defense. With the regular season a little more than a week away, everything is beginning to fall in place. Pitching is going to be the big question mark on whether our starters can get beyond the 5th and if the BP will come through to shut the door. Hitting appears to finally come about with fewer strikeouts and providing something more than a single. Bunting has improved and more aggressiveness on the pads.
Friday, final warmup before the Alum game Saturday. The start time for Friday is scheduled for 4 PM.