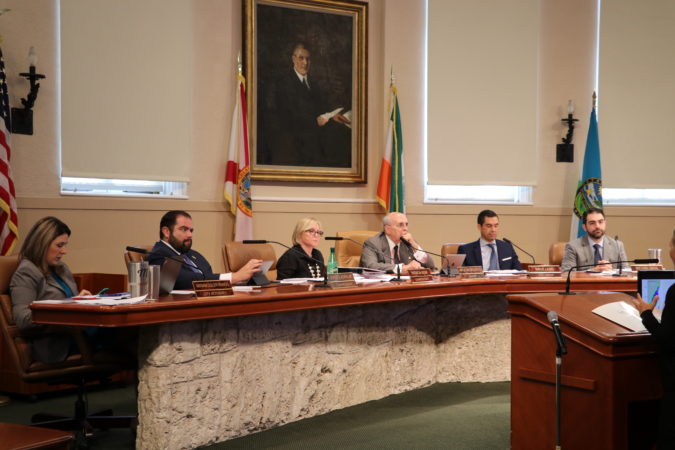 Every two years, residents in Coral Gables participate in our City's municipal election and elect what most voters believe to be individuals who will represent the interests of City residents.
Commissioners in the City of Coral Gables are elected to four year terms, the Mayor is elected to two year terms, in elections held in April of odd numbered years. The City actually pays a premium to hold its elections in April, as opposed to elections in general elections or primary as most other municipalities do. A move that reduces the number of voters who participate in the selection of our elected officials.
Although the makeup of the Commission has changed over these years, residents concerns continue to grow over who the City of Coral Gables Commission actually represents.
A public record request yielded a copy of the oath taken by Commissioners and City staff. The oath states as follows:
I, __________, do solemnly swear that I will support, protect and defend the Constitution and Laws of the United States of America, the State of Florida, the Charter and all Ordinances of the City of Coral Gables, and Miami-Dade County, Florida; that I am entitled to hold Office under the Charter, and that I will faithfully discharge the duties of the Office of City Clerk of the City of Coral Gables, Florida, upon which I am about to enter. To my colleagues and to all those I represent and serve, I pledge fairness, integrity and civility, in all actions taken and all communications made by me as a public servant.
Interestingly, their only pledge is to "fairness, integrity and civility," not to represent the interest of residents.
Who does the Commission Represent?
The recent battle between parents and the City Commission over the construction of a Wawa gas station across the street of an Elementary and Middle school has once again brought this issue into question once again.
Over the last six years, the Commission has been petitioned on a few occasions in order to request its action on issues such as the appointment of Ed Hudak as Police Chief, the removal of the Alice Aycock sculptures, to save historic properties in the City and to prevent the zoning changes to Miracle Mile. Most of these petitions have received over 1,000 signatures, yet only one has had its intended effect, the one to appoint Ed Hudak as Chief.
Even this, no-brainer petition, was controversial as Commissioner Pat Keon dragged her feet in a futile effort to appoint her friend, a retired Major who had moved out of the state. It took a back-room deal by then City Attorney Craig Leen to secure a temporary 'interim-chief' appointment of Hudak that did not become permanent for another year.
Silence on Wawa
When it comes to Wawa, the Commission agreed to a settlement entered into by the City Attorney that provided a fast track for the developer to bypass the regular requirements, including any public discussion where residents could voice their concerns. The issue came up at the October 27th City Commission meeting following a resolution by the City's School Community Relations Committee's request for the City Commission to open a truthful public comment period, following news that the School District, School Board Member, the School and parents were kept in the dark about the project. (See video summary created by a parent of a student at George Washington Carver Elementary). The question many continue to ask is, why?
Mayor Valdes-Fauli talked down to parents and was dismissive of their concerns at the Commission meeting, and went as far as saying that parent comments should end because "the lobbyists are here" and couldn't be made to wait. The message from Valdes-Fauli was clear: parents and residents take a back seat to lobbyists under his watch.
Commissioners took up a second resolution by the School Community Relations Committee requesting that the committee be informed of projects affecting schools to ensure that it could fulfill its Charter requirement "to provide an opportunity for dialogue and collaboration between the aforementioned schools and their neighbors, including the City of Coral Gables." What ensued was an astonishing 30-minute discussion by the Commission.
City Manager, Peter Iglesias, explained to the Commission he believed more people looking at projects could slow things down. So Iglesias believes a City advisory board meant to advise the Commission on schools should not be consulted on an issue that directly affects a school because it could delay the process for a developer who is only seeking to maximize profit on a property without any concern about who is affected. But why would we expect any difference from the City Manager who told Gables Insider in April that Coral Gables should not provide testing for COVID-19, as residents only care about their garbage being picked up and the city looking nice? Iglesias' presence was requested at the School Community Relations Committee and he refused to attend.
Vice Mayor Lago made it clear, he believed the City would benefit from "more eyes" looking at projects. His colleagues disagreed.
In the end, the Commission made it clear the School Community Relations Committee should be sent notice only on projects where notice is required within 1,000 feet of a school, but with no intention of it being in an advisory role. (The Wawa project did not require notification, as it was finalized through a legal settlement).
Legal Concern
Commissioner Michael Mena's biggest concern was protecting the developer's right to develop their property. Mena voiced his concern over a legal claim by the developer if the City took seriously the concerns from parents and residents.
He went as far as implying parents and those voicing concerns about the project were being racially insensitive as they were trying to prevent the development that would benefit the Lola B. Walker Foundation, made up of the residents of the MacFarlane Homestead Historic District of Coral Gables. The developer had presented a list of over 60 signatures from residents of the district.
The legal concern seems to be a growing trend on the Commission. On numerous occasions, staff has brought up the potential legal implications to ensure the Commission votes their way on projects.
But the legal concern is one that has made City Attorney's office thrive over the last few years. The City Attorney's office budget has increased from $933,958 to $2,728,798 since 2015, a 192% increase in budget, a clear demonstration to the litigious inclinations of the City Attorney's office. The office was one of the few that saw an increase in budget for the 2020-2021 fiscal year, where the City was forced to trim the budget by nearly $119 million.
The City Attorney's office worked out the settlement and gave itself and the City Manager authority to approve any permits to ensure expediency. A clear example of taxpayer dollars paying for developers to do as they wish in Coral Gables.
In the end, Commissioner Mena told parents and residents were told the City would take no action as this was involved a zoning plan that was created years ago. Interestingly enough, the Commission has taken up numerous zoning ordinance changes (as seen on this 21 page list provided by the City Clerk through a public record request from Gables Insider). Most of these zoning changes have been at the request of developers in order to maximize their income on properties. On most of these projects, the Commission has acquiesced and disregarded the concerns voiced by City residents.
Miracle Mile Or Soon-To-Be Brickell Mile
On November 30th, the Commission will have a special sunshine meeting to discuss the zoning changes to Miracle Mile. Zoning changes meant to benefit developers who seek to go beyond the current legal building limits on Miracle Mile. Residents have been voicing their concerns about these changes for many years. The issue was placed on the Commission agenda for the October 27th meeting and most residents found out this was being discussed through a Gables Insider article.
The plan would allow developers to build higher, with more density, less parking and create what some have called a Concrete Canyon on Miracle Mile. A complete change to the vision of Coral Gables many residents bought into when they purchased homes in the City.
The City's Director of Planning and Zoning, Ramon Trias, who has long been an advocate for developers in front of the Commission, subscribes to a vision that Coral Gables should remove parking in the downtown area. In a presentation made before the Property Advisory Board in 2016, Trias explained his belief that if the City removes parking and requests developers build less parking spaces, people will stop buying cars.
Valdes-Fauli, who will not seek re-election, and Commissioner Keon, who has filed to run for Mayor, are both actively lobbying to promote these changes.
Valdes-Fauli has made it his mission to ensure these changes take place, staking his legacy on this. He sent opeds to the Miami Herald and Community Newspapers this past week advocating for the changes, in an attempt to sell this massive change to a Brickell-like Miracle Mile to residents of the City.
Keon, as previously reported on Gables Insider, has said on the dais that "I think maybe, it takes more meat off the bone than you really want to do. I think you need to leave enough meat on it to encourage people to develop."
Silencing Of Dissent
The Commission recently enacted changes to the public comment portion of Commission meetings. Residents can now address the Commission for a maximum of 2 minutes each to address any concern they have with the City, at the beginning of every Commission meeting. The measure, proposed by Vice Mayor Lago, was not well received by others on the dais. In the end, the measure was passed, but with a limitation of 30 minutes for all public comment. In other words, only 15 residents can address the Commission at any given meeting.
Over the course of the last few months, campaign videos depicted a former Mayor of Pinecrest yelling at residents from the dais. Here in Coral Gables, Valdes-Fauli has made that mayor look like an angel. He has told residents to "shut up", "get out of here" and launched personal assaults on others.
The mayor's recent jabs have been towards historic preservation advocates. He frequently touts that he lives in a historic home, which he sought designation for. In contrast he jabs that the preservationists don't do the same and designate their own homes as historic. What about that fairness, integrity and civility oath?
And residents have not been the only victims of Valdes-Fauli's scare tactics. On more than one occasion, Valdes-Fauli has sought to silence Vice Mayor Lago, Commissioner Mena and Commissioner Fors, if he has not agreed with their perspective on issues.
Not All Is Broken
It is important to note, Vice Mayor Lago makes it a point to hold office hours every week and holds two annual town halls to listen to resident concerns. Lago is also known for returning phone calls and answers every single email. His midnight hour email responses are a staple of his dedication to resident concerns.
Prior to COVID, Commissioner Fors also held community meetings to listen to resident concerns. He also engaged with the Coral Gables Neighborhood Association (CGNA) to have open dialogue with resident concerns.
How To Ensure The Right Thing Is Done?
The Commission does have options:
It can take into serious consideration what residents have to say and take a vote reflective of the will of residents not developers.
As the issue is not time sensitive, they can allow this issue to be taken up by the newly seated Commission following the April election, where voters will decide whose vision for the City they identify with.
As stated above, the City will hold its municipal election on April 13th. With an issue as important as the zoning of Miracle Mile that could have a huge impact on the future of the City for generations to come, this could present a great opportunity for the Commission to place an item such as the rezoning of Miracle Mile on the ballot for residents to decide the fate of their City. This was, after all, the request made in the flower sculpture petition the Commission shot down back then.
Will The Commission Represent Residents Or Developers?
As we look back, the residents have unfortunately lost many battles over the last few years, mostly by design.
Elections are held in April in Odd-Numbered Years. This is by design to give candidates cooler weather leading up to an April election. It also is during spring break when families travel and the University of Miami student population is preoccupied partying it up. Could you imagine if the University of Miami student population had a chance to vote for Coral Gables officials?
Meetings are held at 9am on Tuesdays. If you are a working professional, Coral Gables elected officials want you to sacrifice a full working day to wait around for your item to be discussed. In July of last year, a Gables Insider survey of subscribers showed that over 67% of you wanted Commission meetings changed to 5:00PM. Sometimes it can be hours before an item is discussed. Coral Gables does everything from employee of the month awards to zoning items all in the same meeting. Having an extra meeting to separate things out would just mean more work. Nothing in the city's charter dictates the times of meetings. One commissioner tried to change this but was voted down. The following municipalities have meetings after 5pm:

Homestead
Florida City
Hialeah
Doral
Opa-Locka
Miami Springs
South Miami
West Miami
Golden Beach
North Miami Beach
Miami Shores
Biscayne Park
Surfside
El Portal
Sweetwater
North Bay Village
Bay Harbor Islands
Bal Harbor
Virginia Gardens
Hialeah Gardens
Medley
Key Biscayne
Aventura
Pinecrest
Sunny Isles Beach
Miami Lakes
Palmetto Bay
Miami Gardens
Cutler Bay
The question now is, will the current and future commissions continue the trend of standing for developers or will they make it a point to listen to the will of the City's residents?